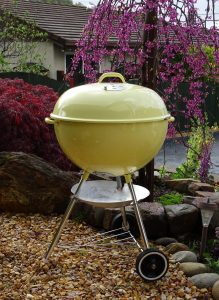 This beauty is a 1962 Ambassador.  The color was called yellow ochre in the 1962 Weber Catalog and was priced at $54.95.  It is one of only 5  Ambassadors known to be in possession of WKC members.  What makes this one special is not only its pristine condition but as of now is the only 62 Ambassador known to exist.  The metal lid handle is configured horizontally to the lid.  That's what makes it a 1962 model.  In 1963, Weber reconfigured the lid handles perpendicular to the lid vent. In early 1964, Weber changed the lid handles from metal to the two rivet wood handle. The Ambassador is believed to have been produced for only 3 years (1962-1964).
I found this gem in early 2018, listed on Craigs List about a half hour drive from my home.  The seller had acquired it at a local estate sale a couple of years prior.  The porcelain was in exceptional shape but the wheels, legs, and triangle were badly rusted and corroded.  The triangle had been installed upside down and the wheels were installed with the white walls facing inwards.  Good possibility it spent it's entire life that way until now.  I was able to restore and use all the original parts, including the thumbscrews and axle hubcaps.
For those interested in what it takes to restore one of these metal wheel, thumbscrew relics, here is a link with the story on how it was found, secured and restored:
http://weberkettleclub.com/forums/weber-kettles-accessories/196162-ambassador-in-the-wild-(yellow-ochre)/
Of the 5 Ambassadors in the WKC, 4 were found in California.  I am aware of two more Ambassadors currently "in the wild" here in California.  Yellow ochre must have been a popular color in California during the 60's.  Who will score the next one and where will it be found?
Thanks to harris92 for advice on the restoration and facts for this article.