Sometime in the 90s, Weber stopped using wooden handles on their grills and replaced them with plastic handles. Technically the handles are glass-reinforced nylon, but typically referred to as plastic.
While the plastic handles are likely much more cost effective and durable, the general consensus is that the plastic handles don't dissipate heat as well as the wooden handles.
Enthusiasts, and even hobbyists often prefer the wooden handles for both their aesthetics and their function. Unfortunately, Weber no longer produces them or sells them.
There are a few options.
There's a gentlemen named Marty Leach who produces and sells some beautiful wooden handles. He has several varieties, including inlays and engravings. His prices are fair and his product is high quality. You can view and purchase his handles here
While Marty's handles are a great substitute for the plastic handles – they don't look original.
Many enthusiasts prefer the original look – especially on a rare vintage kettle!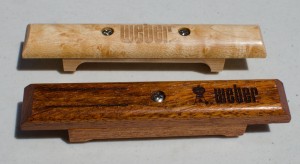 A fellow Kettle Club Founder, Brian, is also a master woodworker. He's able to produce a wooden handle that matches the original  EXACTLY. He's able to produce a single screw version or a twin rivet version for the super old grills. He can laser engrave the Weber logo, and he's even designed the mounting hardware so it looks exactly like aluminum rivets – just like they were from 1960 – 1979.
Brian's handles have helped dozens of vintage weber kettle collectors restore their collections to original condition.
---
GrillGiant handles are not made by Brian, nor does GrillGiant have permission to sell WKC branded handles.