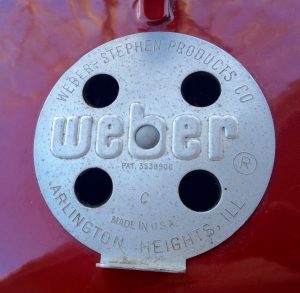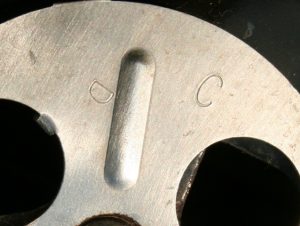 Ok! Here's a year that has been long shrouded in Weber history mystery. 1982! Back in 1979, Weber began using alphabetical codes as the grill's serial number. Back then in '79 the letter "A" was used, then "B" for '80 and "C" for 1981. Logically this would mean that 1982 would be coded with the letter "D", right? Not exactly! We here at Weber Kettle Club have yet to find a true 1982 marked kettle. However there have been some examples of Weber's smoker, the Smokey Mountain Cooker (first introduced in 1981) that have been marked with both "C" and "D" codes which has lead to the conclusion that those are 1982 models. There are some kettles out there with this dual date code, but VERY FEW! For the purpose of identification we will show you what you will likely see on a "1982" Weber using 1981 visuals.
The 1982 Weber Charcoal grill is identified by lid vent with the modern embossed or "raised" WEBER logo.  Most likely a repeat of Date Code "C" with a possible smaller capitalized "D" added somewhere to the lid vent and bowl vents. (Pictured above). The turn tab on the lid vent matches the turn tabs on the bowl vents or "daisy wheels".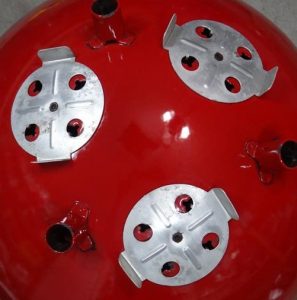 This is very similar to the style of lid vent used today.
The ash catchers on the kettles of '82 are the rolled edge twist on style with the optional hold down clips. The wheels and triangle utility shelf are similar to those used today.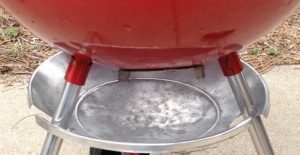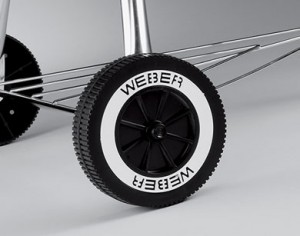 Changes in 1982
This was the first full year that Weber made the charcoal grills with all three wood handles with the single screw teak wood handles with engraved slogan at the time. "WEBER The One. The Only." along with the kettle silhouette. Also the aforementioned addition of a smaller engraved letter "D" added to the C code lid and bowl vents.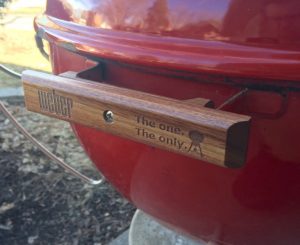 Colors / Sizes / Models of Weber charcoal grills available in 1982
The 80000 Series – 26.75″ Kettle
The 70000 Series – 22.5″ Kettle
Jet Black
Red
Chocolate Brown
Dark Blue
Dark (Forest) Green
The 30000 Series –18.5″ Kettle
Jet Black
Red
Chocolate Brown