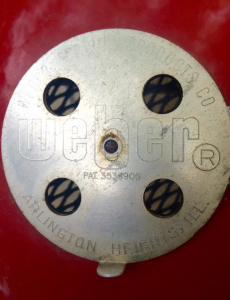 The 1977 Weber Charcoal grill is identified by lid vent with the engraved Weber logo (not embossed). Notice the vent rivet installed inside the lower cased 'b.' The turn tabs on the lid vent are small and round, while the turn tabs on the bowl vents are wide, with two tabs per vent.
The wheels on '77  kettles are the modern style, with the white snap on hub or "whitewall" that is prone to breaking.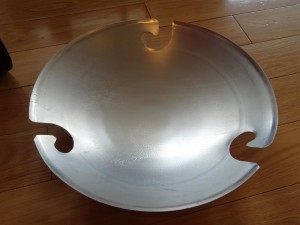 The ash catchers on the kettles of '77 are twist on style with the thin straight edge.
Changes in 1977
By 1977, Weber had changed the name of the two tone brown kettle from Copper Mist to Chocolate. These colors already had several variations, the name change was likely a marketing decision. Everyone loves chocoloate! It should also be noted that by 1977, the model numbers had been updated from the old BK-300,700,800 over to the "30,000", "70,000" and "80,000" series respectively.
Colors / Sizes / Models of Weber charcoal grills available in 1977
The 80000 Series – 26.75″ Kettle
– Jet Black
– Red
– Chocolate
The 70000 Series – 22.5″ Kettle
– Jet Black
– Red
– Key Lime
– Chocolate
– Yellow
The 30000 Series – 18.5″ Kettle
– Jet Black
– Red
– Key Lime
– Chocolate
– Yellow
Gallery of Weber Grills from 1977
[cgview id=15 tags=1977  lightbox=0]