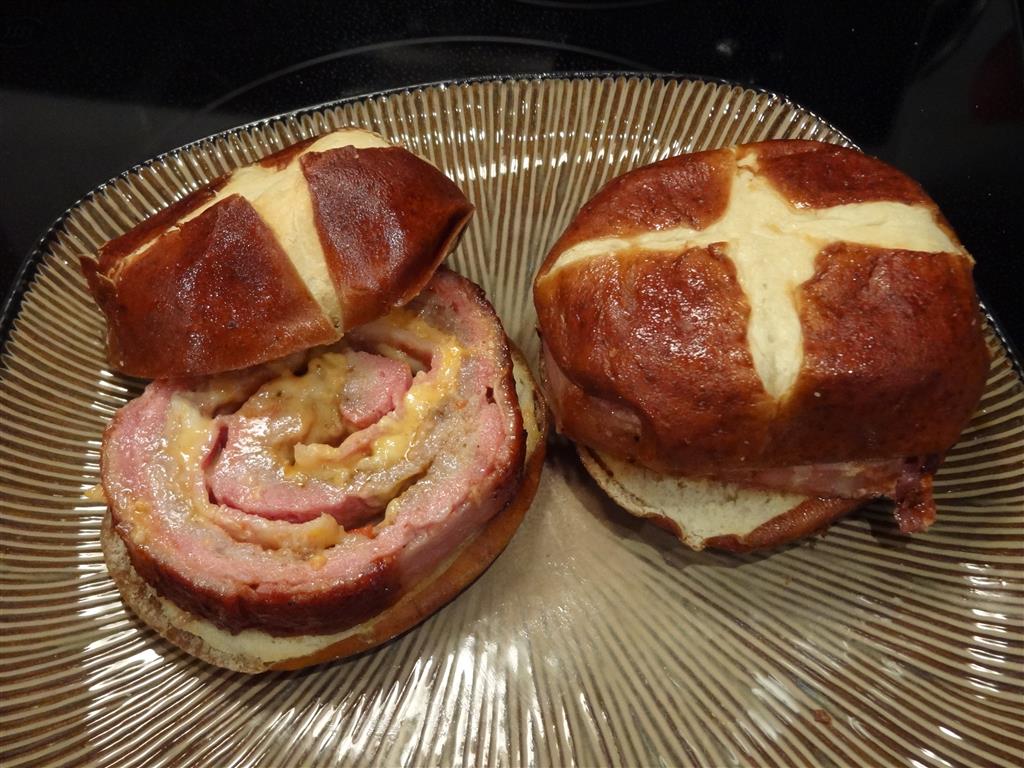 Most seasoned grillers have already experienced the amazing taste and versatility of a ground pork fattie. They are super easy to make and are essentially a no-fail way to impress in both the flavour and presentation departments! Well… the last time I made one of these glorious creations I noticed that the proportions of the cut slabs were just about right for a burger bun. Naturally the idea spiraled out of control and resulted in the creation of the Pretzel Fattie Burger or PFB 🙂
Considering most here have already experimented with a few fattie recipes I will just quickly let you know what I used in mine… There is 1 lb of Johnsonville Mild Ground Sausage in the bowl on the right, and 2 lbs of ground pork in the larger bowl to the left. The rest is pretty self explanatory: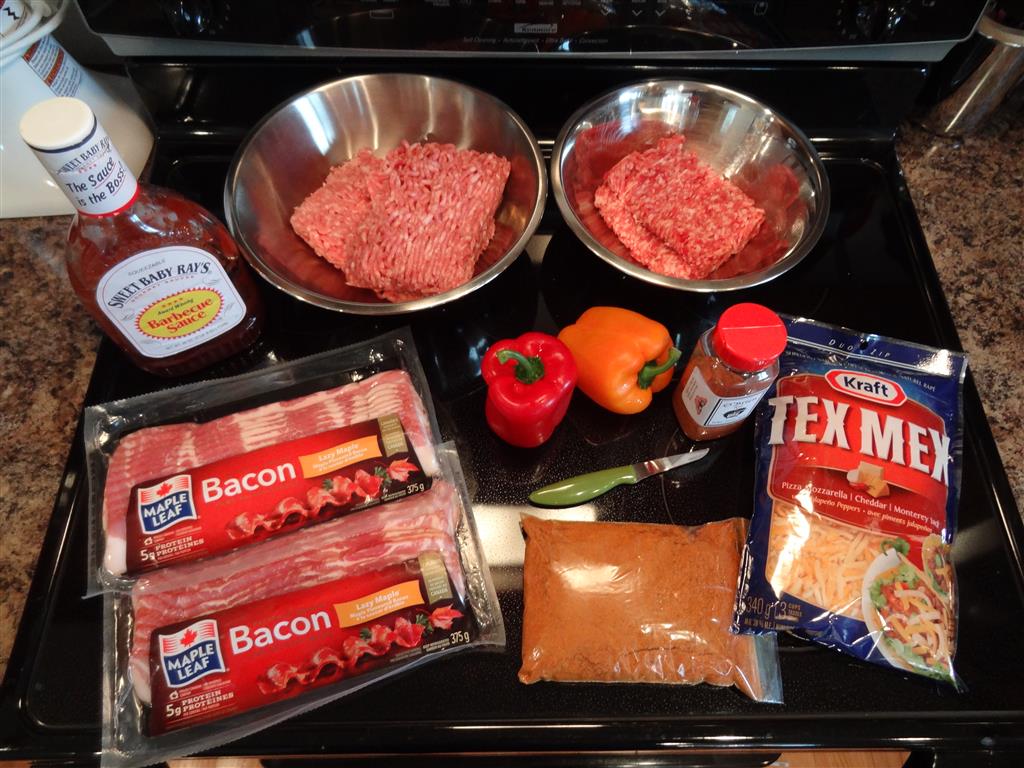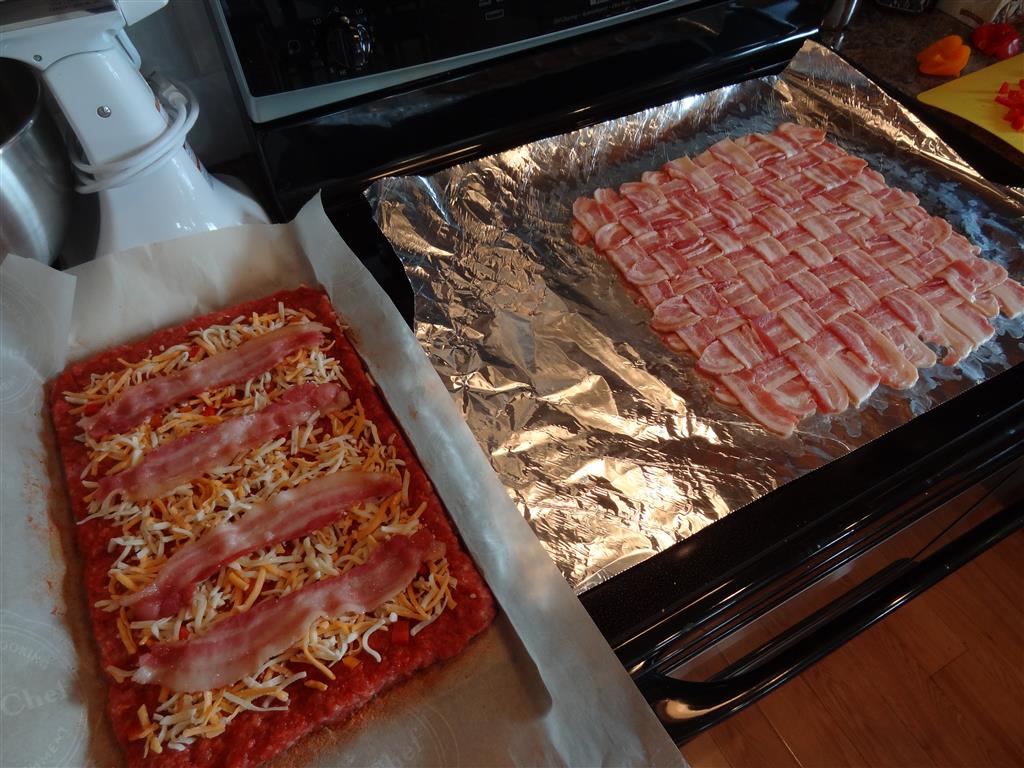 Simply blend the ground pork and sausage together and then spread it out flat like a large rectangular patty on parchment paper or foil. Next you want to season the top (inside) with your favorite rub and also add cheese and any other desired fillings to the center. Note that it helps to leave a small 1/2″ edge border around the filling so that rolling and wrapping the fattie is easier. I like to partially cook 4 pieces of bacon until they begin to firm up (+/- 70%), then roll those up into the mix as well… you know, because the bacon weave on the outside might not be sufficient 😉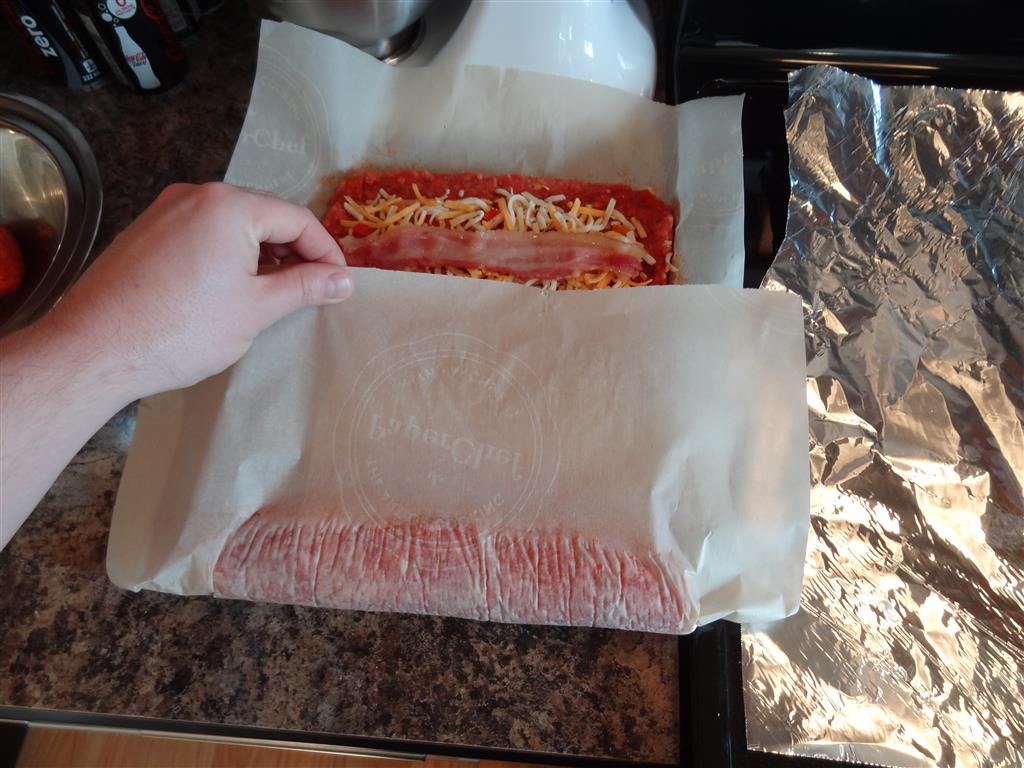 The parchment paper allows you to manipulate your creation without making a big mess, and also without having to excessively handle the food. Once you have it all loaded up simply use the paper to roll over one end and then begin to roll the meat almost like you would pack a sleeping bag.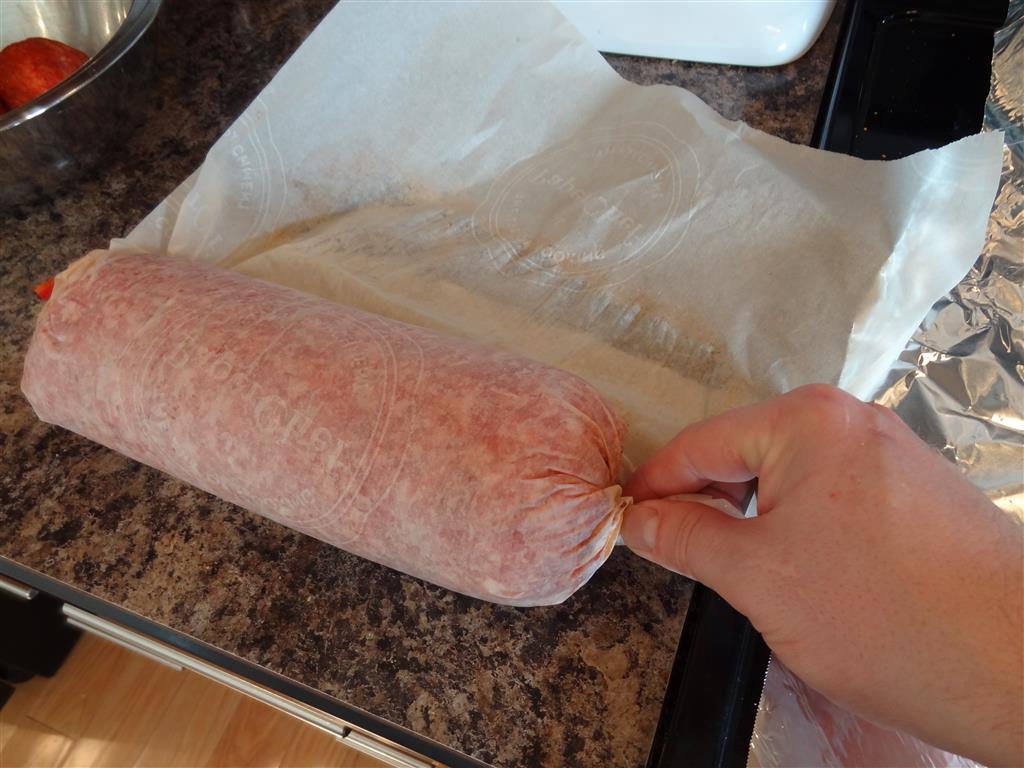 Once rolled into a log you can re-wrap the log with the parchment paper and use it to tightly twist the two ends closed so that you end up with a totally enclosed meat loaf. Surely you don't want to lose any of that cheese filling!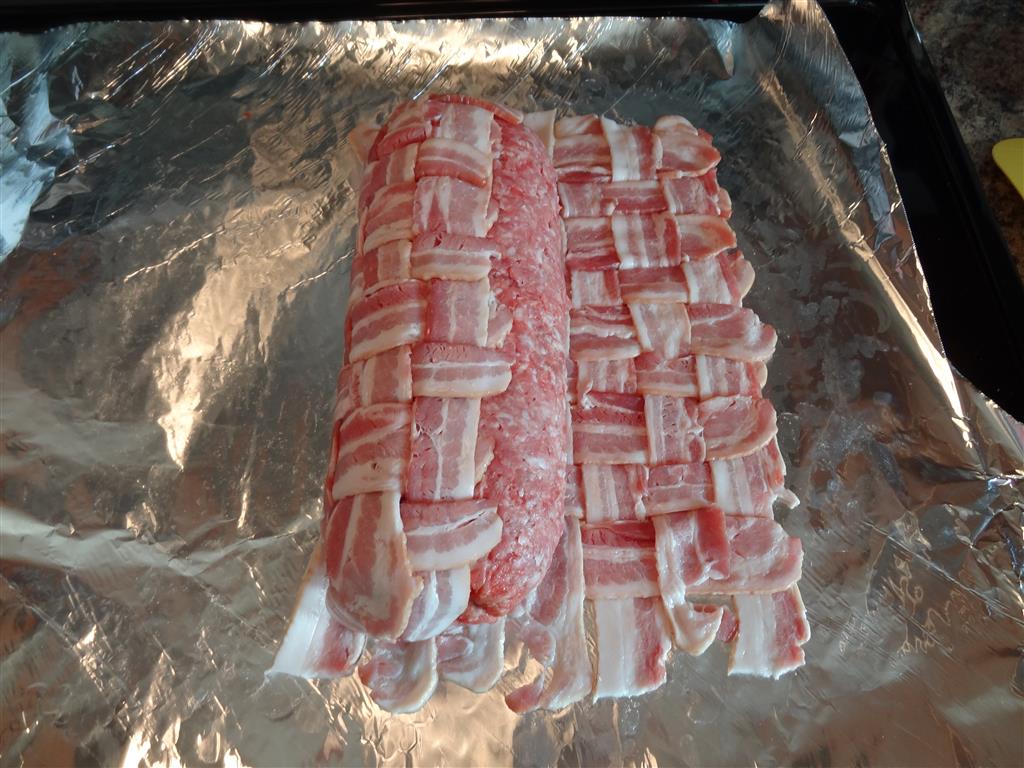 Using a similar process I then wrapped the loaf in the mandatory Bacon Weave!! For more details on Bacon Weave Construction please check out the post HERE!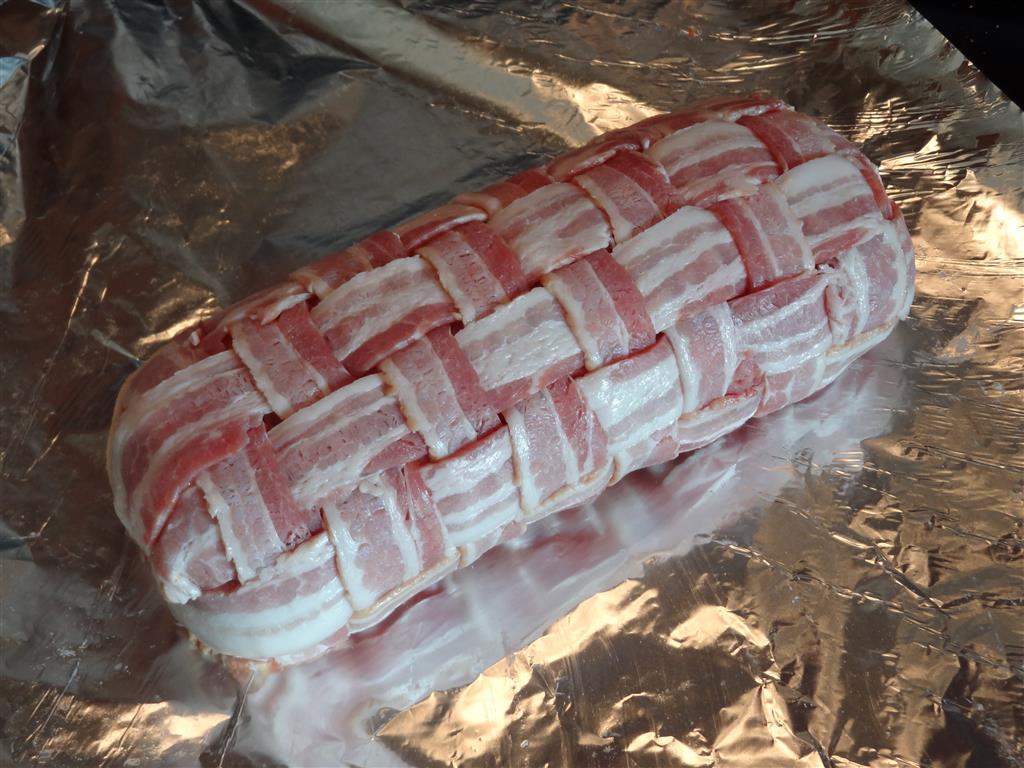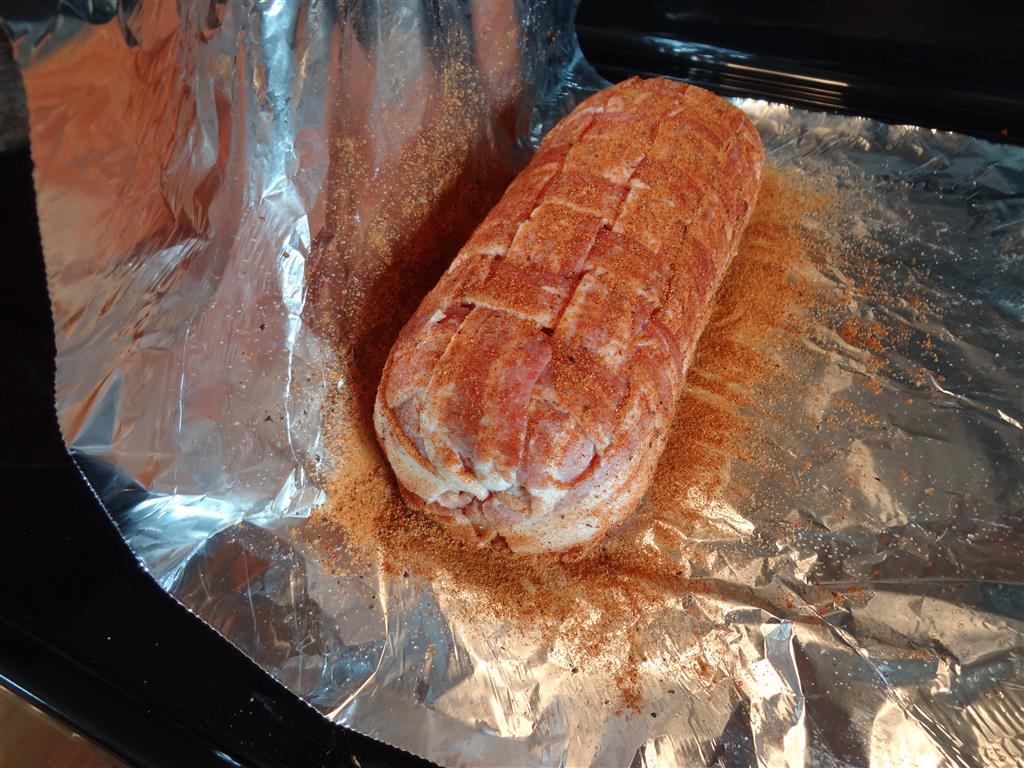 Here I am adding rub to the outside of the Bacon Weave. Again, utilize your parchment paper or aluminum foil to get the most out of your rub. By lifting the edges and rolling the loaf around a bit you will use up all that extra seasoning that would normally go to waste.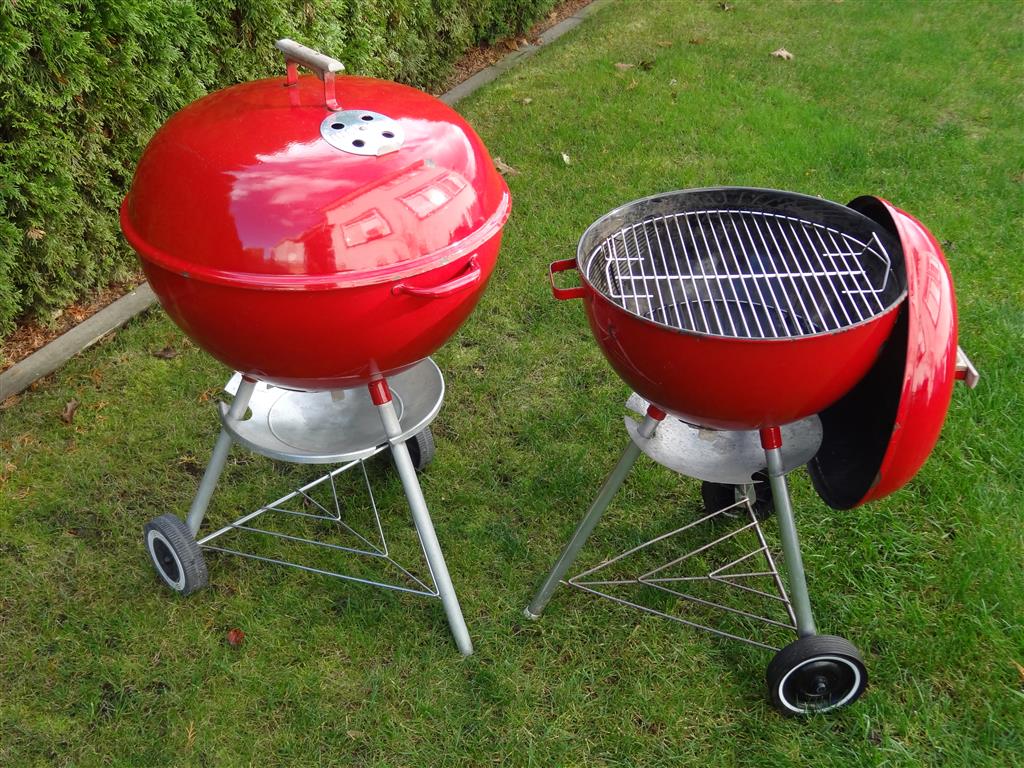 Little red will be getting the call today with big red there for supervision 🙂 Unfortunately minutes later it started raining – so commence plan B… Hide under cover.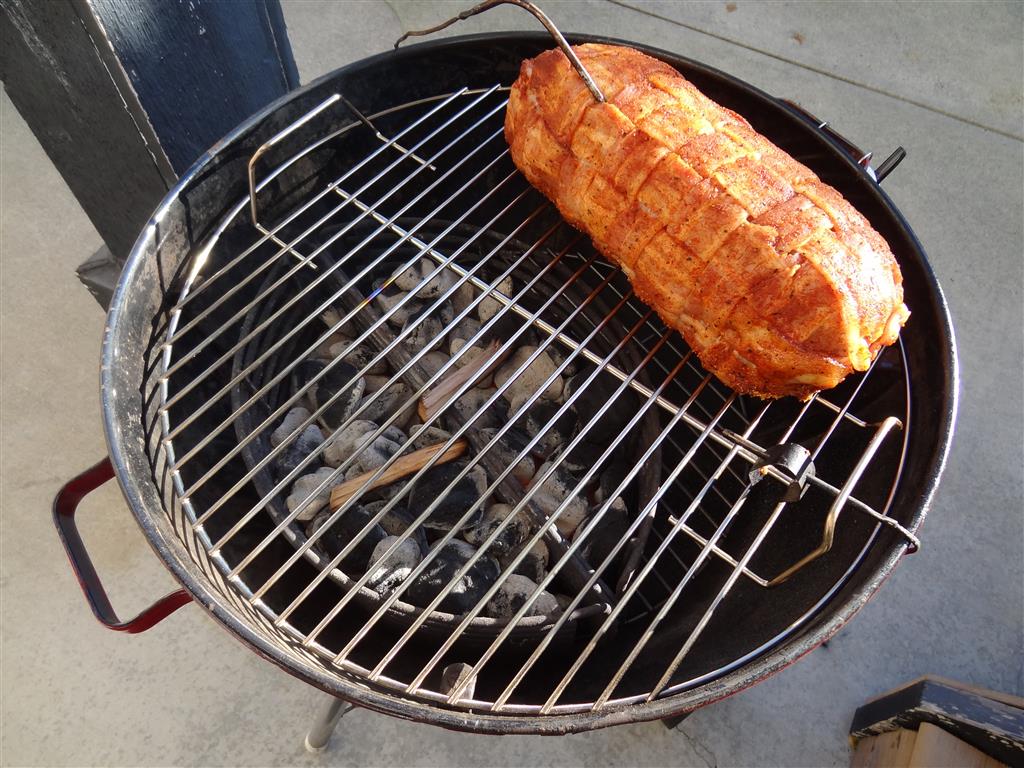 Up to temp, smoke wood added (apple & pecan), and then meat hitting the grill (above)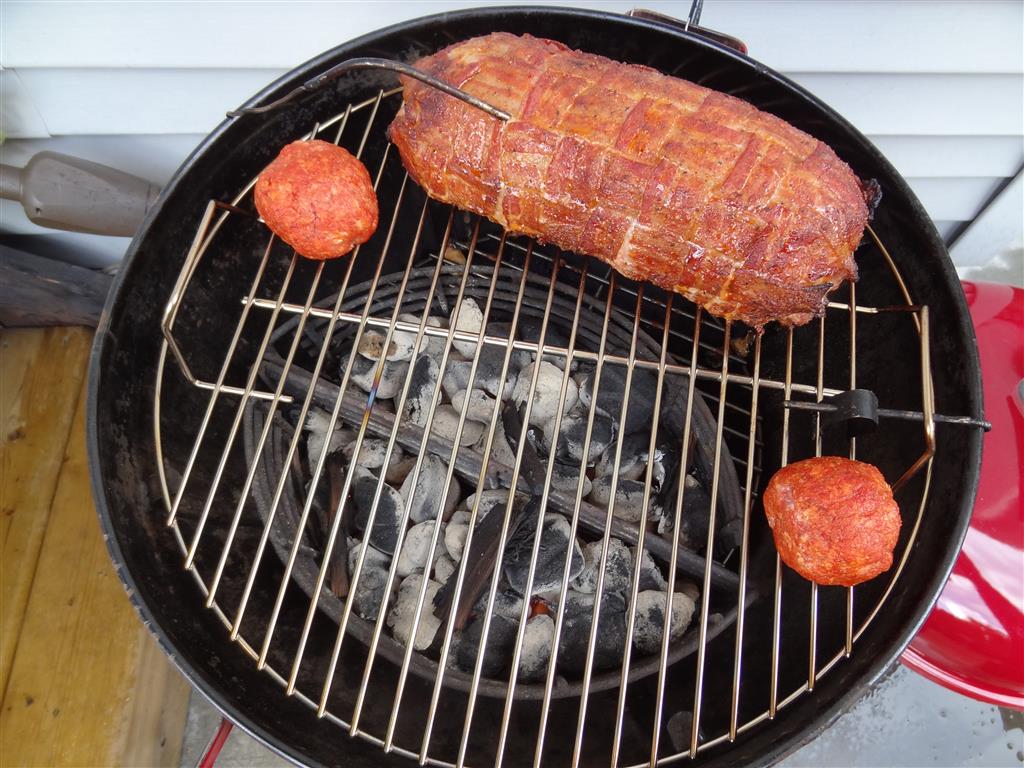 I had some extra meat leftover so they were seasoned and thrown on as big meatballs about 30 min later.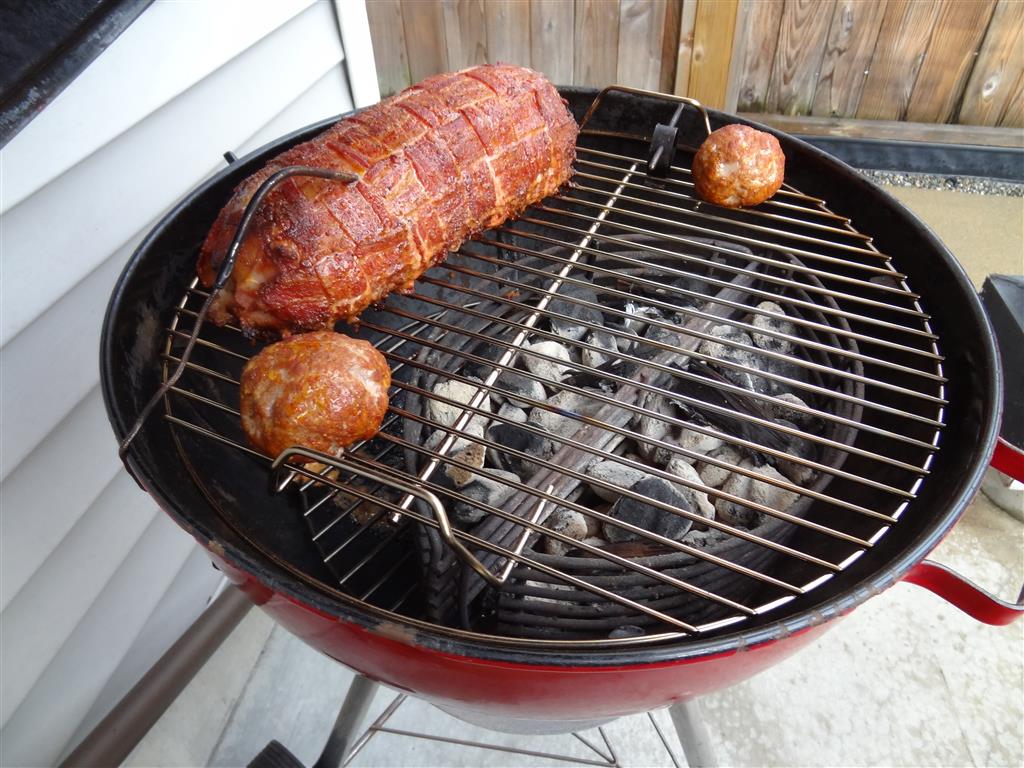 Now we're getting somewhere!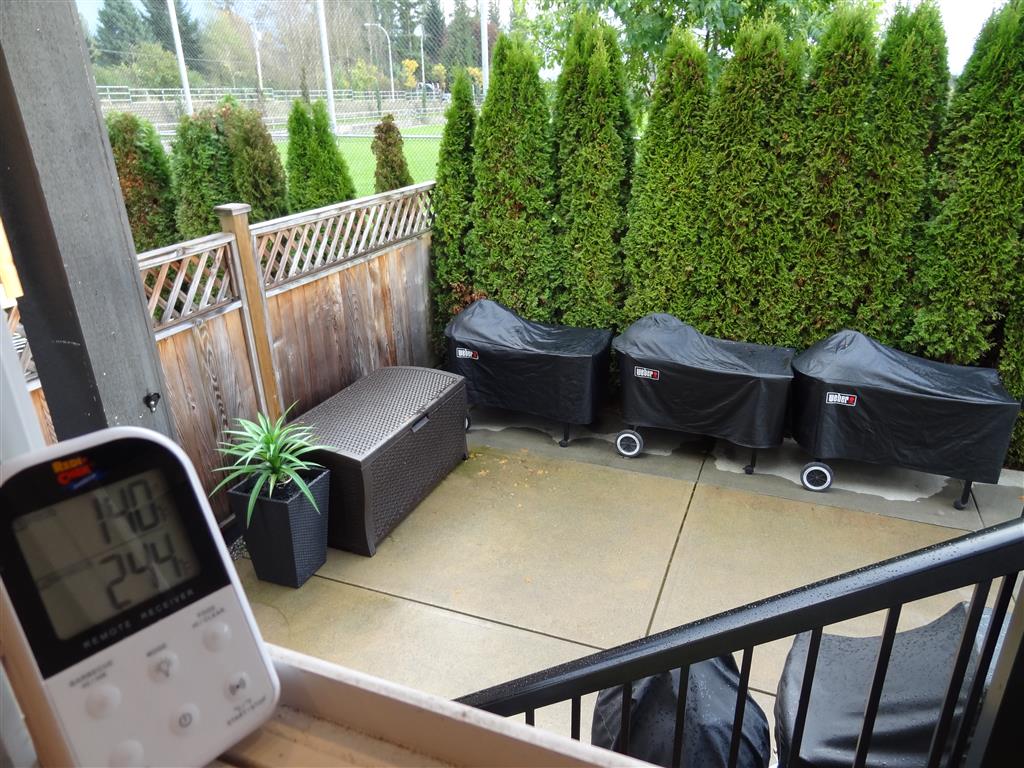 Temps slowly climbing… all the while the poor performers left out in the rain (in jackets of course!)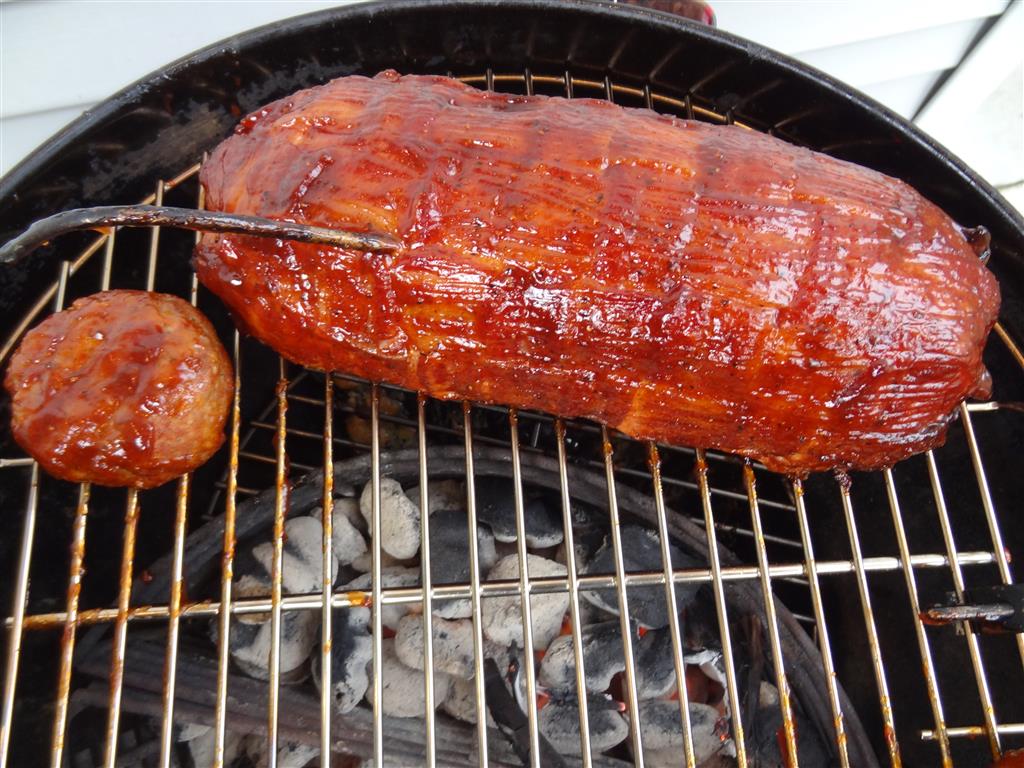 Sauced with Sweet Baby Rays about 30min before pulling from the kettle. This was right about the same time it decided to stop raining and clear up a bit.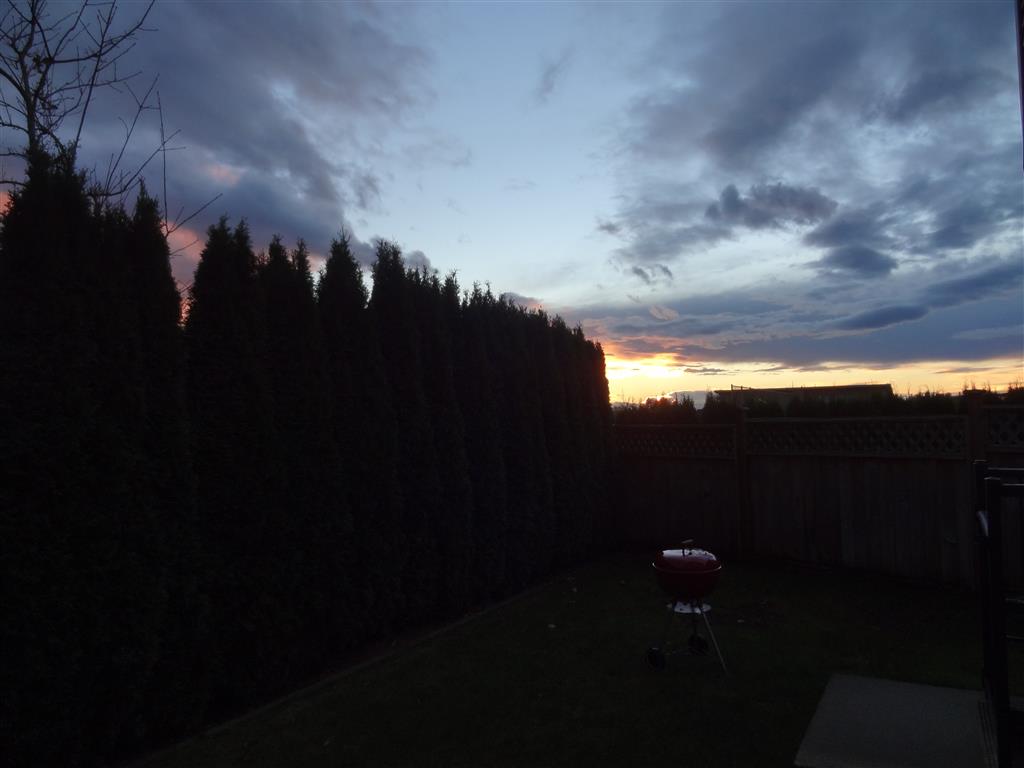 Turned out to be a beautiful evening and Little Red was able to finish the cook out on the lawn! 🙂  Was it a success? I sure think so!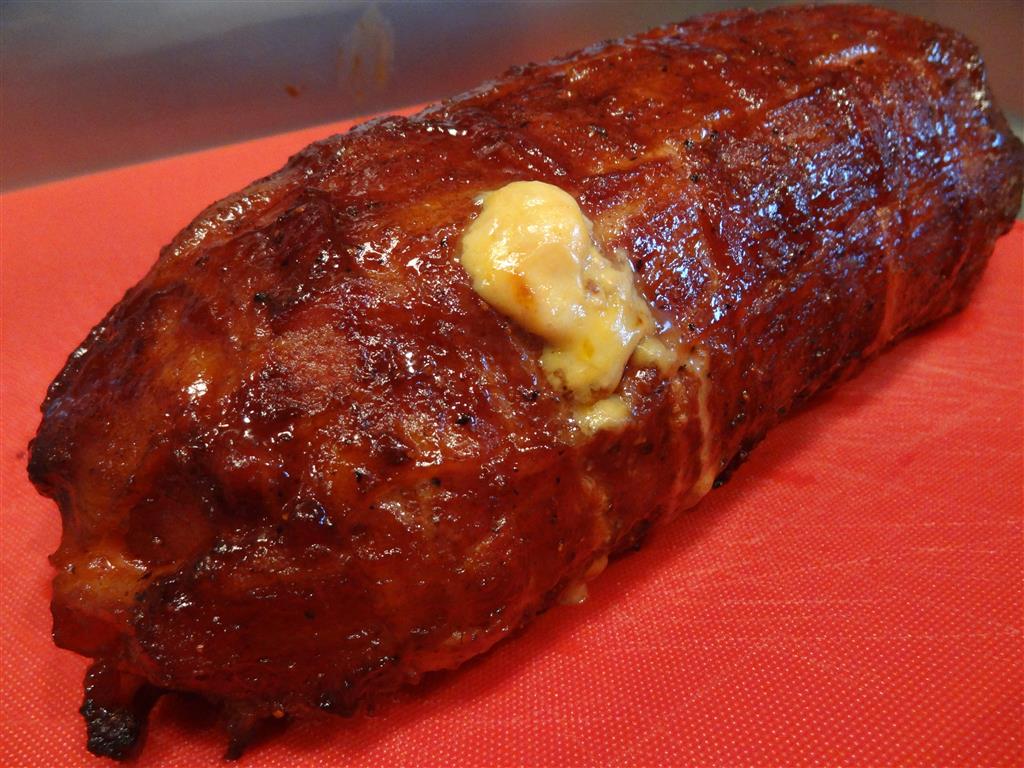 You know its going to be good when you get the cheese volcano after removing the Maverick probe!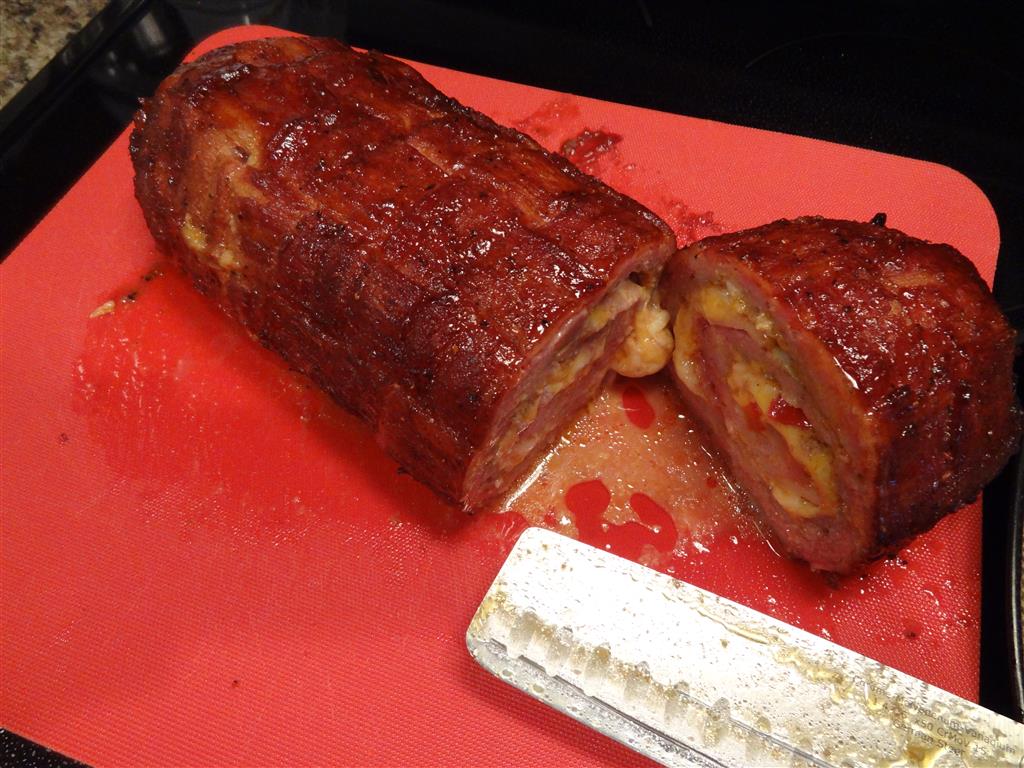 Mmmmm… looking tasty already! Now here's the fun part… after resting for about 15min or so, simply start slicing off "burgers" and loading them into the pretzel buns.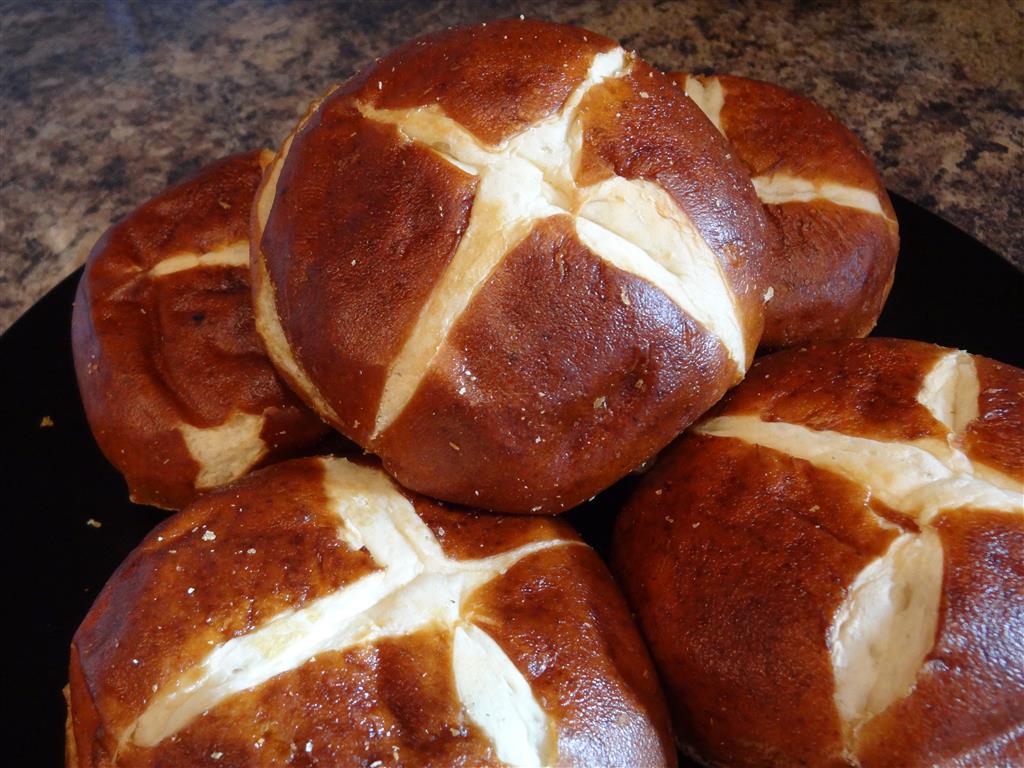 These were soft, just a touch sweet and DELICIOUS! And no need for a slice of cheese, it's already baked right in!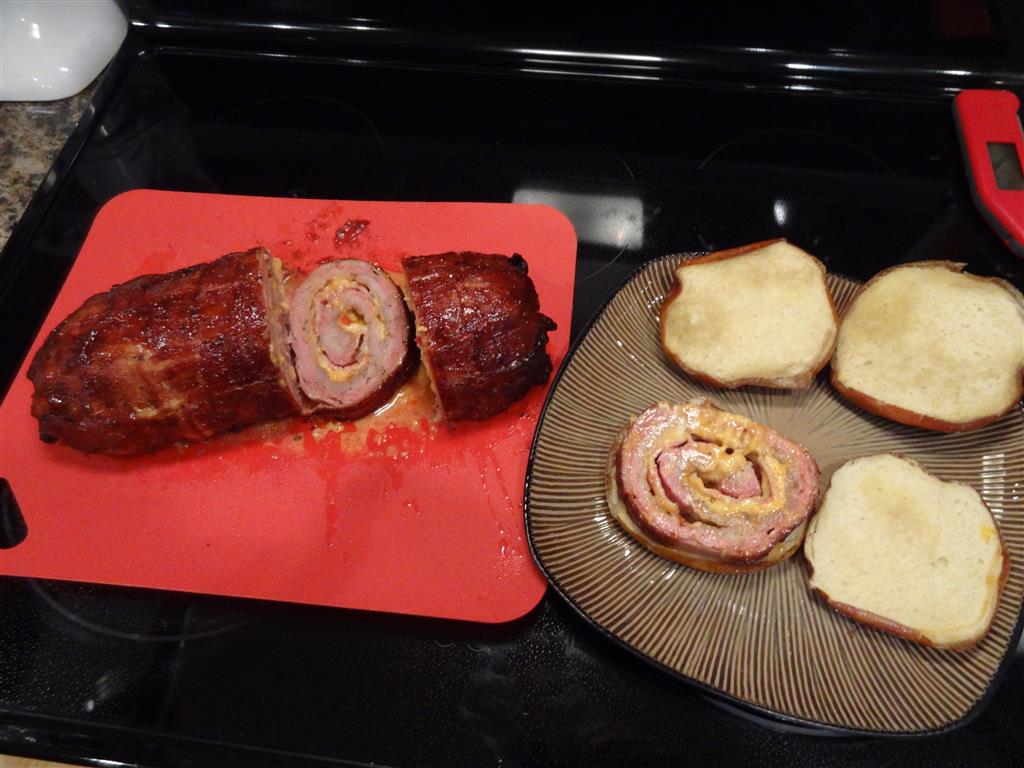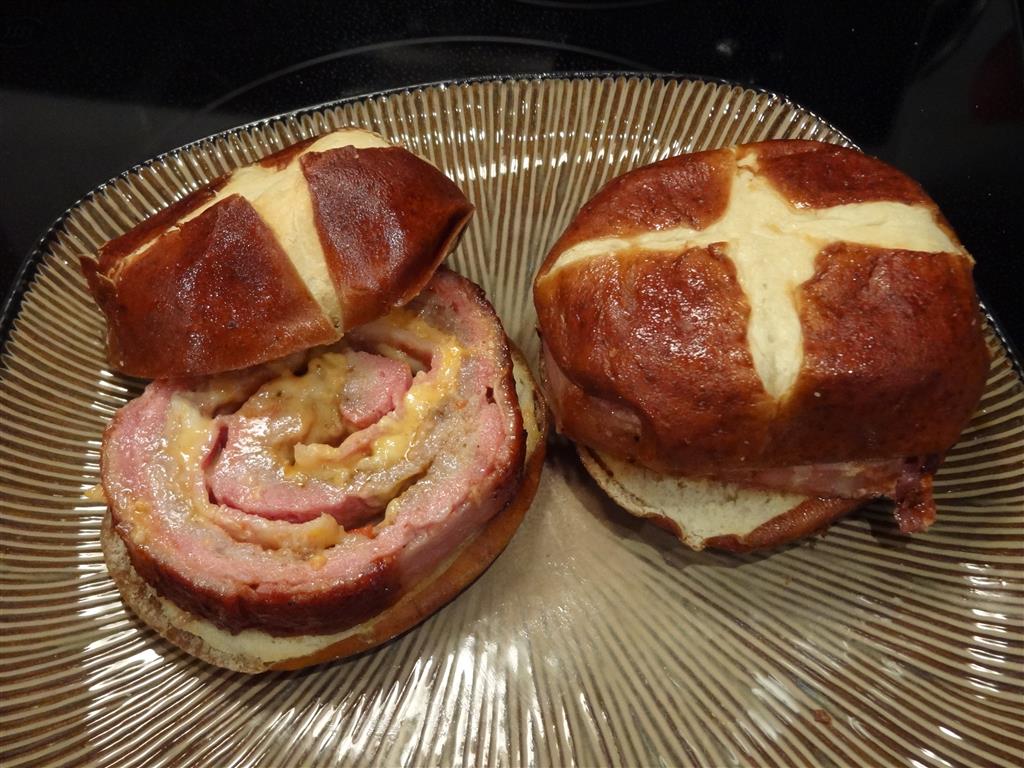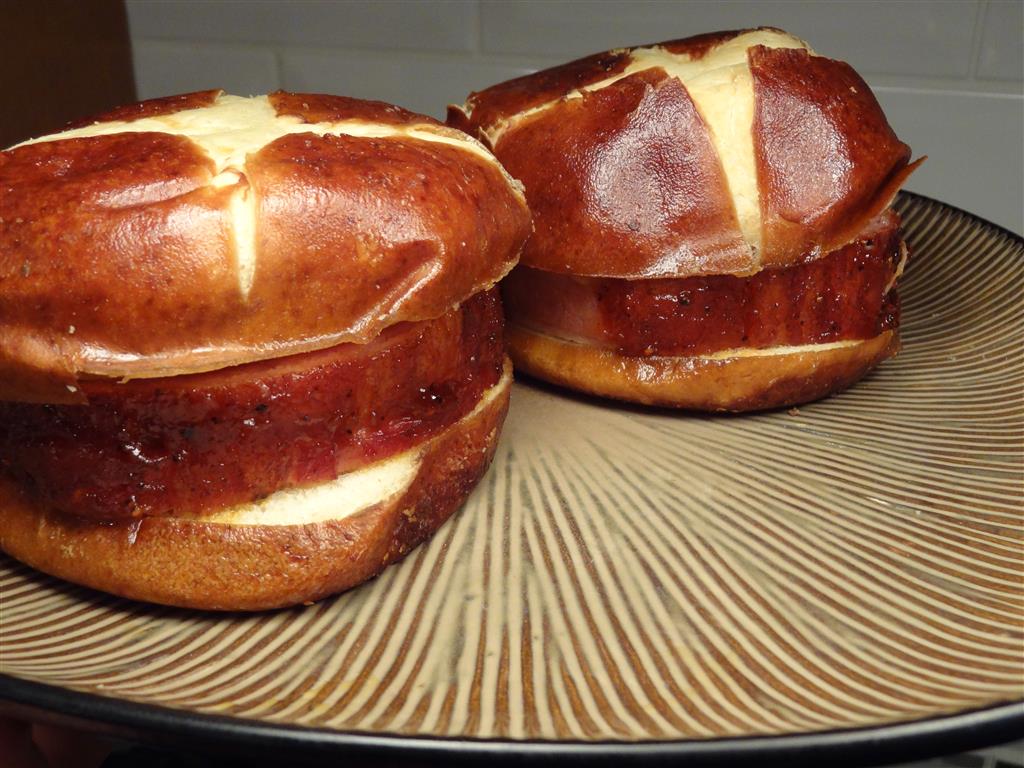 So there you have it – an insanely simple way to make some really good hand food!
I hope you all enjoy it as much as I did – this is a new family staple for sure 🙂
R – R – R