May 28th is National Hamburger Day and we are celebrating it this year.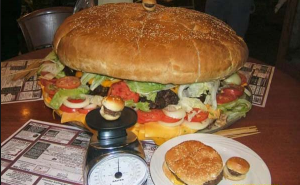 Most humans love burgers. Billions of them are consumed around the world every year. And May 28th is a day designated to celebrating all things hamburger.
Here are 9 facts about hamburgers that you may not have known about:
– Hamburgers did not really catch on in the United States until the 1904 St. Louis World's Fair.
– A Minnesota Casino set the world record for the largest hamburger ever made. It weighed just over a ton and was 10-feet in diameter.
– Americans alone consume approximately 50-billion burgers a year. The average American eats a hamburger three times a week.
– Nearly 60-percent of all sandwiches sold worldwide are actually hamburgers.
– The "Hamburger Hall of Fame" is located in Seymour, Wisconsin.
– The Hamburger is believed to have been invented in 1900 by Louis Lassen in New Haven, Connecticut.
– One of the most expensive burgers available in the US is served at the Fleur de Lys in Las Vegas. The FleurBurger is made with Kobe beef and topped with foir gras and black truffles. It also comes with a 1990 bottle of Chateau Petrus, all for $5,000.
– McDonalds sells 75 hamburgers every second.
– Hamburgers were referred to as "Liberty Sandwiches" during World War I.
Sourced from http://www.news9.com/story/29893374/9-interesting-facts-about-burgers-for-national-burger-day
Don't forget to enter the Burger throw down starting May 25th information here.
You can also purchase Weber's Big Book of Burgers here.