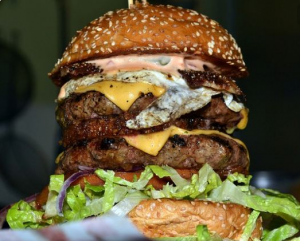 Spring is in the air (unless you live in Michigan where we had snow on May 15th), we are getting more daylight by the day and May is "National BBQ Month" with May 28th being "National Burger Day". We have so much to look forward to and here @ the WKC this means another cook off.
We are going to do another one based on the best of all Sam'iches, the Hamburger.
From May 25th to June 1st we are encouraging everyone to come up with their most creative, appetizing burger recipes.
Prizes have yet to be determined.
Look here for more discussion
Additionally, we are going to do another promotion of Weber's Big Book of Burgers book. For $12 shipped you get a brand new book that several have dubbed Weber's best cook book. As a bonus, a portion of the proceeds from the book will help to keep the lights on here at the WKC. Even if you have this book, this could be a great gift for Father's Day coming up.
Check out this thread for info on the Burger Book