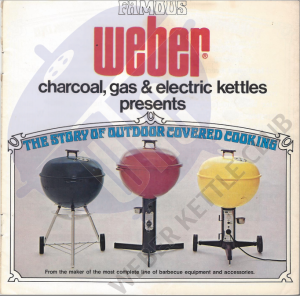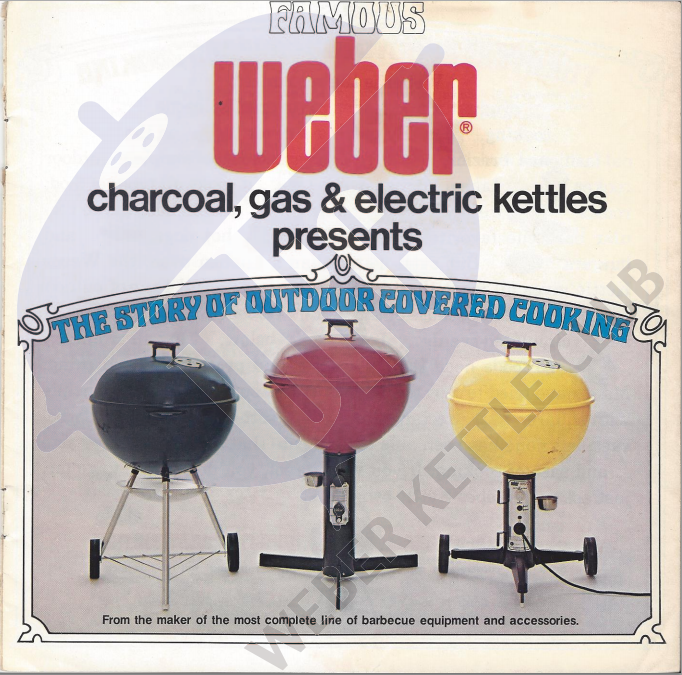 Recently, thanks to a friend of the WKC, we were given screenshots of the full 1974 Weber catalog & price list. This catalog gives us a glimpse of what was new for that model year as well as well as solving some mysteries that were just speculation prior to obtaining this information. Below are some bullet points of the "what's new" features and discoveries. You can also click on the catalog cover to join the discussion thread. 🙂
First Weber catalog to feature all plastic wheels on standard 18.5 & 22.5 kettles. ('73 catalog still features half rubber/half plastic wheels)
Avocado Green has been dropped in favor of "Key Lime" Green for 1974 as previously speculated.
Weber was still naming the kettle sizes and finishes in '74 and we finally learn the names given to the Key Lime finish 18.5 & 22.5 kettles. "The Fairway" & "The Gardener" respectively.
Redesigned Seville cart model introduced which is pictured below with a standard lime green 22.5 bowl with leg sockets and bowl handles dropped into the cart. This style Seville cart is known as the "Chariot style" among the WKC members.
First catalog to feature the full line of Gas and Electric Kettles.
Gas & Electric Kettles were available in finish choices of Black, Red, or Yellow only.
Small turn tabs still present on bowl vents of the 18.5 & 22.5 charcoal kettles.
The Ranger is featured in the 1974 catalog. Available in yellow finish only, this is the second design of the Ranger model. The Ranger was originally introduced in the 1960s with a different design and was available in a burnt orange/red finish.
1974 is the first year that the Smokey Joe model is available ONLY in black finish. The SJ featured in the catalog looks to be color edited to black.
The price list is featured. Prices effective October 1st, 1974. Fun Fact, the MSRP of a red or copper mist 26.75 kettle jumped from $79.95 in 1973 to $124.95 in 1974.
The Ranger cost in 1974 what a standard black 22.5 One Touch Silver/Original Kettle costs today, $99.
The Ranch Kettle is not featured but is on the price list.
We DO NOT see any gas or electric kettles with dual lid handles in 1974. It is unknown when those were made exactly.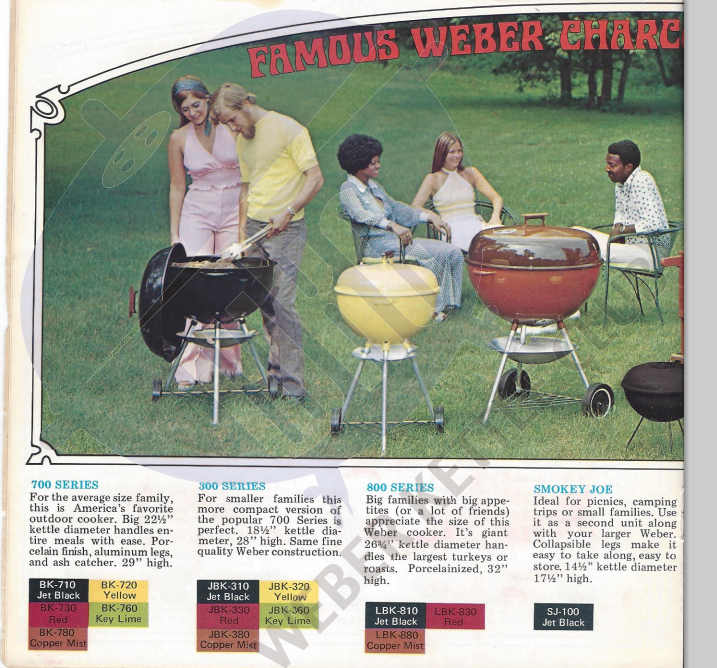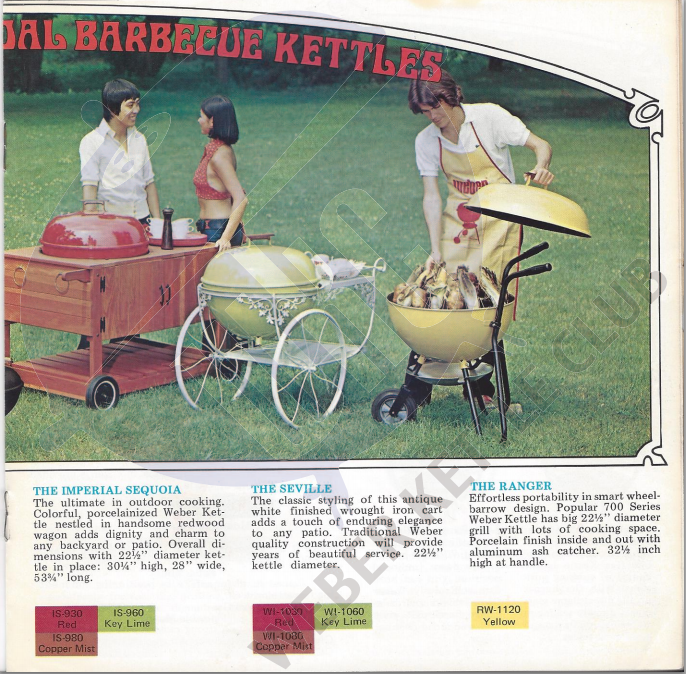 Review
Unlike previous catalogs that feature George Stephen and a big organized cookout with family and friends followed by traditional studio shots of the grills, we have here a park setting with a new group of people and the grills staged outdoors in these photos. As mentioned earlier, the Seville model is seen with a standard lime 22.5 bowl with handles. It is possible that the photo shoot was rushed and they just substituted a standard kettle in the new Seville cart. This could also account for the "photo shopped" Smokey Joe, they may have used a color model and shortly after decided to limit the SJ to just black or it could have been a '73 speckled black that was color edited.  As for the wheels featured, we see all plastic/thin whitewall wheels for the first time in the 1974 catalog, I cannot say for certain that 1974 is the first year for this wheel style. There have been some Avocado green 18/22 kettles (discontinued in 1973)  observed with this style of wheel. The change from half rubbers to all plastic wheels may have occurred between 1972 and 1973 after the previous catalog was published. We see the small bowl tabs on the daisy vents of 18 and 22 kettles in 1974, this does help to narrow the change to large bowl tabs to be between 1975 and 1977 when the bowl vent change was firmly in place.