I am pleased to introduce our next featured member and he goes by the handle dazzo around these parts. That's his clown name (no joke!) and though he claims to clown around no longer, it must be an important part of his life. Without further ado, here is how he describes himself:
My name is Rick, aka dazzo, aka DAZZ-O The Clown, Ret.
I like Pina Coladas and getting caught in the rain. I'm not much into health food, I'm not into champagne. I actually do enjoy kleaning a kettle. It's simply amazing to me that with a razor blade scraper, a box of SOS pads and a little Mothers, that a kettle can be transformed into something to be enjoyed, again.
I'm looking for a 'birth-year' kettle, but, problem is, charcoal wasn't invented yet. Elvis was still a Prince, and Marilyn Monroe was "born" in that leap year.
Growing up was hard. I could handle OK the walking to school, barefoot, in the snow, uphill, both ways. But what I missed out on was BBQ and grilling. Unlike some stories I've read, I don't have memories of growing up with a fruity kettle. I had to start my own memories with a Weber.
It started with a black '78. My wife and I were a young married couple with two young kids. I wanted to "BBQ", so we bought a Weber kettle – brand new. I remember it being a lot of money for us (although I'm cheap so it's probably all relative anyway). I must have some repressed memories somewhere of charcoal grilling because although I don't remember, I knew enough to buy a Weber kettle – they were the best.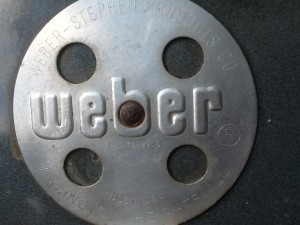 I had later gotten away from charcoal, and then I got gas. I admit, I had a Charbroil Precision Flame 9000 that some good friends had bought for us, since I was always grilling. Loved that thing!
Several years ago I wanted to grill with charcoal again. Along comes the green Double D Performer SS, which came with a quick disconnect 20# tank. The guy didn't like filling the little tank. Got it for a good deal as he was having a BBQ built in.
Yes, I have Weberitis. Admitting to it is one of the steps to recovery, right? I didn't know what I was suffering from. Realization began when I happened to be on CL, and stumbled upon a Weber Gas Kettle. Too cool. Went to meet the guy – it was like five minutes from my house – with traffic. He was a nice enough guy (don't want him to get a big head) and he showed me the kettle.
I had already done some research using this new little Web site – I think it was called Weber Kettle Club. I found some guys in some foreign country were having some discussion on kettle gassers. Thankfully, there was no mention of banana hammocks at that point or I probably never would have joined.
Anyway, "Duke" grabs the propane torch – total overkill, but that's what it's all about – and fires the thing up. Sold!
Went home, and a little while later joined the WKC. I was assigned number 218 at ground zero for Weberitis.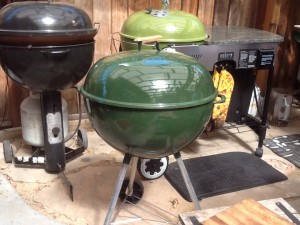 Then, the readheads – I've got it full-blown now – but down to only one. My green MBH is one of my favorites to look at. My other looker, and cooker, is the C&B Performer with the matching granite table – this one usually gets the chicken/fruits/veggies duty.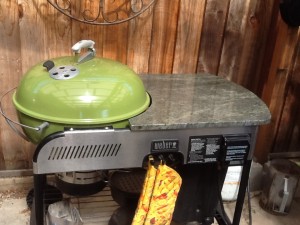 And my latest acquisition. Working on plans for some mods on this MLH…

Remember the kettle gasser? It's now my (original) Weber Wok burner – great for pancit. And fried ravioli.
I enjoy cooking outside. To that end, I still have gas – in my outdoor cooking area. A couple 'Genesi' (plural) gassers. One with two cast iron griddles for my flat top.
A while back, a collegue at work, who was from the South, informed me that BBQ was pork, done low and slow. Being a native Californian, I just hadn't learned that yet. Thanks to this club, I finally picked up a small butt, lined up the fuse in the Double D SS with a couple chunks of apple wood (burned right to left for pork) – and haven't looked back. Love the aroma in the yard as it's Q'n.
And the ABT's. Best things ever! Tried them and they were a hit! My daughter then made a request for "vegetarian" ABTs…
Jalapenos – halved
Mozzerella chunks
Chicken Apple sausage – the vegetarian part – instead of cocktail wieners, go figure.
Bacon
My wife gives me a bad time about how I don't want to join Facebook, but that I'm always on the WKC site. I didn't join FB because I don't want to be found, and there's too much drama – oh, wait, drama?
And if you ever get tired of looking at the WKC, check out www.dazzo.com
I like art, and painting on walls, and this site shows off some of my murals.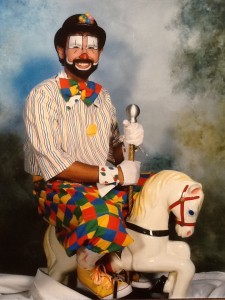 Wait, what about DAZZ-O The Clown you ask. Well, when my kids were young, I was a clown and I performed at children's birthday parties – Games, a little magic, and LOTS of Fun! – it was a blast. Although I don't dress as a clown any longer, I still have done some magic shows for our friends kids.
Dang, no wonder I didn't have time to BBQ
Seriously, I do want to thank all the members for making this site so enjoyable to look at, and for being an inspiration. The food pr0n inspires me to try different things. The kettle restores and mods inspire me to tweak my kettles. And the friendships inspire me to be a better person (sorry, was that too much?)
Thank you!
Oh yeah, and I still have my original kettle, my Old Grey.
Fade to black while ZZ Top plays in the background…
No, baby, tell me why don't you?
Oh, now, baby, tell me why don't you?
Make me some of your fine famous Bar-B-Q?