This Saturday WKC Team Cali had a Norcal meet. It was an epic event with 8 members and a few dozen kettles of every vintage and color. Keep an eye out for a full writeup on the west coast meet master thread but for now here is a sneak peek!
If you are looking for ideas for the upcoming father's day, we also just published an article for everything you want to know about kettle and meat temperatures at the official WKC Guide to Thermometers.
WKC statesman MartyG also had the opportunity to visit Weber hq and document an original '52 George's bbq kettle. Thanks, MartyG!
We are also taking preorders for the Gen 2 WKC shirt with blue kettle logo AND WKC handles. Make sure to get yours.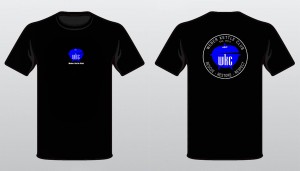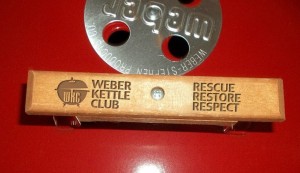 Last but not least graduation season is starting. If you need help planning your bbq party, make sure to ask a grillfella!
Charcoal Sales Alerts. Deals may vary by region.
Frontier lump $18 for 34 lbs at BJ's and $47 for 12olbs at Lowes
15% off Royal Oak Chef's Select at Do-It-Best hardware
Kingsford Blue 30lbs for $9 at Walmart.
More to sales come next week for Memorial Day!
Scores
Harris92 Original 1880 14.5″ WSM, NIB Red MBH (!), and
Jeff scores an original Weber salesman DEMO kettle,  and an original fire blower
Idahawk cold calls a yellow MBH
Crumbsnatcher green OTS rehab and red SS performer
Winz crimson SJ from Canada
Tattooedant Seville cart
Zavod44 Simpsons OTG score
PNW Sequoia score
GC8 Faded black 18.5 MTH
Mods and restorations
1ROW Black MBH restoration
How to refinish double rivet handle without removing it?
Mark Schnell posts plans for a DIY "sequoia"
Brainstorming for a DIY kettle table
Winz project "Venison" SJG Smoker
DIY kettle wheels
HeyJude easy 7409 OT removal
Zavod44 adds a gas assist to a sage performer
MacEggs fitting old handles to a new kettle
Cooks
BigRix lamb cook
Addicted-to-smoke planked arctic char, kebabs, and 5qt chili on SJ
Idahawk bacon wrapped chicken and corn on Pac-Man
Aawa kettle fried chicken round 2, and brisket, ribs, and sides
One-Touch-Platinum apple bread
Winz take-no-prisoners breakfast fatty
AZ_MIKEY surf an turf
Argentflame bunch of weekend cooks
BBQMedic breakfast fatty
MrHoss bunch of cooks
General Awesome threads
Norcal mini meetup with a first cook on a Ranch Kettle
Which would you choose? Blue WSM or flat top 26'r?
Performer showoff thread
What are must have accessories?
Grillfella petition for Weber stars and stripe kettle
Rib basics 101