One great aspect of the Weber Kettle is that it can cook at all types of temperature ranges from cold smoking, hot smoking, low and slow bbqing, baking and grilling. Tweaking the internal temperature is accomplished with the amount of charcoal, charcoal position, and the the adjustable vents. Since the adjustable vents give you versatility, a thermometer can help you keep your kettle at optimal temperature.
Weber released a few kettle models along the years that have a thermometer. In the 1990's the Mastertouch and later on the Performer had a thermometer in the lid. The simple dial thermometer was first mounted right under the top handle. It also had a probe portion that also allowed you to test the temp of the meat! Around 2009 Weber relocated the thermometer to the lid with a classy chrome bezel on the One Touch Platinum, 2nd generation Performer and later the One Touch Gold.
Grate vs lid temperature.
The lid and grate temperature will vary slightly due to radiant heat from the charcoal and kettle body and proximity to the meat. I recommend to not worry too much but to keep your measuring method consistent. Keeping the location consistent will allow you to make tweaks for the next cook to decrease cooking time or change how the meat cooks. Most recipes can be cooked in a ~50F degree window and still produce good results.
How do I know if my thermometer is consistent?
The best way to do calibration is with the boil test. Water boils at 212F, or 100C so you can boil a pot of water and stick the probe in there to confirm. This will give you one reference point towards to cooler side of the temperature range.  If you only have one thermometer it will be harder to calibrate it across the entire temperature range. The other option to get a high temperature reference point is to set your oven to 350F and see how your thermometer records that temp. If they are slightly off don't worry about it too much. There can be alot of variation between the the temps on each dial. As long as the thermometer reads consistently, you can mark temperatures on the dial if it reads low or high, or remember to always add the number of degress it's off by for a specific temp. Remember that a thermometer will allow you to put run your kettle within a certain temperature range and a wide window will still produce good results. So don't stress too much about getting it to exact degree. If you need or want more accuracy though, check out the digital options below.
What if my kettle didn't come with a thermometer?
There are alot of options out that to help you to measure your temperature. Here are some of the most popular:
Dial thermometer.
How it works: There is a a long winded coil that attaches to the needle. As the metal heats up, it expands and rotates the dial to the appropriate temp.
Mounting options: There are alot of options here. There are models with a base that you can keep inside the kettle if you only need to check on temps once in a while. Other's have a short probe that can threaded through a hole. like popped into a top vent hole, or secured with a nut in a hole drilled in the kettle
Here's DirectDrive's thermometer lid install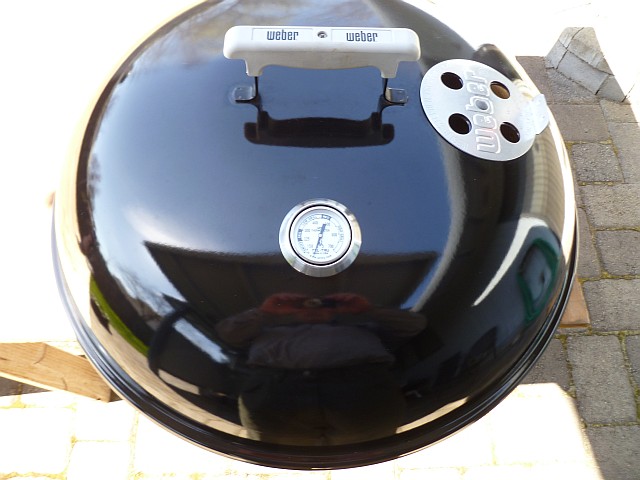 Mac Eggs Oven dial thermometer on the grate: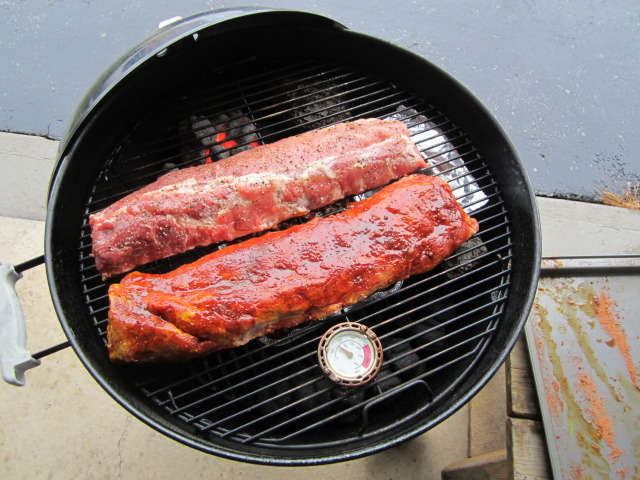 1Buckie's grate temp dial. He recommends lightly oiling the window to make after cook cleaning easier.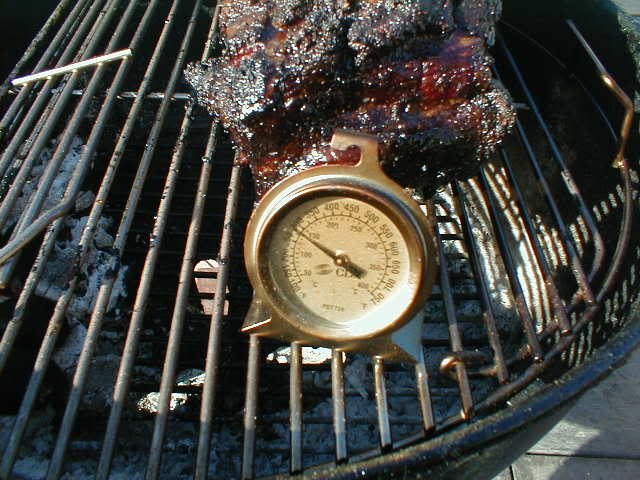 Doppelbock's  thermometer through the top vent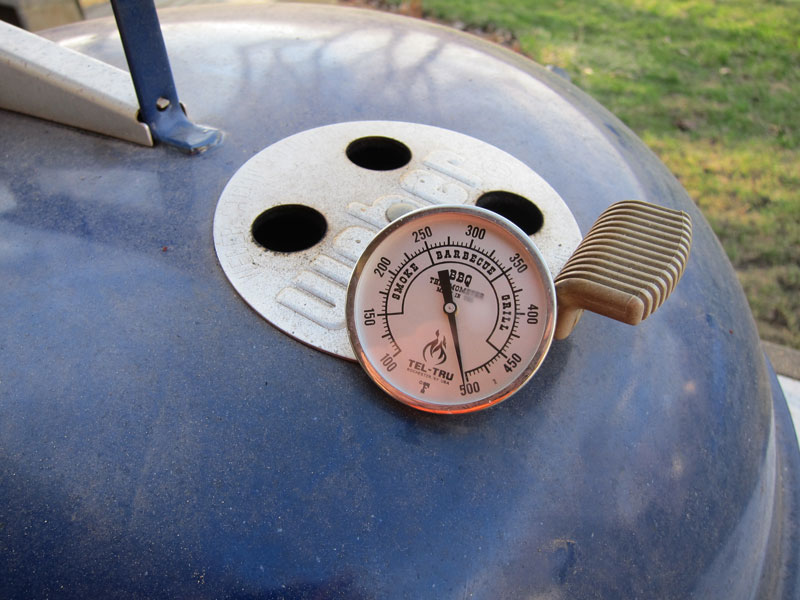 Pros- Cheap, available at most home improvement or kitchen stores. No batteries required.
Cons- Varying accuracy for cheaper models and not all can be calibrated. low price point makes quality questionable so stick to well reviewed brands and models.
Look at:
Basic dial oven thermometer $4.
Basic mounted dial thermometer $8.
Tel Tru mounted dial thermometer $28.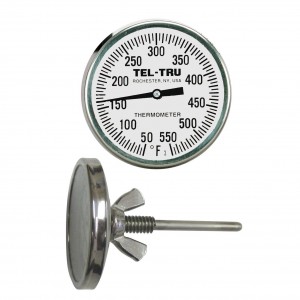 Probe/digital thermometer
How it works. A temperature probe or thermocouple is connected to a digital controller. The controller sometimes allows for additional functions like Celsius conversion, calibrations , multiple tempertature sensors for meat and or cooker temp, and alarms. Some models like the Maverick ET-732 even have a wireless transmitter that displays the grill temp while you are far away!
How it's mounted. The wires need to be wired into the kettle. You can slip them through the holes in the top vent, under the lid, or a hole or grommet drilled into the kettle body or lid. (pics)
Pros. Most can be calibrated to give the most accurate readings. Wireless capability allows remote monitoring. Multiple temp readings on one unit.
Cons. Lower quality probes can break or malfunction. Wires can be unwieldy and the unit needs batteries to function
Look at Maverick Et-733 Wireless thermometer $70 on Amazon.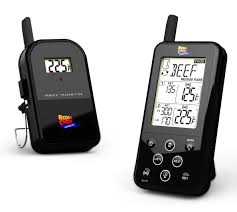 Data logger/ temperature controller 
At the high end of the thermometer market there are active temperature controllers. Some people also call this a Guru or Stoker after two of the most popular brands of temperature controller. Like the digital and probe thermometers they keep track of the meat and kettle temperatures  with separate probes but add a control system and fan to keep your kettle at the desired temperature. To use a temperature control, the air intake vents are closed down so that when the temperature gets too high, the fan stops and the kettle is choked for air. The fan starts up again once the temp falls below the desired temperature. Really high end units can be connected to wifi to send messages to the user, log data for cooks and have multiple probes and cookers to control various cookers and track multiple cuts of meat at once. Some kettle modification is probably necessary.
How its mounted: The wires need to be wired into the kettle. You can slip them through the holes in the top vent, under the lid, or a hole or grommet drilled into the kettle body or lid. (pics) The fan attaches to an existing vent or hole
Pros: Pogrammable, active temp control makes setting a temperature super easy, remote monitoring, wifi compatibility, etc.
Cons: Expensive. Needs a power supply or outlet to work. Modification to the kettle  is probably necessary to mount the fan- especially for One Touch kettle.
Look at:
PitmasterIQ, basic temp controller starting at $140.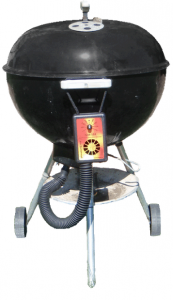 Rock's Bar-B-Cue Stoker WiFi, High end temp controller with wifi, multiple cooker control, and advanced programming starting at $350.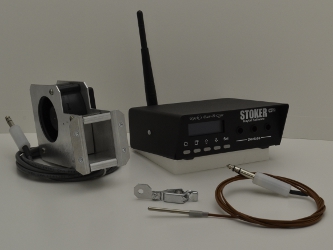 BBQ Guru CyberQ Wifi
. High end temp controller with wifi, multiple cooker control, and advanced programming. Starting at $400 with blower fan.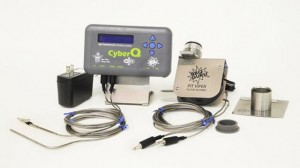 Meat Thermometer 
A meat thermometer will let you know when your meat is done. Unlike the kettle temperature, the temperature window for meat doneness is much narrower. Too low and undercooked meat may be rubbery still have viral bacteria, and too high/overcooked meat will yield dry, flavorless food. I recommend a digital probe type as their superior accuracy is great for determining right when the meat is done. They also more convenient to use as they heat up much faster preventing the need to keep the kettle open for too long and have your temperature run away. I recommend the Thermapen from Thermoworks  for $96. Cheaper options are available for $15-30 dollars – such as this digital probe Thermometer made by Taylor–  for the trade off of less durability, speed, or accuracy.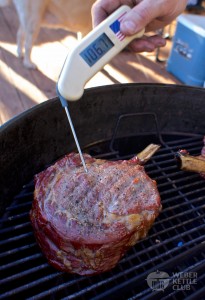 Pros: Really simple to use (fold out the probe to turn on and fold it in to turn off), Splash proof, calibratable, and gets up to temperature in <3 seconds. They also come in numerous colors to match your accessories or mood.
Cons: A little pricey, but worth the investment. Can't really leave it plugged into the meat to track real-time temp.
Hope that helps, feel free to post in the forums if you need more detailed info.
Gummi