When you have a chance to get your hands on an original Weber kettle, you don't say no. You grab your camera and pray for good weather. I recently had that chance, and took full advantage of it. Weber Stephen headquarters in Palatine Illinois is home to some amazing artifacts – remnants of over 60 years of innovation and passion for grilling. But it wasn't always that way. Before George Stephen built Weber's reputation as the world's leading maker of charcoal and gas grills, he was a lot like you and me; working hard during the week, and kicking back on the weekend. We all know one of the best ways to kick back is to gather around a pile of glowing coals, good friends and grilled food.
At his home in Mount Prospect, George built himself what he believed to be a state of the art grilling center. Solid brick, with an iron insert to hold coals and support a grate. Life was good. But something wasn't quite right. Without a cover, the winds (here in the Chicago area, we specialize in windy weather) would blow ash over the food and cool off the grilling surface – even on a warm day. It sparked an idea that is well documented; why not make a covered grill that would allow trapped heat to circulate around the food and protect it from flare-ups, ash and unpredictable weather? His experiments lead to an amazing innovation in charcoal grilling: George's Barbecue Kettle. First produced by Weber Brothers Metal Works (where George was employed at the time) the kettle quickly became known as the "Weber Kettle". The name stuck.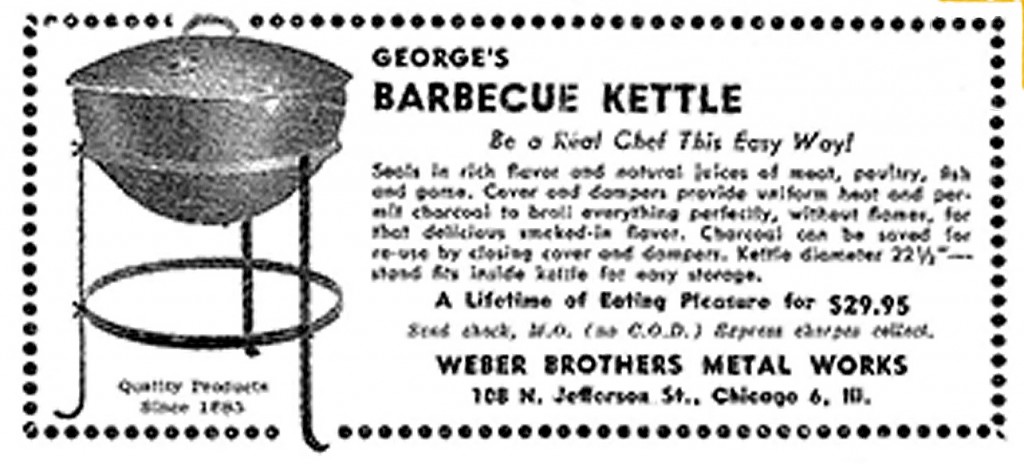 Fast forward to today, and a visit to Weber's world headquarters in Palatine, IL. That brick barbecue George built behind his house? It was moved to the front entrance of the main office. On a sunny day in May, with tulips in full bloom and the sun shining, I was able to turn the clock back and recreate a scene we can only imagine was something George's neighbors would have seen (and would soon benefit from themselves) back in 1952. A new contraption that looked a bit like a flying saucer, with smoke filtering out of the lid. So let's visit George in his backyard and see what he's up to!
As we approach, we can see the grilling center George spent so much time on. Impressive, but what's that thing sitting net to it?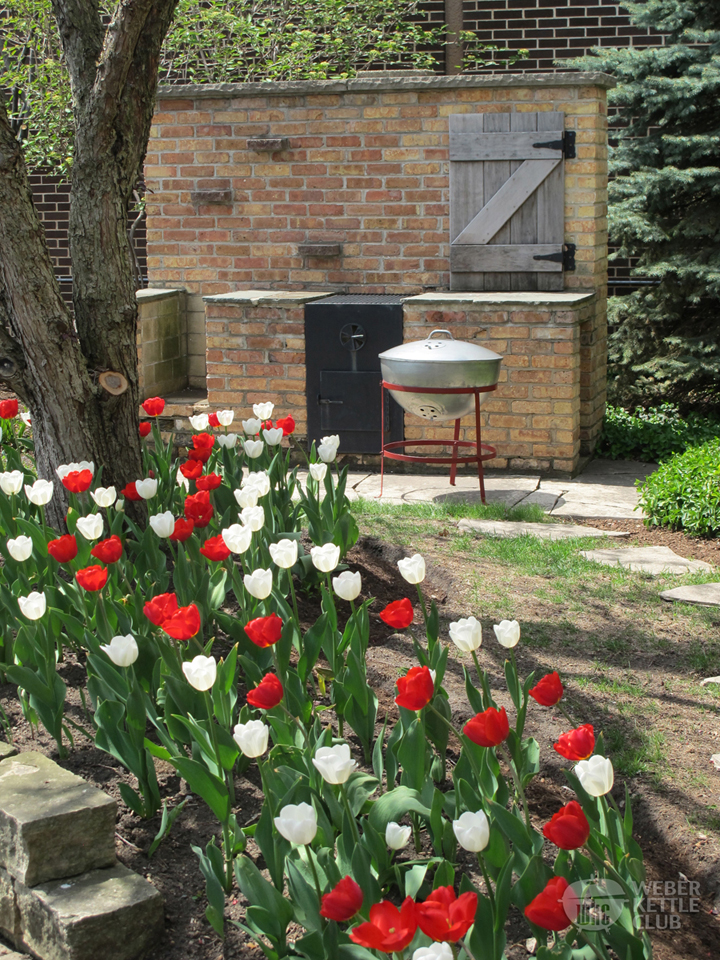 We get a little distracted by the tulips for a moment, but that strange object is beginning to come into focus.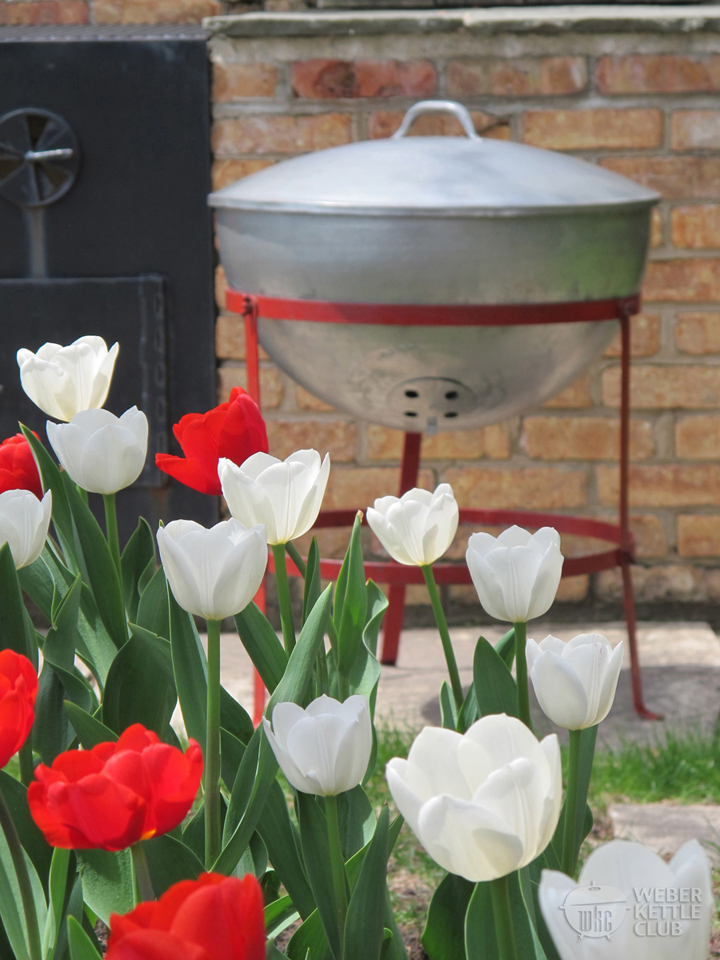 George describes it for us. He tells us how he was looking at the metal channel marker buoys made by Weber Brothers, and how he cut one down to make a bowl and lid. With vents in the lid (and later in the bowl) to let the coals breath, the fire was easy to control and the food was bathed in circulating heat. Everything that went in came out perfectly cooked. If you ask him why it seems a little short, he'll tell you it's designed to be easy to disassemble and store – the leg cradle uses wingnuts so you can take it apart and store it inside the kettle. That way, it will go anywhere.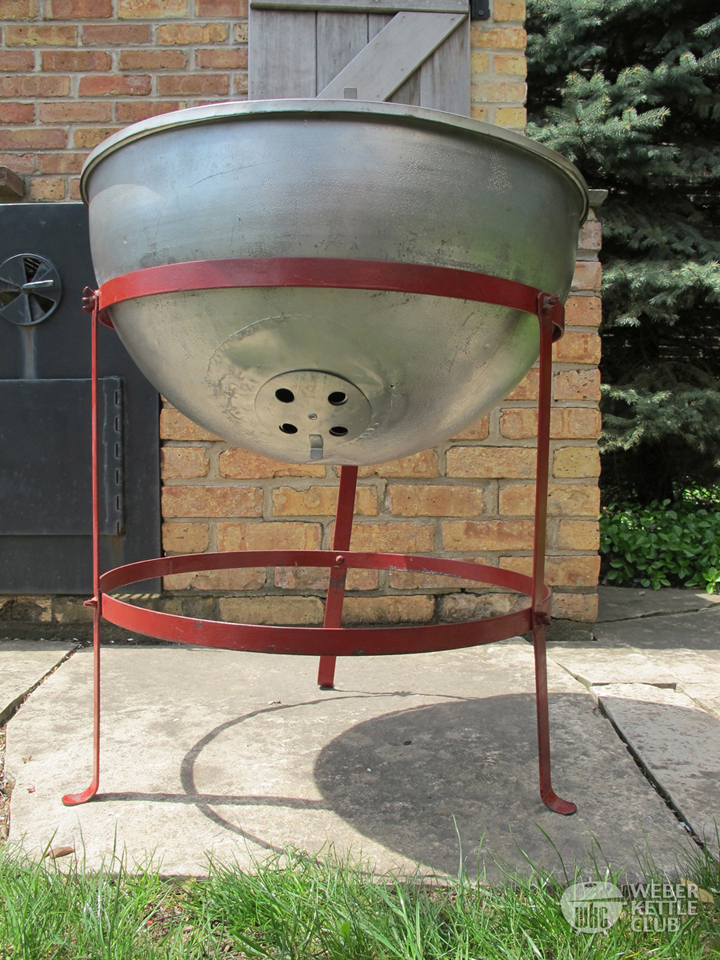 We chat a while longer, then it's time to go. Before we do, George invites us to his office where has has a few other inventions he's very proud of. He should be proud – they are true American icons. His family and many others are still busy perfecting the original kettle and making believers of grilling beginners and experts alike around the globe.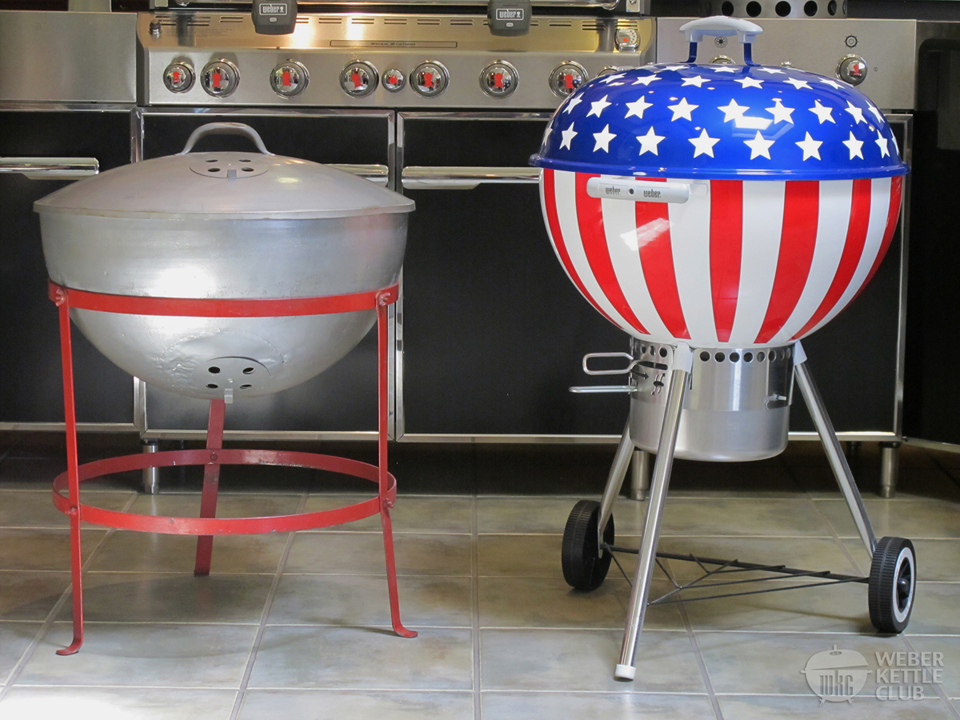 Check the Vintage Grill Gallery for more pictures of the original Weber kettle
The One. The Only.
MartyG – May 2014