Did you get out and grill this week? Some of our members did. Here's one result. Lots of pictures in jamesnomore's thread on 2-1-1 baby back ribs.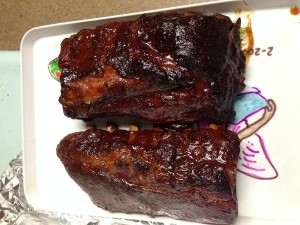 G$ teased us with this: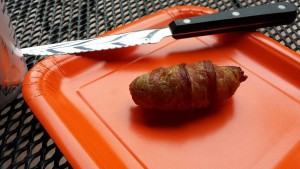 :
If you made something that came out particularly well, I hope you shared it with us in an appropriate forum.
Modifications, Restoration and Accessories
MartyG shows us what not to do with a yellow kettle.
crumbsnatcher has some photo comparisons between new and old colors.
Winz started a discussion on Wood Dale handles that must have covered a lot of ground 'cause it went 11 pages in 4 days!
Troy asks if there is interest in WKC branded wood handles.
5280Jeff shows off progress on restoring a red MBH.
lemisfits ponders on the wisdom and ethics of adding a lid thermometer.
Recent Acquisitions and Sales
New member idahome introduces himself to us with his acquisition of a brand new lime green kettle.
tatoodent reported acquisition of a beautiful black 18 OTG.
MartyG started something about the Crimson Performer that got plenty of more attention this week.
BigRix is really enjoying his first WSM.
Will someone snag that free green C&B Performer that Duke posted?
While the $20 black SS Performer spotted by ramsfan can't get no respect.
ramsfan shared a $30 red SS Performer which started some discussion.
G$ snagged the 26 OTG posted by ramsfan.
Cooking tips and results
Duke did some "Vintage Catalog Style" ribs.
Jocool shared a few recent cooks.
Prof did some pulled rib sandwiches.
Oh, yeah… Troy is excited about his new grill (Apparently because it is yellow. No, make that YELLOW!)
Check the forums out. You may find some of the lower traffic threads interest you more. It is unlikely that I have captured every single worthy thread.
Have a great week! (And realize that by next Monday, the Northern Hemisphere will start meteorological spring.)
GUMMI BONUS:
Sneak peek of our next feature!