The Superbowl is the biggest sporting event of the year but it's also the best event of the year to show your guests that you are MVP of the bbq grill. Studies also show that armchair quarterbacks are more more effective when you have a stomach full of bbq so never watch a game hungry again by using this WKC guide to BBQing for football games.
The expert cooks at WKC have chosen some recipes for you that are not only tasty, but require minimal tending once placed on the kettle so those who live in colder climates who are too wussy to tailgate can get their bbq fix too.  For more ideas on how to smoke on your kettle, check out the WKC guide to smoking here: WKC 8 easy options for smoking on your kettle
Pregame
Start the game off right with the bbq wrapped tater tots made by WKC member Kaz. Just wrap up the tots, add some jalapeno or spices for heat/ flavor, then throw them on the grill indirect at high heat until the bacon is golden and crispy. You can also serve these nacho style by putting them on a pile and adding cheese, guacamole, or dip on top!
See how Kaz does it here: How to make bacon-wrapped tater tots
Wrapping the tots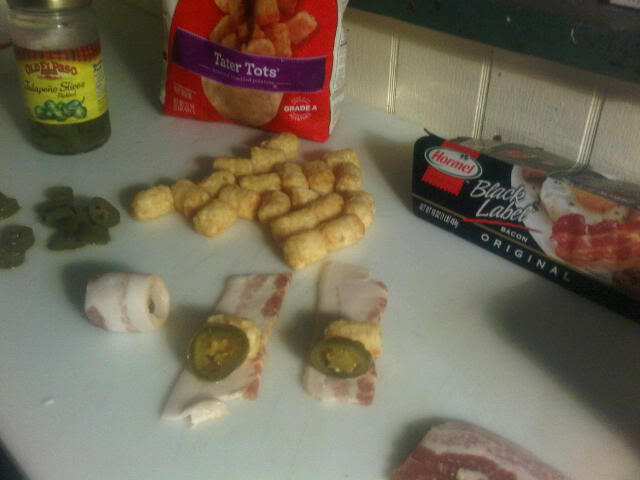 Served nacho style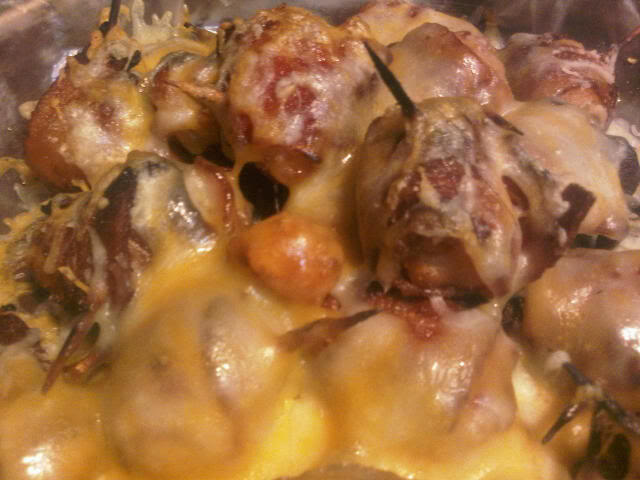 Main event
Spicy Sriracha garlic stuffed chicken wings
Chicken on the Kettle is always great since having a lid on the kettle makes the skin crispy at high heat. If you are getting tired of run-of-the-mill soggy buffalo wings- step it up a notch with WKC member Kaz's spicy sriracha garlic stuffed chicken wings. Cook the wings indrect at high heat for 30-45 min until cooked/crispy then toss it in the sauce when done. Yum!
See how Kaz does it here: Spicy sriracha garlic stuffed chicken wings. 
These aren't your average Super Bowl wings!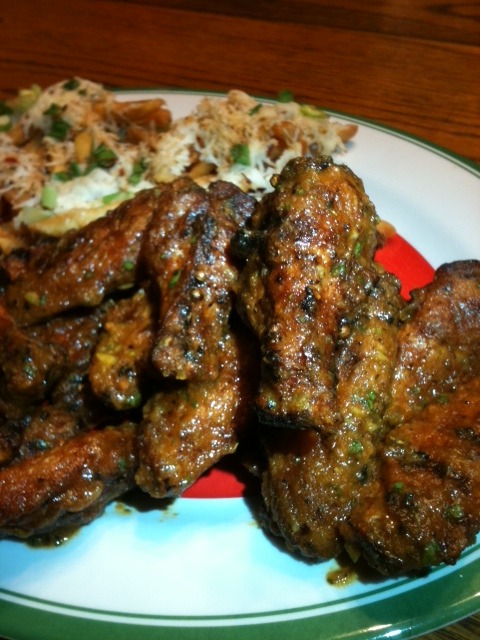 Atomic BBQ Turd's
A balanced BBQ diet also needs vegetables. The best and tastiest way to get your bbq vegetable fix is with Atomic BBQ Turds (aka ABT's or 'Turds for short). ABT's are jalapenos stuffed with cream cheese, spices and other goodies wrapped bacon and smoked to perfection. 2014's first featured member 1Buckie is our resident turd expert. His secret is tandoori powder but the sky is the limit with regards to ingredients to blow your guests away! See what i did there? 
Check out how 1Buckie cooks ABT's here: ABT wrapping and cooking
You can cook alot of 'turds on a kettle!
Cook them until the bacon is golden brown and crispy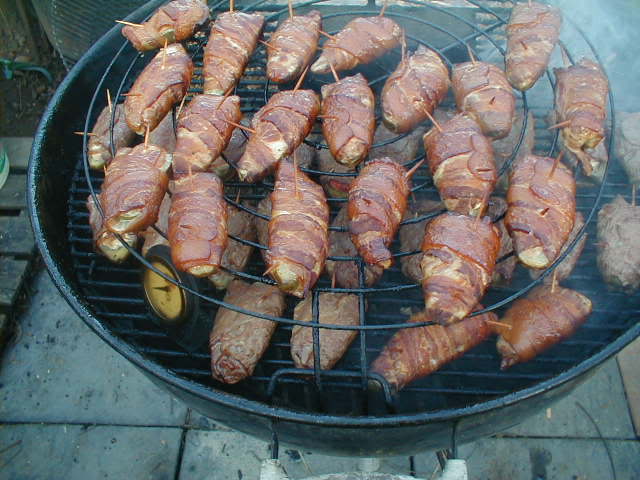 Bacon Wrapped BBQ  Fatty
A fatty isn't just a football player on the offensive/defensive line. It's an epic roll of ground meat, cheese, sausage, and spices wrapped in BACON. Fatty's come in all sizes and shapes but we love them all. You can slice them up into a 1/2″ slices and serve it on slider or hamburger bun, eat a slab with bbq sauce on your plate, or eat the entire fatty like a burrito (not for the faint of heart!). Check out the Member HankB' epic fatty cook and  his bacon quilting and wrapping technique below. A fatty is best smoked at low-medium indirect heat  heat for 2-4 hours depending on the size of the fatty.
See how HankB makes a fatty here: HankB dressing up a fatty.
 Fatty pretzel bun sliders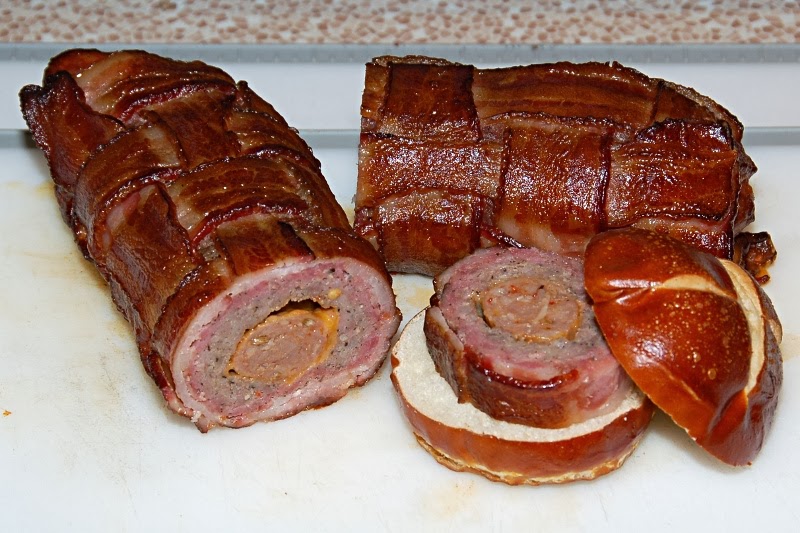 Bonus:
If you are a Broncos fan, you can cook Peyton Manning's favorite- Omaha Steak LOL. He says "Omaha" so much, he must be a fan.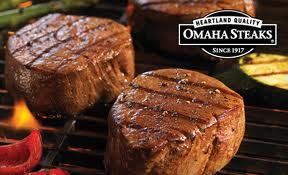 Order online at www.omahasteaks.com or see if there is a location near you. 
or a Beercan chicken- using only Bud light of course 

 See how Bbqmiller does it here: Beercan chicken on a kettle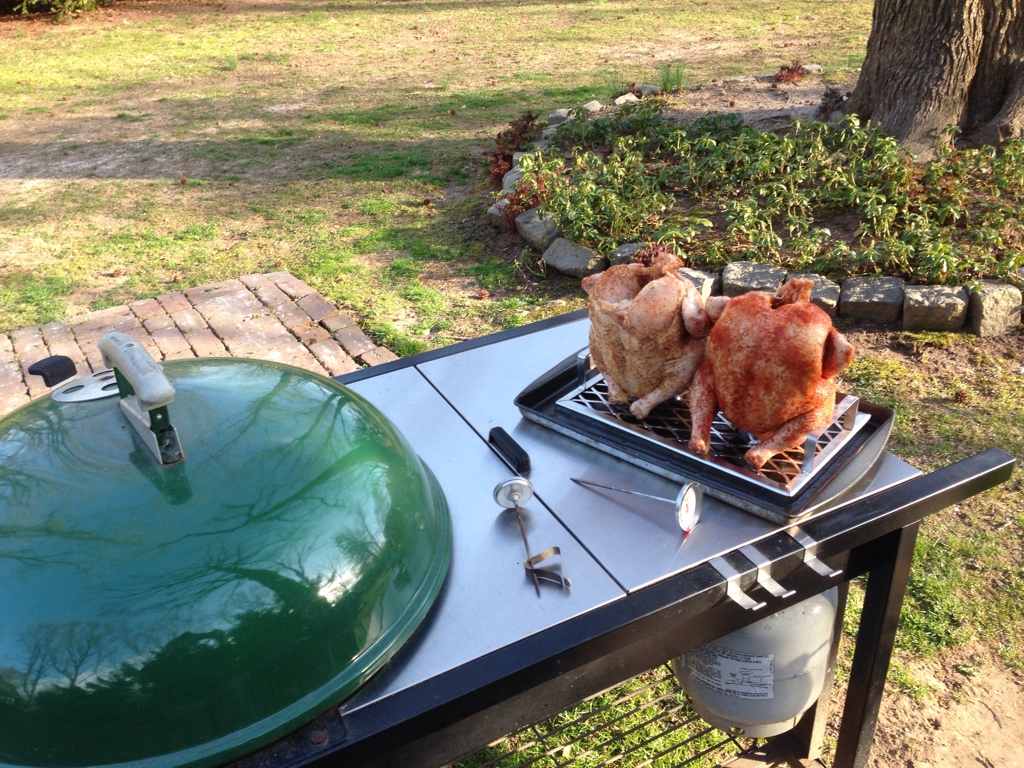 Have a good gameday!