While it can be debated, many consider the hamburger the king of sandwiches.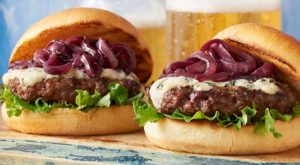 Burgers can be prepared and dressed in so many different ways that they can satisfy even the most fussy of eaters.  May is National Burger Month and May 28th is National Burger Day. We at the Weber Kettle Club are celebrating this wonderful sandwich by having a contest and our friends at Adrenaline Barbecue Company are helping us by sponsoring the event.
Adrenaline Barbecue will be giving away their dual purpose Drip 'N Griddle (DNG) pan as a grand prize for the winner of the event.
*Note – Should you already own a DNG and submit a winning post with the DNG you are eligible for a cash gift card for the value of the product courtesy of Adrenaline Barbecue Company.
For more information about the Drip 'N Griddle go to this site
Other prizes include the WKC 5th anniversary handle and a Weber Burger book.
The contest will start on May 1st and will end on May 31st.
To enter you need to create a new post in the Cooks, Pics & Recipes section of the site.
Prefix your post with Burger Month Entry – *My Awesome Burger* 
Please tell and show us why your burger is the best.  Bonus for detail, bonus for great shots, bonus for anything that makes yours unique.
For those who are not interested in entering but still want a chance to win something our friends at Adrenaline Barbecue are offering a free Stainless Steel Slow 'N Sear Charcoal Basket.  This is a new product by Adrenaline Barbecue that is perfect for smaller 18″ kettles.
All you have to do is sign up for Adrenaline Barbecue Company's Newsletter and at the end of the Month they will be doing a drawing for the winner.
Click here to sign up for the news letter and enter the contest for the Charcoal Basket.
Winners for the burger contest will be voted on by club members, voters will submit their top 3.  Points will be given 3 for first place, 2 for second and 1 for third place and points will be tallied at the end.
Friendly Disclaimer: All submissions become property of Weber Kettle Club and Adrenaline Barbecue Company and may be used for promotion at their discretion without additional compensation.
For more discussion on the topic go here.