For many of us, it's the high season for a true summer treat:  salsa verde.  I'd been eating this stuff in restaurants for years, but didn't uncover its mysteries until I happened upon some tomatillos at the farmer's market one day.  As serendipity would have it, the next day I was talking with one of my daughter's teachers, a polite conversation that quickly became a passionate back-and-forth with a real foodie from a Texas border town.  I asked her if she knew how to prepare the tomatillos I had just purchased, and she said, "Do you have a grill?…"
Her suggestion was simply to grill the ingredients over direct flame, and I've refined the technique a bit since then, but it's essentially the same.  It is SO much better fresh than when you buy it in a jar, and it's quite simple.
There aren't any measurements involved with this recipe; instead follow these rough proportions of tomatillo, onion, pepper, and garlic.  (I forgot to add the two cloves of garlic at first, and used a rare ripe poblano that I scored at the farmer's market last week.)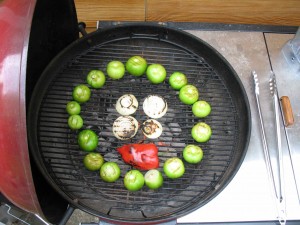 Slice and salt the onion, peel the papery husks from the tomatillos, and heat up your grill.  Leave the skin on both the pepper and the garlic.
As you can see, I pile about half of a chimney of charcoal into the center of the grill.  This allows me to put a bit of char on the onion and pepper while more slowly roasting the tomatillos and garlic for about 10 minutes.  Keep the lid on as much as possible to maximize the convective effects of the kettle.  Turn all of the vegetables once during this time.
When the onions have some nice color on both sides, I put them directly in the blender carafe (you don't want to lose a drop of this precious juice!).  I set the pepper aside to peel and de-seed it, but you can pull off the stem and add the whole thing to your salsa if you like it hot.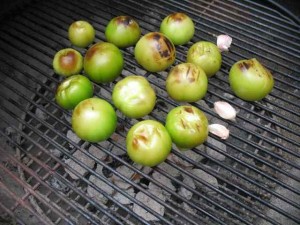 Now comes the fun and tricky part:  ideally you'd like to get some color on the tomatillos, but not so much that they split open from the heat.  So basically you need to pull them off right before they bust.  I realize that this is like those old midwestern farmer directions I used to hear as a kid:  "Turn left before you get to the big oak tree!," but that's the best I've got.  If you lose a little juice it won't be the end of the world, but you don't want to waste it either.  I give each piece some time over direct heat before moving it directly into the blender carafe.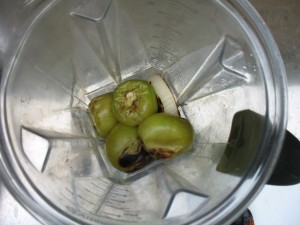 The garlic can take both direct and indirect heat.  I remove it when I can feel its softness through the husk– cut the stem end off of the garlic and squeeze the soft insides right into the blender.
Once it's cooled, you can peel, seed, and remove the ribs from your pepper, then add it as well.
Add a few tablespoons of water, and a good pinch of salt.  Blend until mostly smooth, with just a few tasty chunks.  Adjust salt and water as necessary for flavor and consistency.  There is some kind of tacky magic in those tomatillos that gives the sauce a really nice body, au natural. 
The finished product:  you can see that my red poblano pepper made the salsa verde a bit rojo.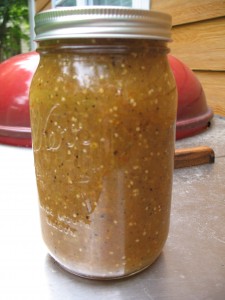 This stuff keeps well, and seems to taste even better the next day (especially over your breakfast eggs).  For a fabulous and cheap dinner, make enchiladas out of leftover chicken, pork, or beef.  Simply pour your (thinned out) salsa verde in a wide vessel where you can soak tortillas for a few minutes before wrapping them around meat and a little cheese (I prefer queso fresco, but you can use whatever is handy).  Prepare a rectangular roasting pan with a layer of salsa verde in the bottom, and line up your enchiladas inside.  When you're done rolling, pour the rest of your salsa verde on top, along with some cheese.  Heat in the oven (bonus points and a cool summer kitchen if you use your kettle!) until the cheese is melted and the edges of the tortillas that poke up are a bit dry.
…and of course salsa verde is great on chips!