It must be getting warm since the WKC has been blowing up with activity over the past three weeks. Grillfellas have had the chance to kick off the season with great cooks and spring cleaning has led to some good scores. Sorry that Gummi hasn't been updating the potw! I hope this one gets you up to speed.
Did you get into the easter spirit this weekend like Jeff did? No easter eggs necessary as here's his pastel lineup.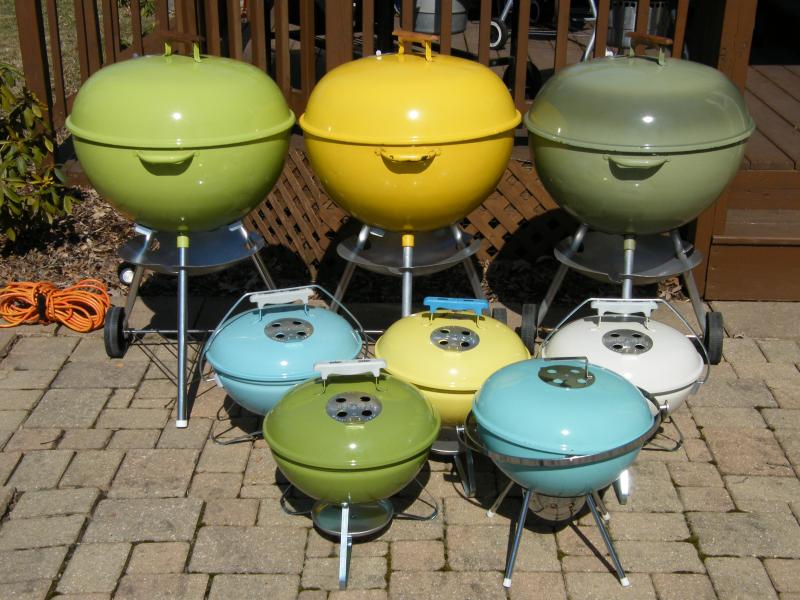 But Easter wouldn't be easter without eggs and Craig was representing WKC there too!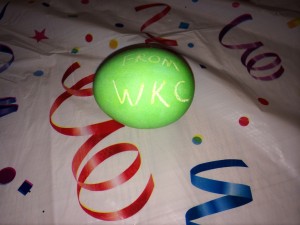 Big news just came out that an OEM red (crimson) SJ is once again available……… in Canada only. 🙁 Some Grillfellas are actively trying to get their hands on it as we speak.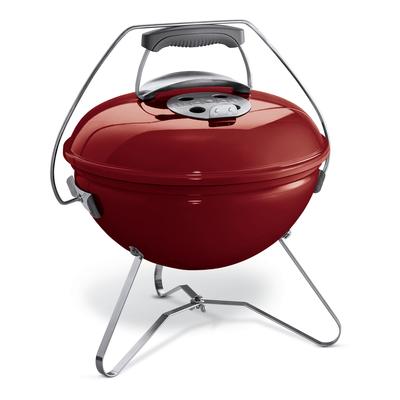 Charcoal sales have also been coming early this year. Walmart and Home Depot had some earlier this month. Lowe's now has a 200 lb kingsford deal with $10 coupon code.
WKC Posts of the Week, Weeks of April 7-21
Scores
Painted red MLH in Palm springs
lemisfits 'cado come home
landgraftj shows off his SJ and portables,  22.5″ kettle family, 18.5″ kettle family,  and Big/lil brother kettle pairings
New Red kettle showoff thread
Tattooedant gets a Blue wave SJ and Galley Que in trade for a Weber Plainsman to Harris92
Craig diy 50's style triangle shelf
Some GRAILS posted on the WKC facebook page
Dwnthehatch super clean MBH
Harris92 classic black lineup
OoPezoO Yellow MBH score and two performers in one day
Jeff Blue Mastertouch Weber Kettle
Mods & Restorations
DirectDrive installing a Weber thermometer to a WSM or kettle lid and porcelain repair
MiniGrillin 18.5″ brownie table bowl-to-standalone conversion
whatchusmokin homemade Weber bbq table
Performer updating propane starter discussion, and 5lb SS tank questions    
PBE Gummi Bear adds a Gas Assist to a kettle bowl
These custom modded kettles make Grillfellas cry
Gunner Brownie cleanup
AnikaMana MBH cleanup and first cook
Jeff Charcoal caddy rehab
1Buckie commissions some wooden handles
Cooks
Unl1mtd first time drip beans
1Buckie does some experiments on bacon jam, crusty steaks, and fried tater salad. + more on bacon jam
1Buckie steaks and thermometer temp
Eapples does ribs by feel
Johnpv cold smoked bacon 
Bbqmiller 'turds and wings
Bbqmedic chicken lollipops
Duke BBQ chicken pizza and hash
One Touch Platinum burger cook and Mayo recipe
MaxBobcat triple jalapeno stuffed fatty
Lexrst To sauce or not to sauce?
Addicted-to-smoke pork shoulder conuntry style ribs
Jamesnomore mushroom and goat cheese fatty
Aspiring Pitmaster surf n' turf  and chicken lollipops
Mike.Stavlund Rotisserie lamb and rosemary potatoes
Jeff peanut butter and bacon jalapeno poppers
Prof. provencal tuna sandwiches, and leg of lamb
MartyG and PBE Gummi Bear helping RG02 get a blue MT cookin'
Zavodd44 Weber logo at Wrigley field
MartyG asks What's the best Q in your city?
Strange things you've eaten?
Dutch oven discussion
Potato cooking methods discussion
OneBadBadger pork shoulder methods
Duke imagines cooking on a Weber fireplace
How many Weber kettles do you have?
Stories of grillfellas gifting kettles
Plum vs. Maroon vs. Burgundy discussion
What's a good smoking thermometer?
Charcoal deals and stockpile showoff
MiniGrillin Weber bookmark find
Mike.Stavlund roadtrip with some Weber family heirlooms
Saxart Ranch Kettle cooking methods
Lightningboldtz contemplates cooking on a rare NFL Lions kettle
Weber kettle planters becoming a new trend?
HeyJude hits 3000 posts
HalfGrilled goes mushroom hunting
Whew! I told you there was alot of stuff!