One of the challenges in using a rotisserie is how to obtain the internal finish temperature of what is being cooked. The usual method is to calculate an estimated finish time, then begin probing the meat about 1/2 hour earlier with a thermometer until the desired finish temp is reached. This works but requires turning off the motor and lifting the lid, which lets out heat and lengthens the cook time. Here is an easy way to incorporate using a remote thermometer with your rotisserie.
First you'll need a rotisserie spit bushing. The 5/16″ size (BU-1B) allows for the temp probe wire to be easily threaded through and then slipped onto the spit rod.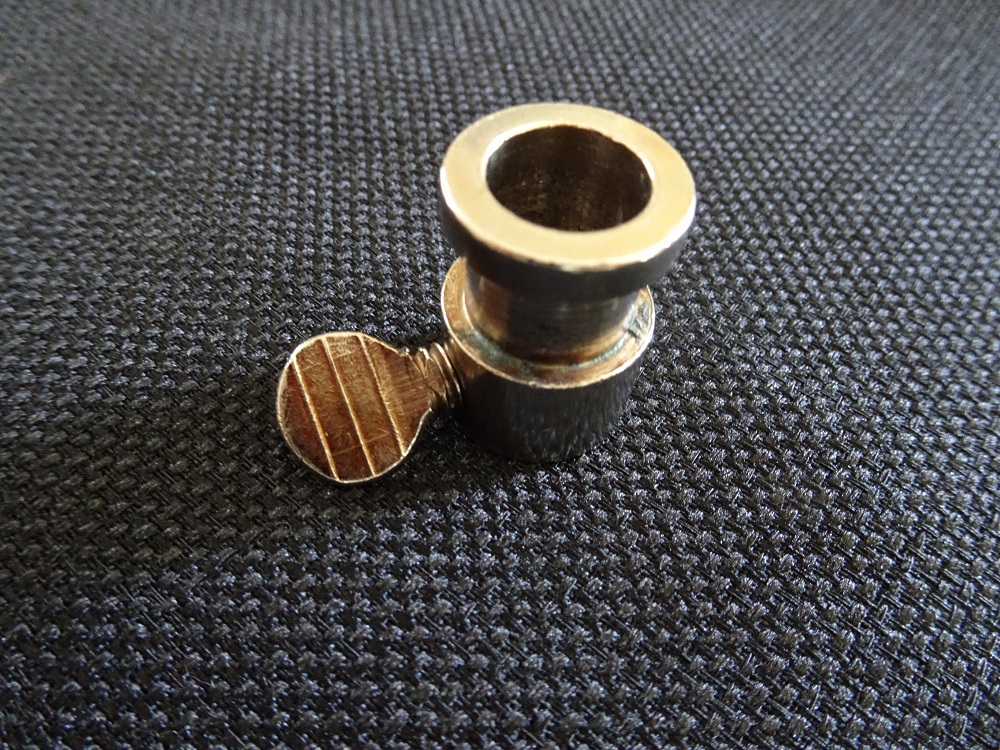 Amazon link:https://www.amazon.com/dp/B007JVQ2LY?tag=viglink21354-20
Thread your probe wire through the bushing.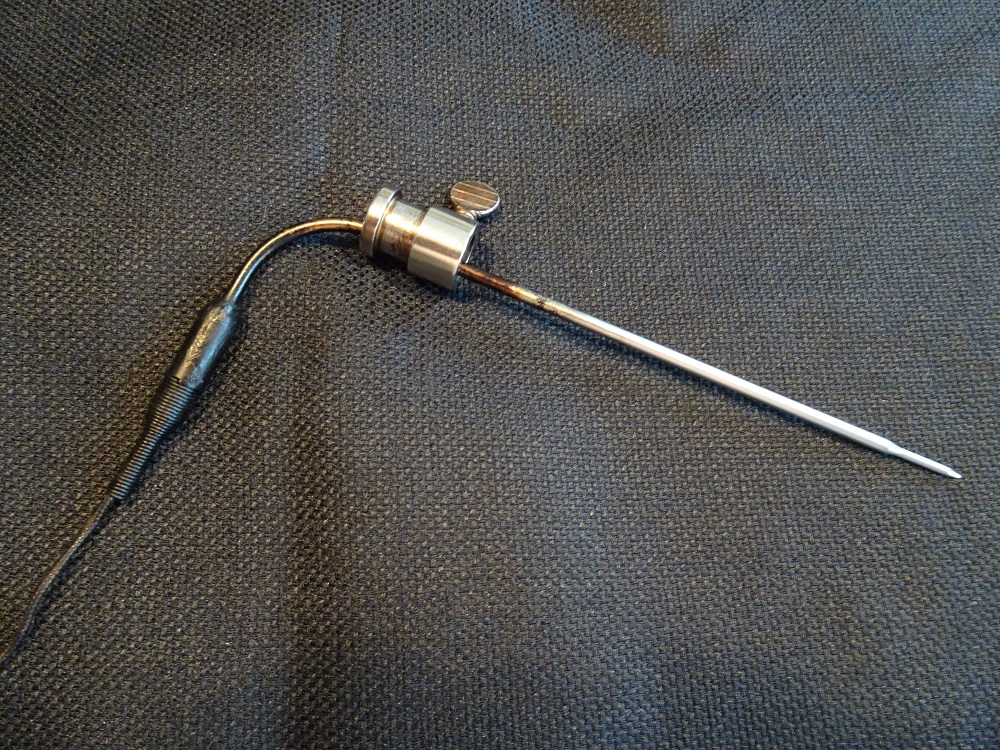 Slip the bushing onto the spit, sliding it up the spit rod until it is over the groove in the rod, closest to the handle. The bushing will take the place of the groove on the rod that sits on the rotisserie ring.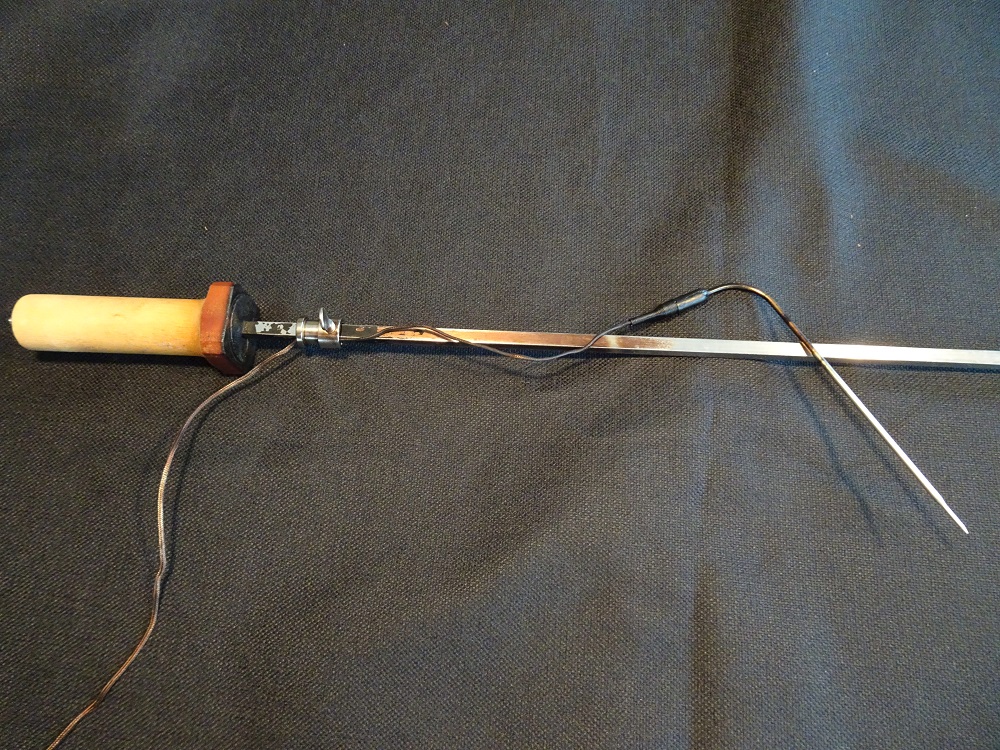 The forks and your meat or poultry can then be placed onto the spit rod.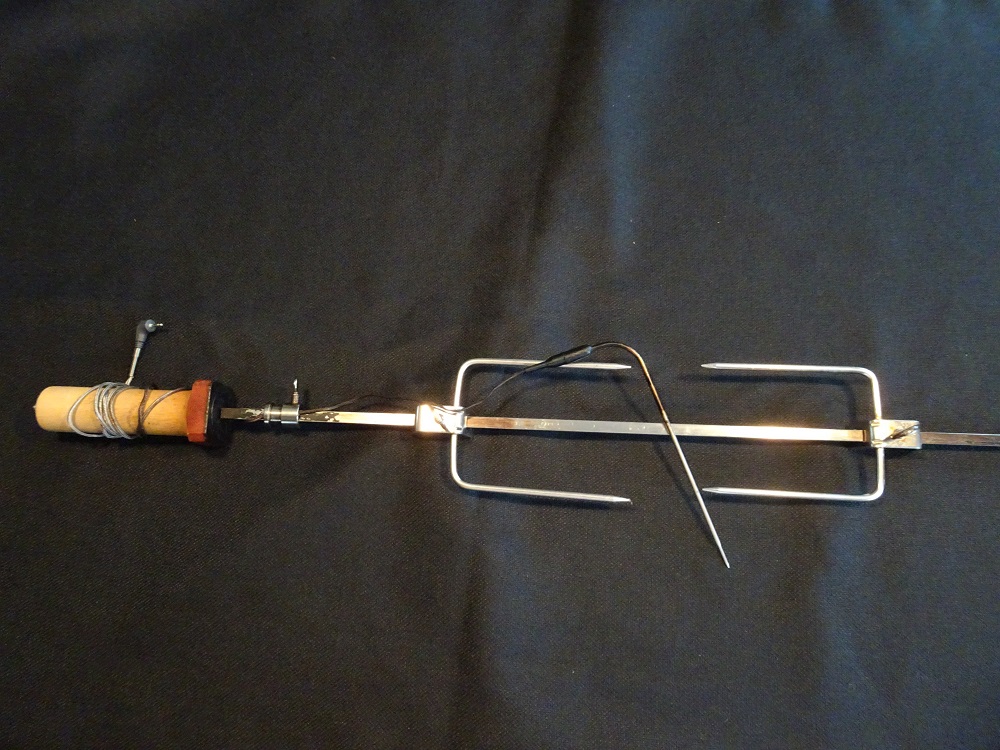 Your thermometer sending unit can then be taped onto the handle with no kinking of the probe wire. I would recommend using blue painters tape as the duct tape left adhesive residue on my Smoke unit that had to be cleaned off. Thick rubber bands can also be used to secure it to the handle.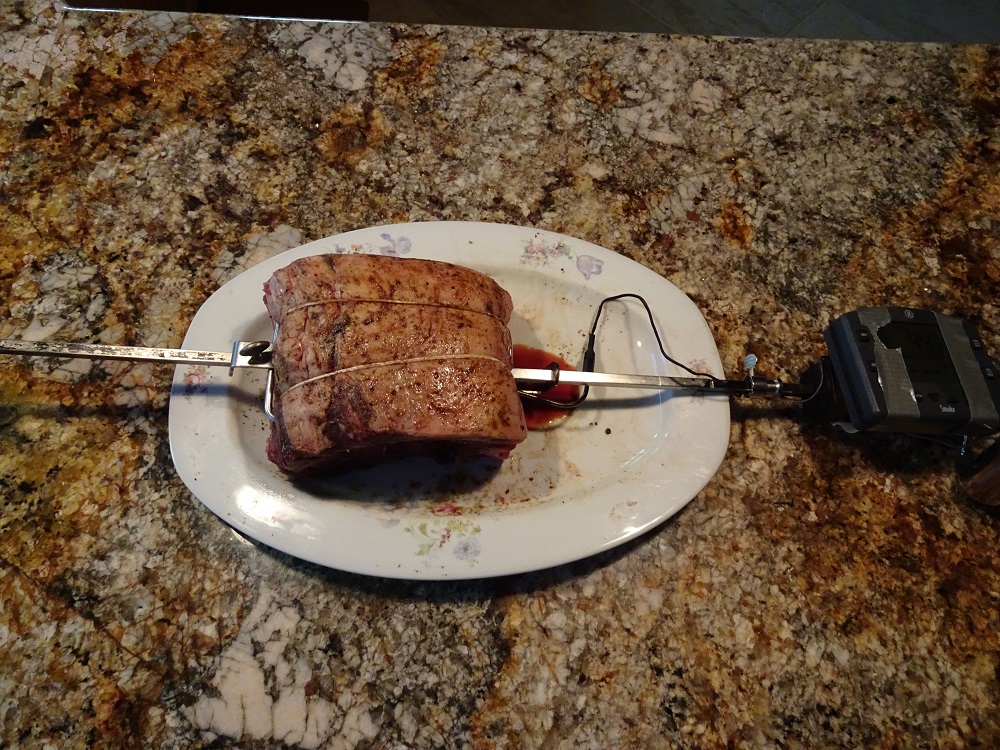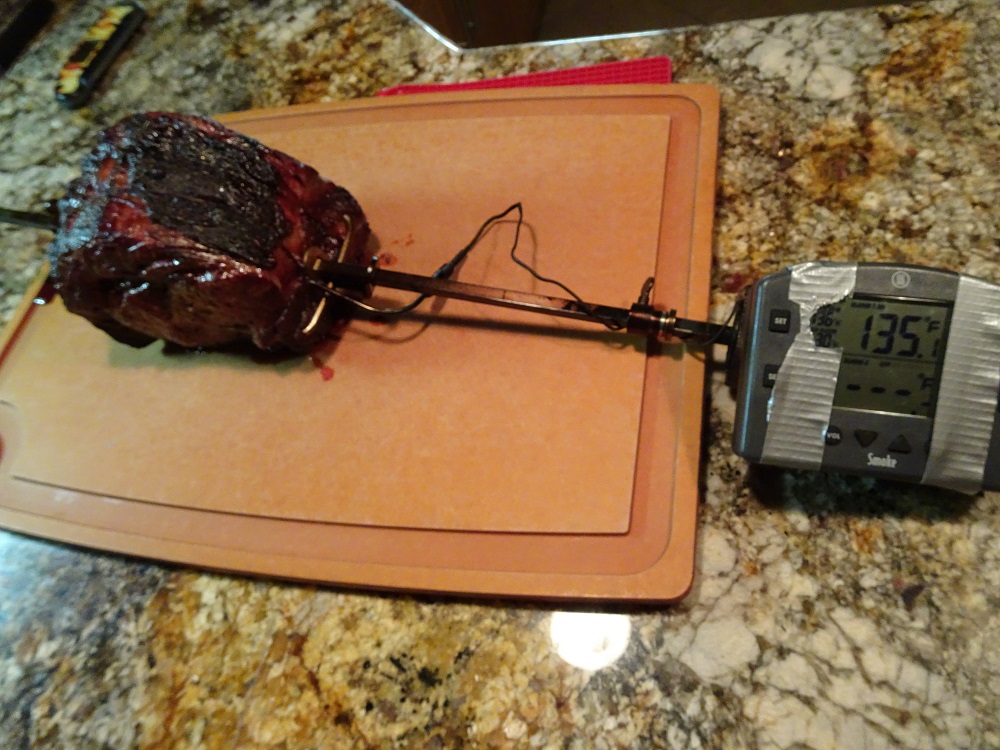 Taping the unit to the handle works great but I came up with a pretty easy mod for attaching my Smoke unit to the rotisserie handle. The back of the Smoke unit has really powerful magnets.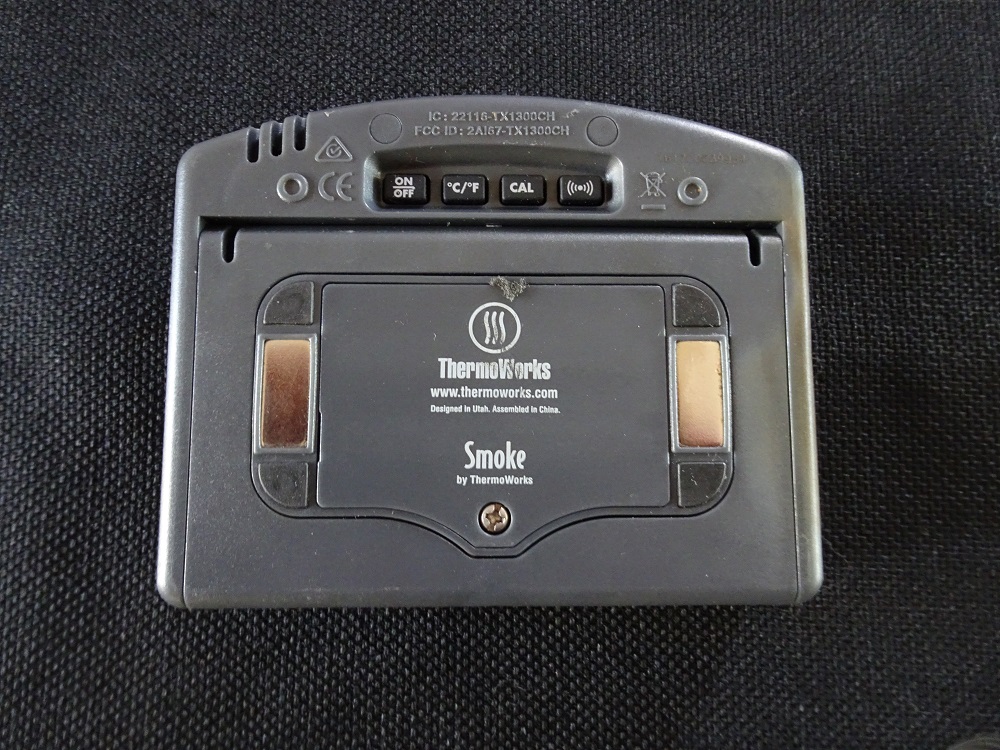 Using a piece of 5″x 7″ galvanized step flashing, I made a metal tray that attaches to the rotisserie handle. The step flashing can be found at Home Depot or any hardware store. First trace the Smoke onto the step flashing.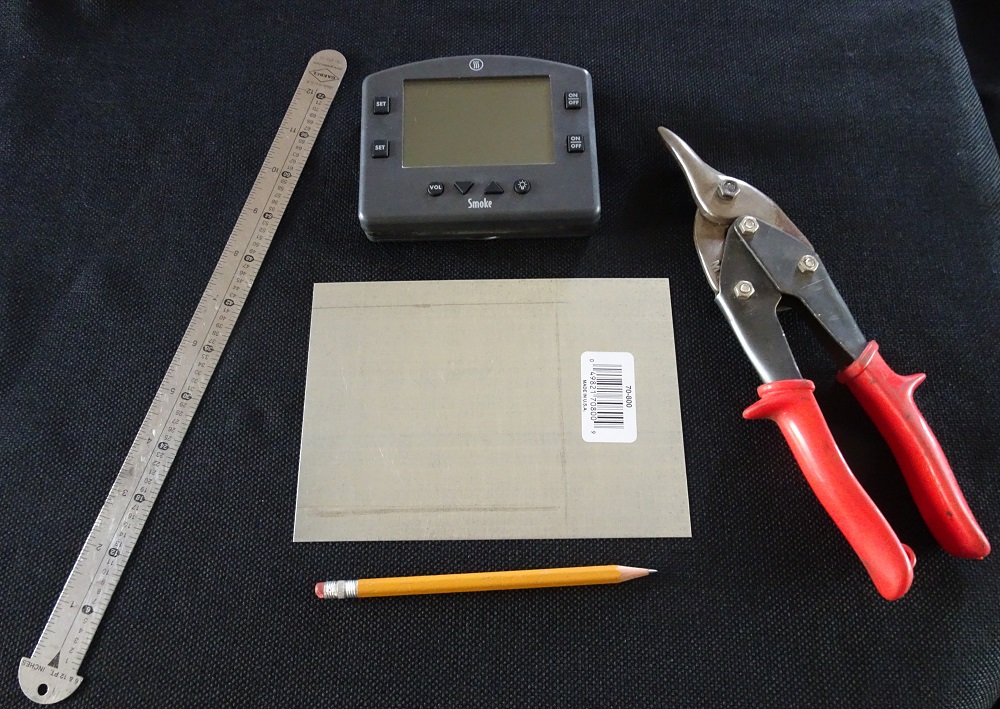 Then using tin snips, cut the two corners, allowing the flashing sides to be bent upwards and the end flap downwards. Then drill an appropriate size hole in the end flap, so the tray can be attached via the counterweight bolt.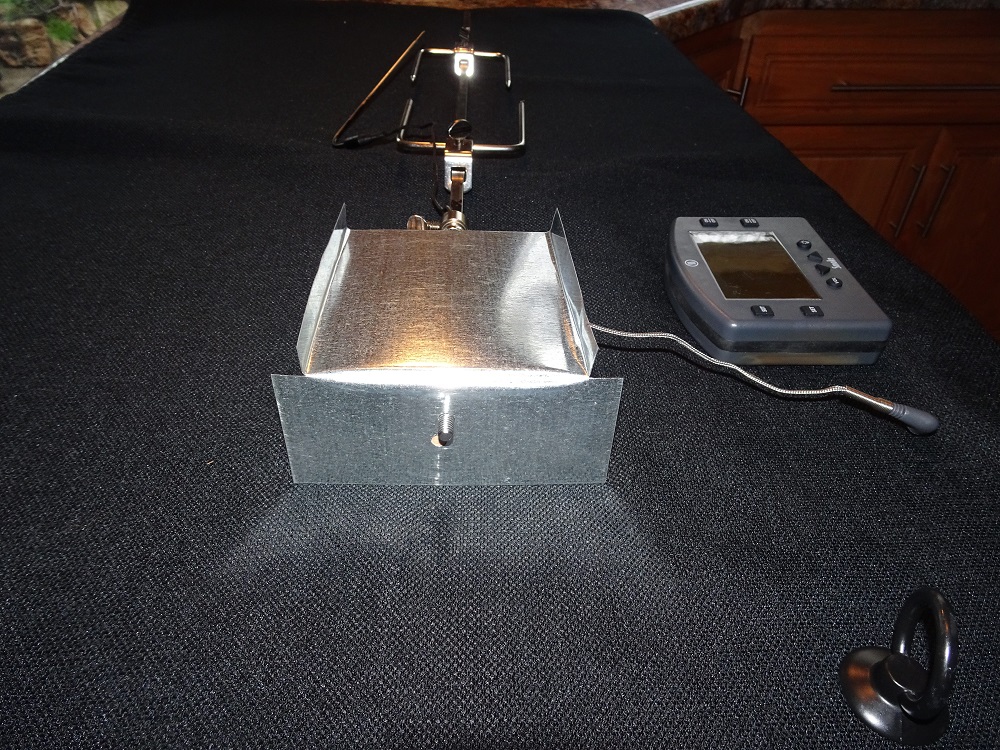 I don't put the tray on until after the spit is placed on the rotisserie ring with the charcoal lit. It only takes a few seconds to attach the tray, plug in the probe and set the Smoke on the tray. The counterweight can still be used if needed as with large turkeys that tend to be unbalanced. Cost of this mod was .52 cents for the step flashing at Home Depot.