1978: Weber Grill History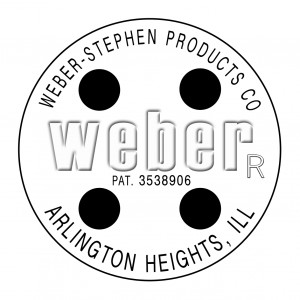 The 1978 Weber Charcoal grill is identified by lid vent with the modern embossed or "raised" WEBER logo.  The turn tab on the lid vent is large and now matches the turn tabs on the bowl vents. This is the style of lid vent used today.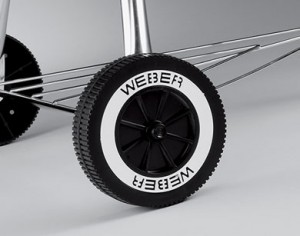 The wheels on '78  kettles are the modern style, with the white snap on hub or "whitewall" that is prone to breaking.
The ash catchers on the kettles of '78 are twist on style with the thin straight edge.
Changes in 1978
In 1978 the kettle model numbers for 18.5, 22.5, & 26.75 were "30,000", "70,000" and "80,000" series respectively. Two new colors were introduced in '78, Dark Blue and Dark Green. It was the late 70s and bolder, primary colors were in, replacing the brighter, early 70s colors of lime green and yellow at the end of 1978.  On the lid vents, "MADE IN U.S.A" was added for the first time. Just below the patent number. Grills made in 1978 were shipped with 1977 parts lists which did not include dark blue or dark green parts numbers but still included lime green.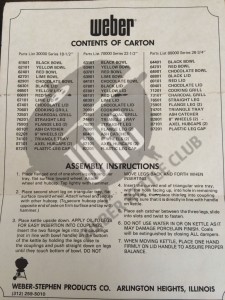 Colors / Sizes / Models of Weber charcoal grills available in 1978
The 80000 Series – 26.75″ Kettle
– Jet Black
– Red
– Chocolate
The 70000 Series – 22.5″ Kettle
– Jet Black
– Red
– Key Lime Green/Dark Green (Replaced Key Lime during this year)
– Chocolate
– Yellow/Dark Blue
---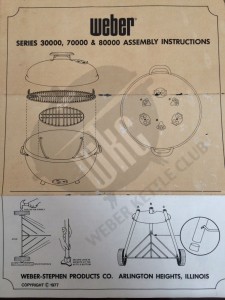 The 30000 Series – 18.5″ Kettle
– Jet Black
– Red
– Key Lime Green/Dark Green (Replaced Key Lime during this year)
– Chocolate
– Yellow/Dark Blue (Replaced Yellow during this year)
Gallery of Weber Grills from 1978