Very rarely do I use the word "epic" but regarding the story I am about to share it's the only adjective I feel is fitting.
This insane journey started 7 months ago when WKC member @Plant_City_Mike sent me a message to share a very cool CL find that he had come across in Jacksonville FL. Simply listed as "weber grill the Rancher" I clicked on the link and then proceeded to collect my jaw from up off the floor. Pictured was a Mothership Ranch kettle in what appeared to be excellent condition. We both talked and drooled about it for a few days but the realities of the asking price plus shipping on top of that just didn't make any sense.
Original CL Ad Photos:
The ad stayed up for another few weeks before I broke down and decided to give the seller a call with a few questions about the grill… Yes, I am weak. Before that could happen I first needed to secure an agent that was local to the grill so I asked Michael if he knew of any other members in the Jacksonville area. He had one lead but after some messaging back and forth the timing just wasn't going to work out so we were back to square one. Then came one of the most selfless and generous offers I had ever received. Michael actually offered to drive and pick up the monster for me even though it was a 3 hour trip EACH WAY!!! I was blown away and asked if he was serious to which he replied:
"IF you can get the price down to a really reasonable price, and IF you think you can arrange shipping, and IF I get to buy the very first YELLOW you decide to part with, then HECK yes!"
I was so thankful to him for even offering, but this was still far from a done deal. I had to contact the seller and see how, or even IF he was flexible on the price. The only way this crazy scheme was going to happen was if I could somehow negotiate the price down at least enough to pay for the shipping cost – and that wasn't going to be cheap $$$.
A friendly gentleman answered and went on to tell me that it was purchased new in the late 80's but that he figured it had only been used 2 or 3 times over the course of it's long (covered!) life in Florida. They felt it was taking up too much space in the backyard so it was time to part ways and he said to shoot him an offer. I explained my scenario and started things off with a low ball offer that was less than half what he was asking hoping we could gradually work from there. But almost as soon as I stopped talking he said "Yea, I'd be good with that." I'm pretty sure I just sat in silence for a few seconds before responding… I couldn't freaking believe it!
Once payment was all sorted out it was agreed upon that the pickup date would be about a month away on Aug 29th 2014.
After an agonizing wait pickup day finally arrived! Below is a shot of it in Michael's truck just moments after loading it up: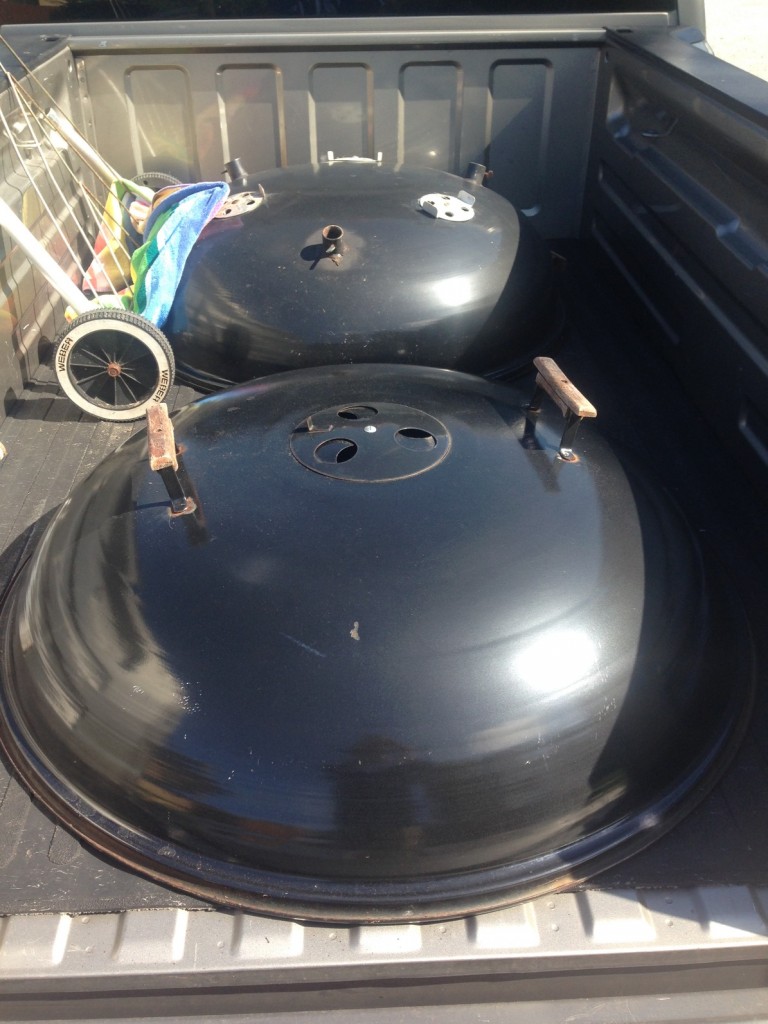 Now that the grill was in Michael's possession we needed to move on to the second challenging task of this transaction – packing and shipping it across the country. We discussed many options including strapping it to a pallet, boxing it up in a crate etc but I kept coming up with the same sky high shipping rates. It actually got to the point where I had to call Michael up and we discussed having to just sell it locally. Yet again he stepped up and offered to hang onto the grill for awhile to see if we could figure something out shipping wise. I was floored by the generosity and told him that if that was going to happen that he needed to fire it up and use the thing. He refused!! I believe the excuse was something about the fact that he already had a ranch… but I know that it was really just because he's an incredibly nice guy!
Area 51 then lived with him in sunny FL until a month or so ago when I came across the website uShip.com. This awesome site allows you to enter in the size of the load you have and then shop the delivery around to hundreds of different shipping companies to see who wants to give you the best rate. This included LTL or "Less than load" shipments that are already heading in the right direction. I plugged in the same numbers I had been using for months (48″x48″x36″ and 170lbs!) and PRAYED it would produce even a slightly better quote than what I had found up until that point. When the quote finally popped up I couldn't believe the difference… less than half of what I had been quoted by all the common carriers!! The company that took the delivery job was called Pilot Freight Services and I have to say they did an excellent job! The box looked just as good when it arrived as it did when it left FL, and the whole process only took 6 days.
Michael went to great lengths to pack this like a pro. He found the perfect box, used a ton of styro and even towels so that the beast would make it across the country safe and sound. Here it is loaded into my truck and set to cross the border into Canada: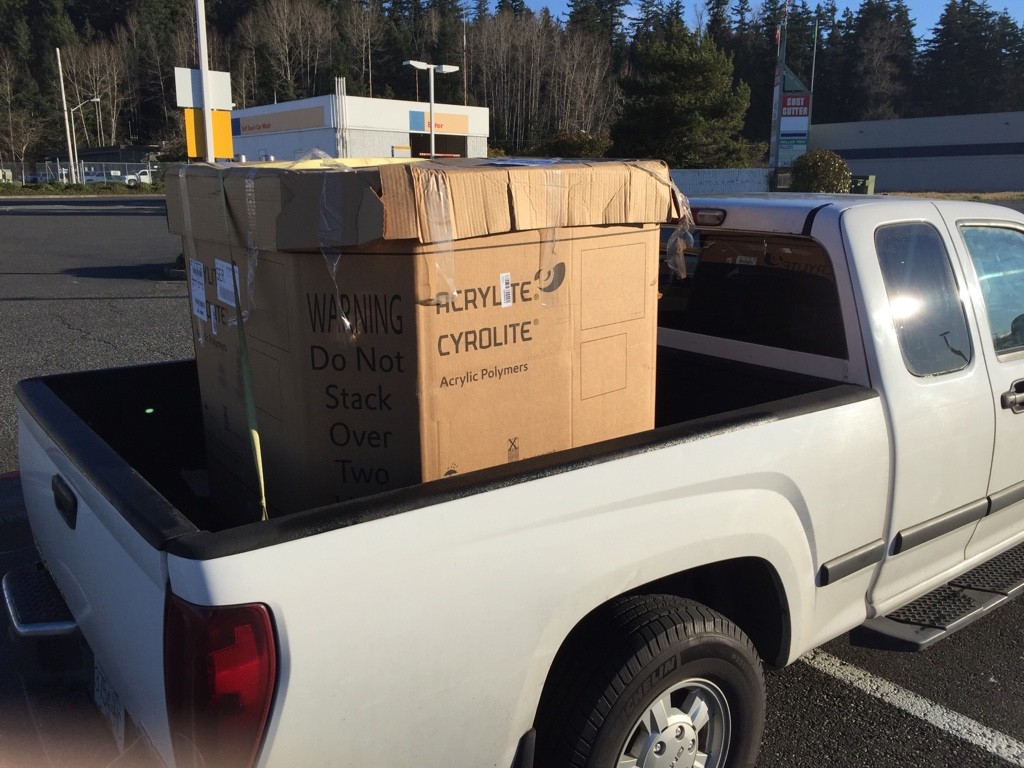 Finally the ranch had made it's way home – I couldn't wait to tear into the box and have a closer look!
As soon as I opened the box the condition far exceeded my expectations. I can only assume the seller was telling the truth about only a few cooks! At certain angles you can actually see the footprint of either some slabs of ribs or a few pork shoulders and the rest of the cooking grate is still shiny.
I'd like to thank Celso the original owner for his honesty and for sticking to his word and holding this grill for a few days while payment arrangements were all sorted out. Also included with the grill was a cover that he believes was original. It's been in use since the day they purchased it and seems to fit well. It is fleece lined and well made. If it's not a weber cover the only other thing I could think of that it would fit would be a patio set. Sadly no tags anywhere to be found.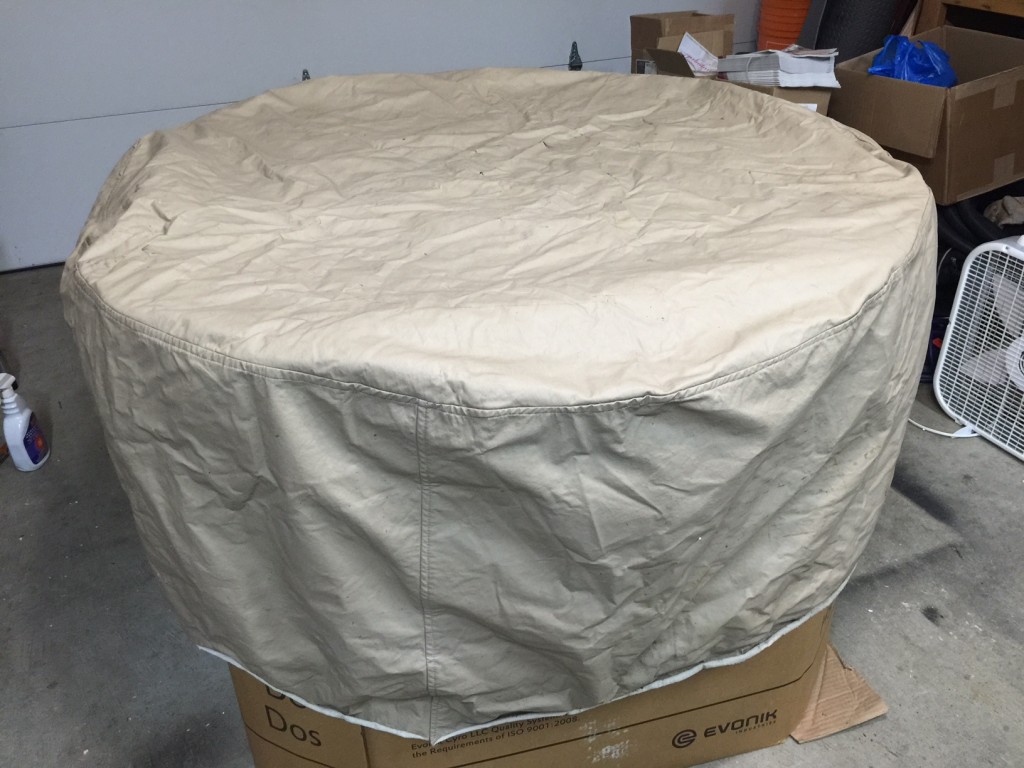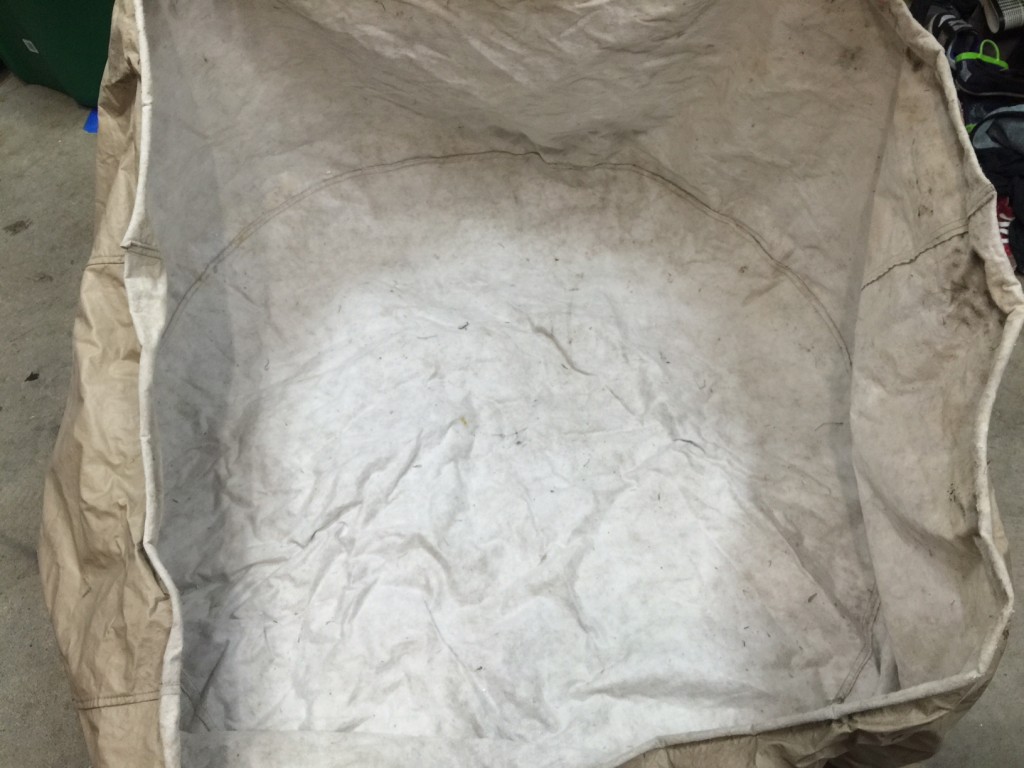 Here are the unboxed and cleaned up shots of this amazing grill ("L" Code – 1989). I replaced the handles with some old stock originals and that was about it!!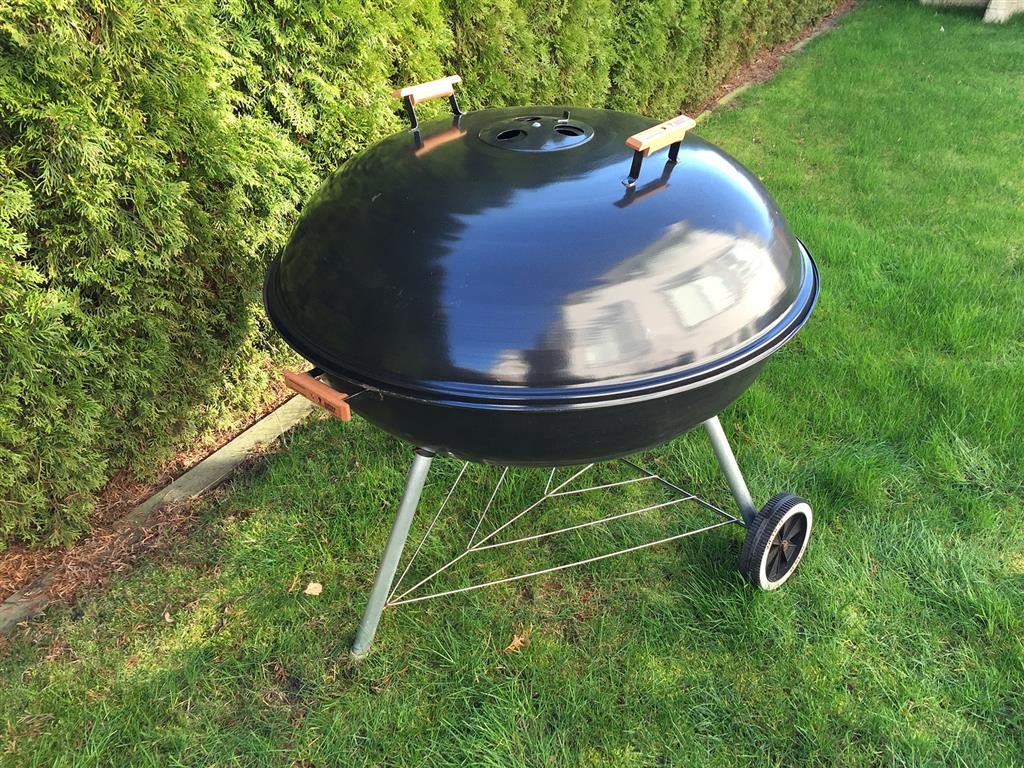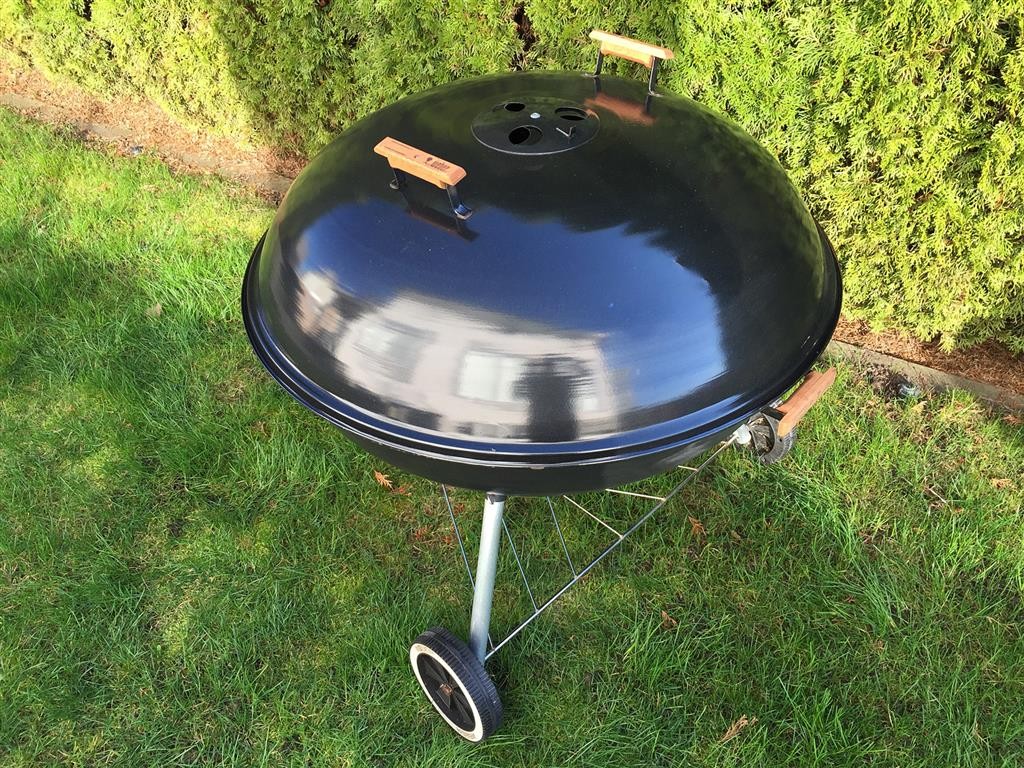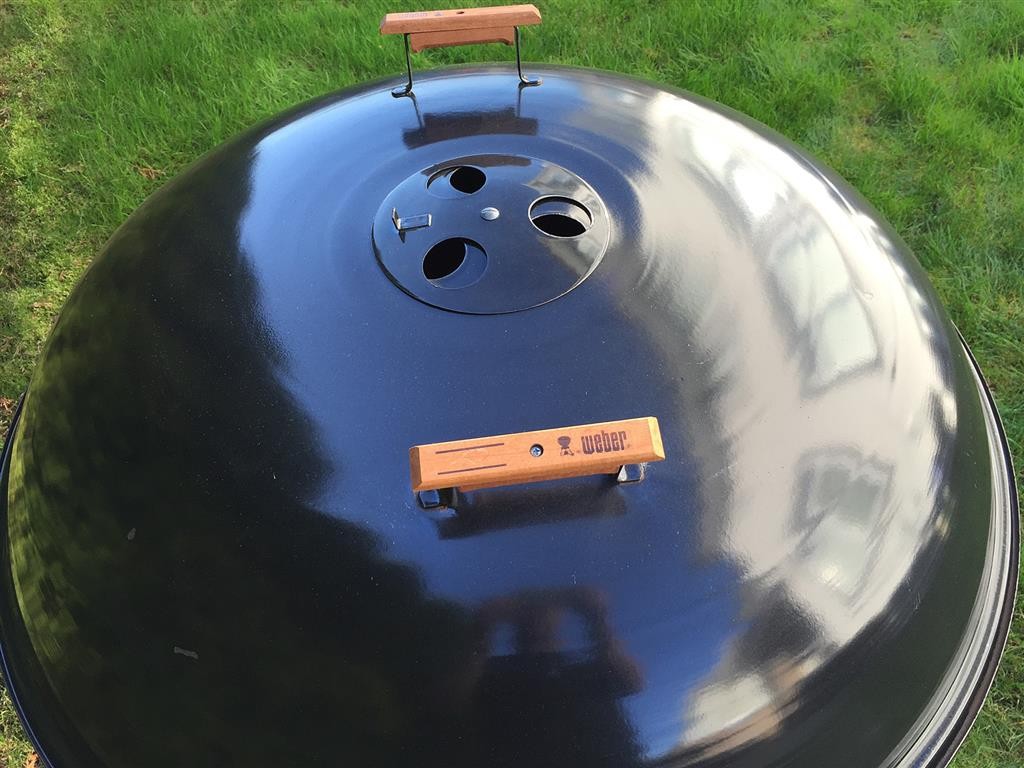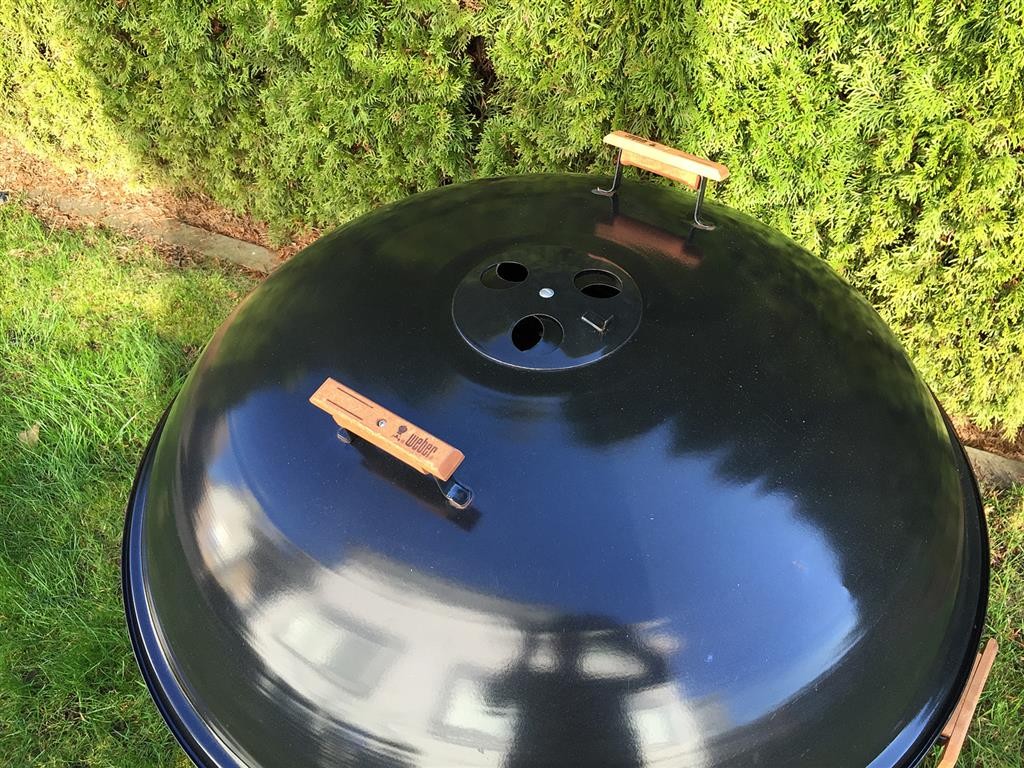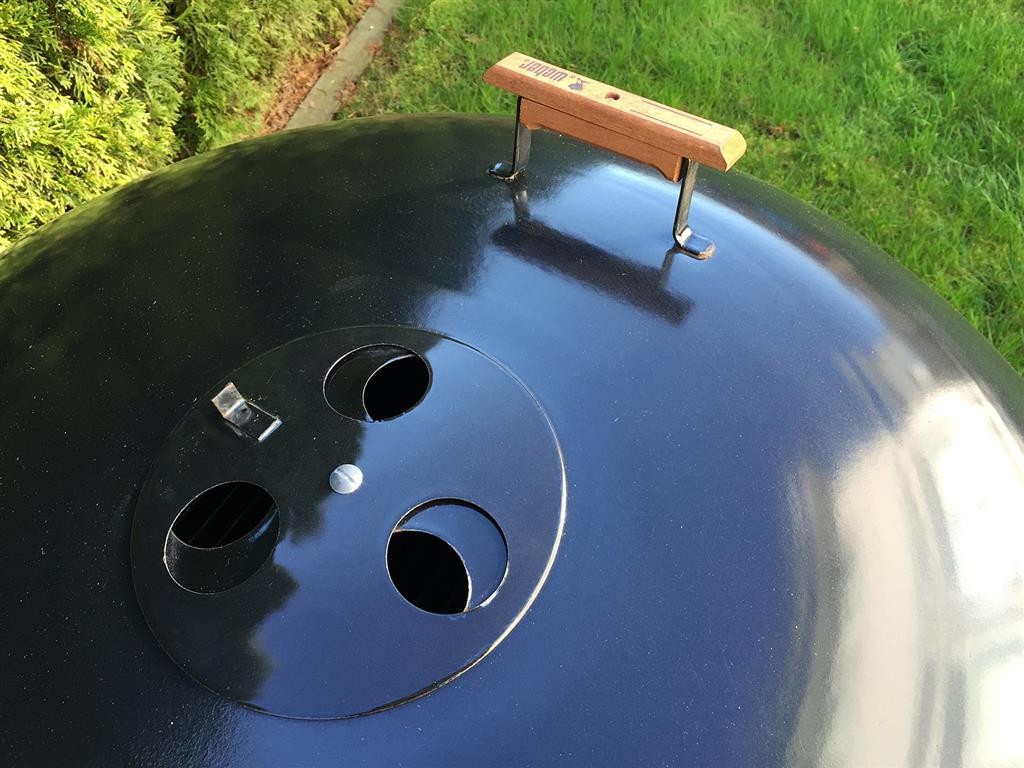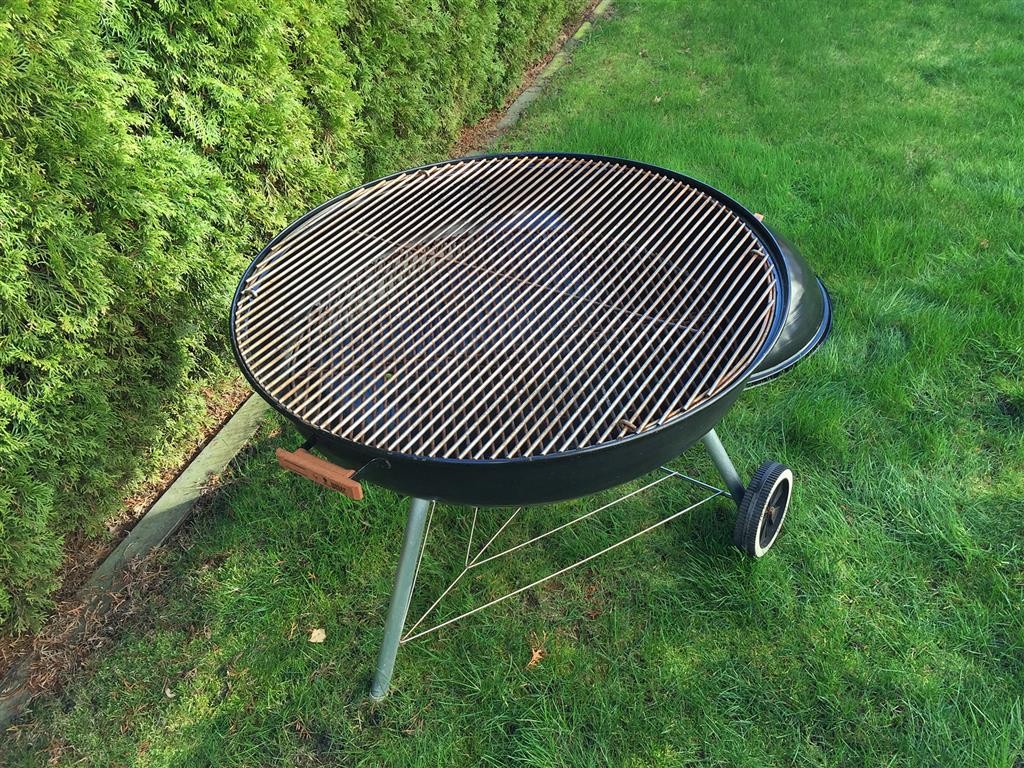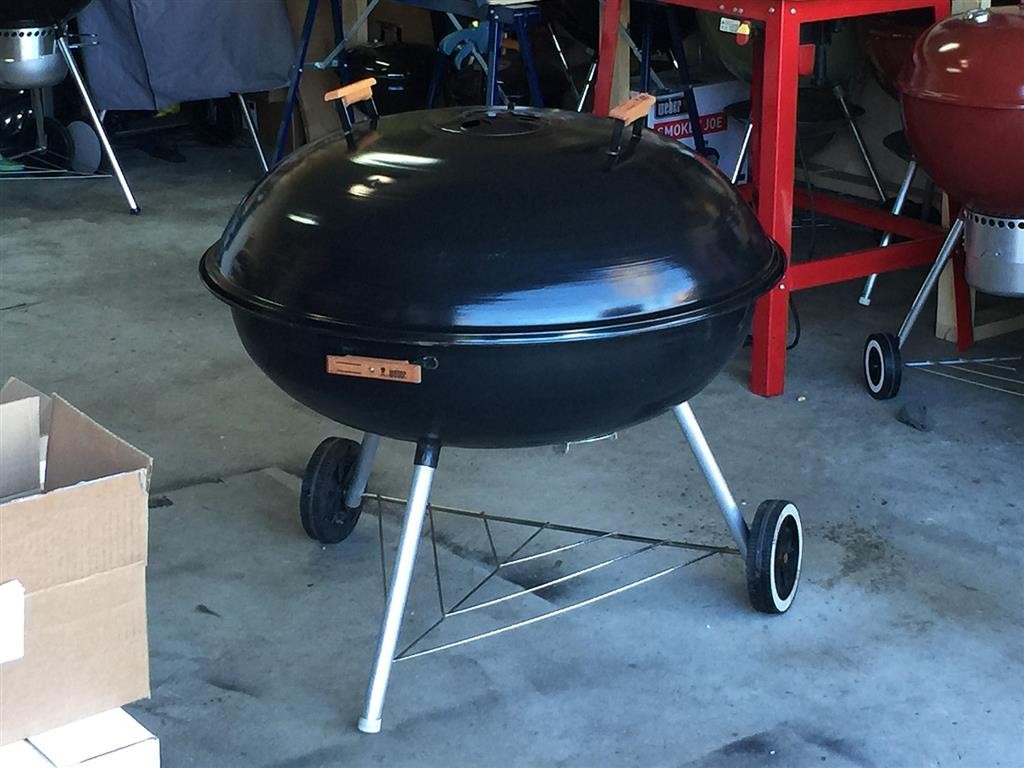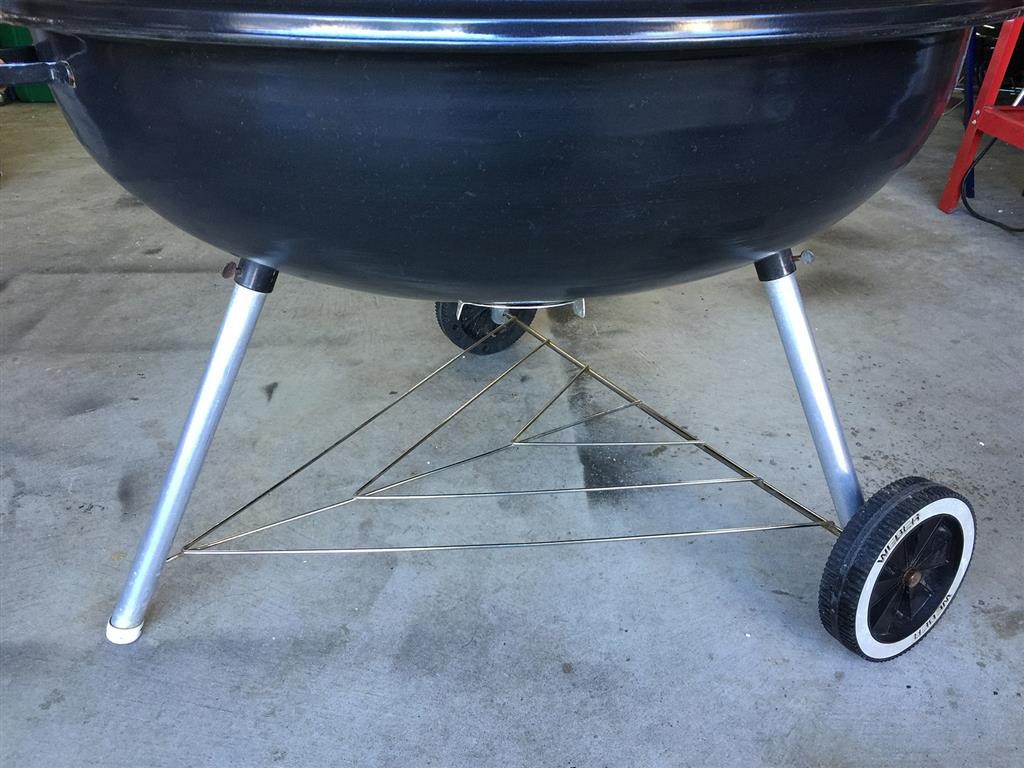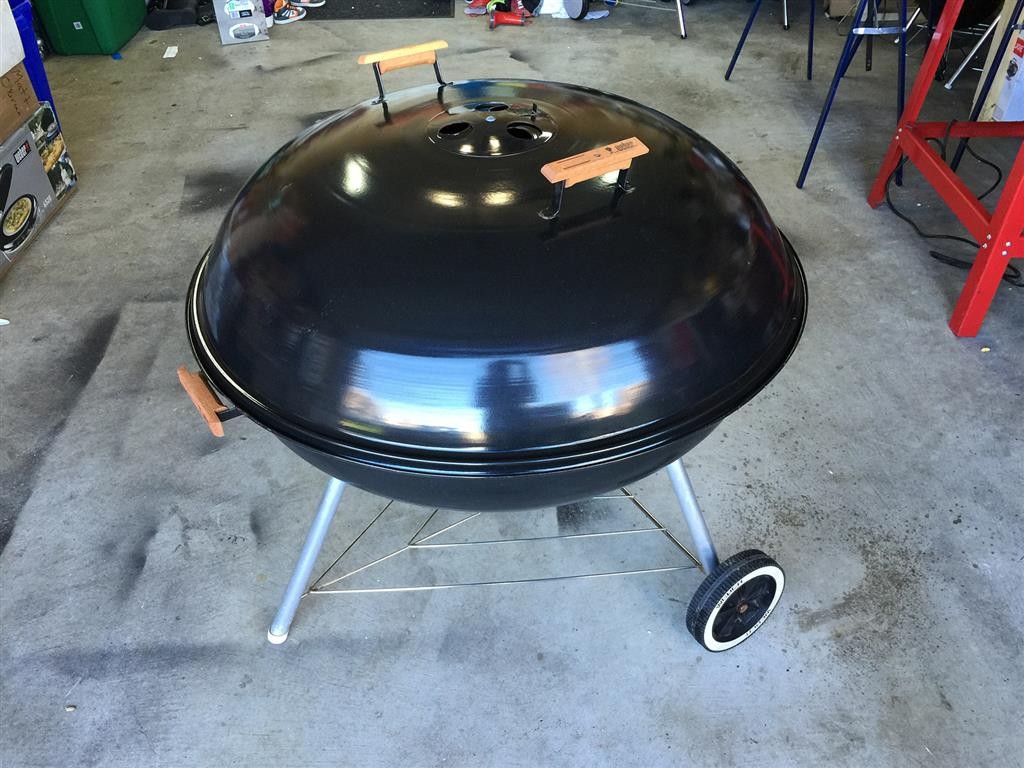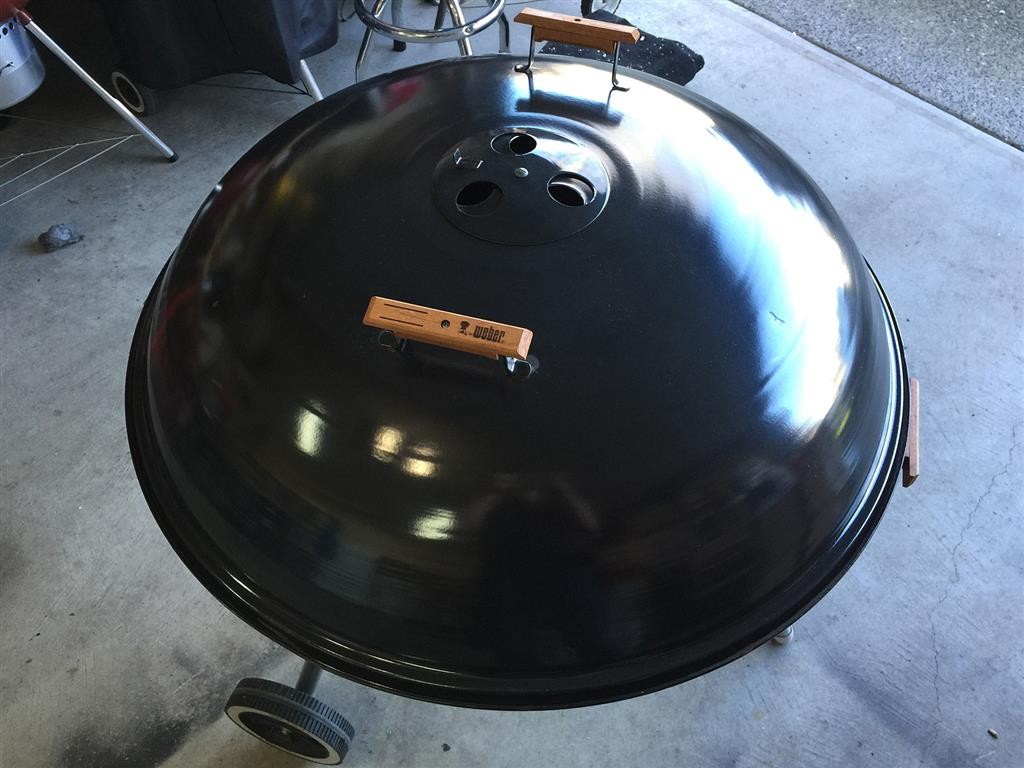 I'm just thrilled with how this all unfolded and cannot thank Michael enough for all of his help… You are a very kind friend and I really appreciate you stepping up and making this happen for me. It will not be forgotten!!
… Now you may be thinking that this is the end of the story, but that couldn't be further from the truth! Good old Kettle Karma decided to step in and provide yet another epic grail score to return the favour to Mr Plant_City_Mike!!
Stay tuned for part two of the story… The Yellow Feather (Now LIVE on the blog – Click here to read)
Thanks for reading!
Matt
(SixZeroFour)
R – R – R