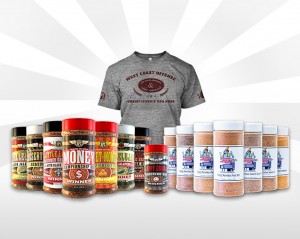 Our friends over at Big Poppa Smokers are having a killer sale on a big bundle of rubs and a T-shirt right now!
Their West Coast Offense Pack offers an amazing selection of rubs – One of EACH Big Poppa Rubs and one of each Simply Marvelous Rubs PLUS a freaking Big Poppa Smokers T-shirt.
It's $99 bucks and ships free (and fast).
I've tried ALL of these rubs and they are absolutely TOP NOTCH. (And I'm not getting paid to say that)
GO NOW! The deal is only good until October 4th.