Congratulations to George Stephen Sr., founder of the Weber Kettle and covered bbq cooking for being inducted into the BBQ Hall of Fame this week! His invention of the bbq kettle has inspired millions of backyard cooks around the world, and this crazy hobby of ours would not have been possible without him. Check out a copy of the announcement here:
Weber founder George Stephens Sr. inducted into the BBQ Hall of Fame!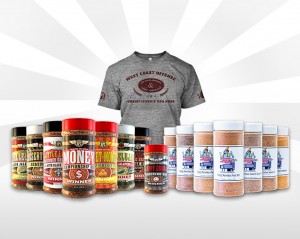 Our friends over at Big Poppa Smokers are having a killer sale on a big bundle of rubs and a T-shirt right now! Their West Coast Offense Pack offers an amazing selection of rubs – One of EACH Big Poppa Rubs and one of each Simply Marvelous Rubs PLUS a freaking Big Poppa Smokers T-shirt. It's $99 bucks and ships free (and fast). Only 5 days left in the sale here:
Big Poppa Smokers West Coast Offense Pack
Posts of the Week, September 30, 2013
Scores
Red MT and Blue Seville chariot in StL
Golly and a truckload of Weber stuff down under
Tattoedant scores a NIB Performer, Unboxing of the SS
Golly's Yellow 22.5″ MBH
G red patent pending 22.5″
Cooks 
Mike.Stavlund boneless chicken caterpillar and apple stuffed pork loin
IrondeQuer brisket cook
EthanG caveman steaks
AZ_MIKEY tri-tip, potatoes, and broccoli
HankB fish and veggies
Aawa APL short ribs
Jocool brisket discussion and wings cook
What's cooking on your Weber today?
Restorations
Tattooedant- how to fill an old 5lb propane tank
AZ_MIKEY restored red Master-Touch kettle
Javahog2002 setting up a green OTG for a buddy
Craig SJP "Puckerbutt" fix
General awesome threads
What's YOUR member number?
Javahog2002 spreading some Weber cheer as his flooded community gets back on their feet
Awesome discussion on BBQ briquettes