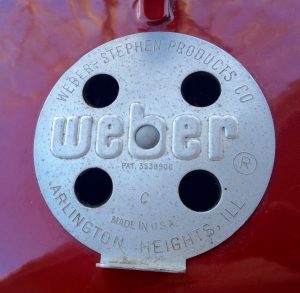 The 1981 Weber Charcoal grill is identified by lid vent with the modern embossed or "raised" WEBER logo.  Date Code "C". The turn tab on the lid vent matches the turn tabs on the bowl vents or "daisy wheels".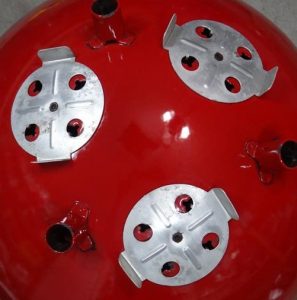 This is very similar to the style of lid vent used today. This year of kettles is also identified by having wood handles on the bowl as well as the lid. More on that below.
The ash catchers on the kettles of '81 are the rolled edge twist on style with the optional hold down clips. The wheels and triangle utility shelf are similar to those used today.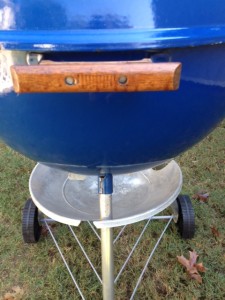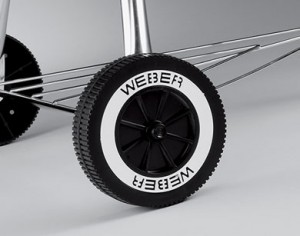 Changes in 1981
This was the first full year that Weber made the charcoal grills with wood handles on the bowl as well as the lid. Early on in '81, the handles were double riveted, however during this time, the wood handles were beginning to transition over from double riveted to the single center screw style. These early single screw teak wood handles were engraved with Weber's slogan at the time. "The One. The Only." along with the kettle silhouette.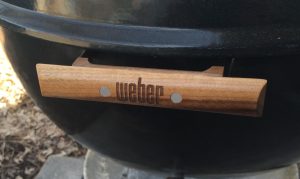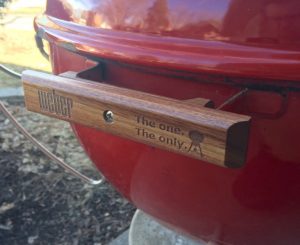 Colors / Sizes / Models of Weber charcoal grills available in 1981
The 80000 Series – 26.75″ Kettle
The 70000 Series – 22.5″ Kettle
Jet Black
Red
Chocolate Brown
Dark Blue
Dark (Forest) Green
The 30000 Series –18.5″ Kettle
Jet Black
Red
Chocolate Brown
Gallery of 1981 Kettles