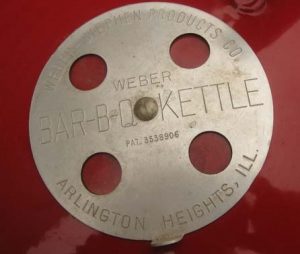 Based on many examples seen as found in original condition and the information we currently have, the following information describes a 1976 Weber Kettle. An example of a 1976 Weber Charcoal grill is identified by the classic BAR-B-Q-KETTLE  lid vent paired with the modern plastic wheels with the snap on whitewalls.  The turn tabs on the lid vent are small and round, while the turn tabs on the bowl vents are wide, with two tabs per vent.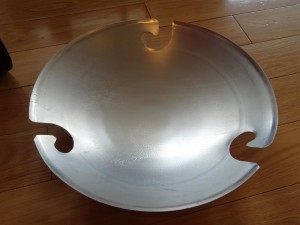 The ash catchers on the kettles of 1976 are twist on style with the thin straight edge.
Changes for 1976
Ok, so for some time now we have referred to 1976 kettles as having the identical markings to that of a 1977 kettle. However, based on years of research and numerous examples of kettles found in original or new old stock condition with the BAR-B-Q-KETTLE style lid vent that are paired with the modern "1977" plastic wheels with the snap in whitewalls, we are currently designating these kettles as 1976 models as the lid vent was definitely the next style for the following model year, 1977. So the only change for 1976 would have been to the wheel style to the modern plastic wheels.
Colors / Sizes / Models of Weber charcoal grills available in 1976
The Kettle models in 1976 were still given names along with their respective color.
The 800 Series – 26.75″ Kettle
– LBK-810 Jet Black "The Fleetwood
– LBK-830 Red "The Aristocrat"
– LBK-880 Copper Mist "The Chief"
The 700 Series – 22.5″ Kettle
– BK-710 Jet Black "The Texan"
– BK-730 Red "The Statesman"
– BK-760 Key Lime "The Gardner"
– BK-780 Copper Mist "The Warrior"
– BK-720 Yellow "The Gourmet"
The 300 Series – 18.5″ Kettle
– JBK-310 Jet Black "The 49-er"
– JBK-330 Red "The Easterner"
– JBK-360 Key Lime "The Fairway"
– JBK-380 Copper Mist "The Brave"
– JBK-320 Yellow "The Yachtsman"