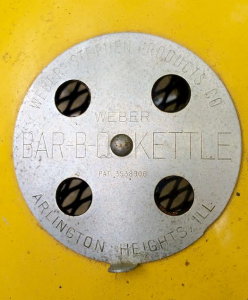 The Weber kettles of 1975 are identified by the classic "BAR-B-Q-KETTLE" lid vent with small tab and the dual large turn tabs on the bowl vents.
The wheels are the older style plastic wheels with the thin whitewalls.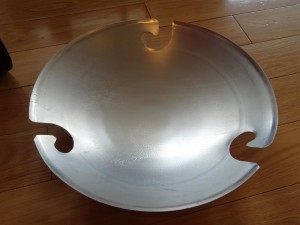 The ash catchers on the kettles of 1975 are twist on style with the thin straight edge.
Changes in 1975
The bowl vents or "daisy vents" on all kettle models from the 18.5 kettle to the Ranch kettle were changed to the modern large dual turn tabs. These are the same vents seen today on the Weber Smokey Mountain Cooker and basic kettle models available outside the U.S.
Colors / Sizes / Models of Weber charcoal grills available in 1975
The Kettle models in 1975 were still given names along with their respective color.
The 800 Series – 26.75″ Kettle
– LBK-810 Jet Black "The Fleetwood
– LBK-830 Red "The Aristocrat"
– LBK-880 Copper Mist "The Chief"
The 700 Series – 22.5″ Kettle
– BK-710 Jet Black "The Texan"
– BK-730 Red "The Statesman"
– BK-760 Key Lime "The Gardner"
– BK-780 Copper Mist "The Warrior"
– BK-720 Yellow "The Gourmet"
The 300 Series – 18.5″ Kettle
– JBK-310 Jet Black "The 49-er"
– JBK-330 Red "The Easterner"
– JBK-360 Key Lime "The Fairway"
– JBK-380 Copper Mist "The Brave"
– JBK-320 Yellow "The Yachtsman"
Gallery of Weber Grills from 1975
[cgview id=15 tags=1975  lightbox=0]