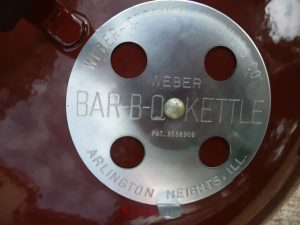 The Weber kettles of 1973 are identified by the classic "BAR-B-Q-KETTLE" lid vent with small tab and the small, single turn tab on the bowl vents.
The wheels in 1973 are the early style plastic wheels with the thin whitewalls.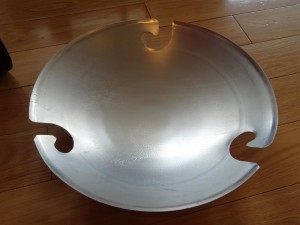 The ash catchers on the kettles of 1973 are twist on style with the thin straight edge.
Changes in 1973
Beginning in 1973, the patent for the leg sockets, which was issued on November 10th, 1970, appeared in the Weber catalogs and trade literature for the first time. It was at this time that the patent number (PAT. 3538906) began appearing on the kettle lid vents.  It was also in 1973, that the wheel style was changed from rubber treads to plastic. Completing the last of the transition of the wheels to all plastic. The color yellow was introduced in 18.5 and 22.5 kettles the previous autumn for the 1973 model year. This would also be the final year for avocado green kettles.
Colors / Sizes / Models of Weber charcoal grills available in 1973
The Kettle models in 1973 were named along with their respective color.
The 800 Series – 26.75″ Kettle
– LBK-810 Jet Black "The Fleetwood
– LBK-830 Red "The Aristocrat"
– LBK-880 Copper Mist "The Chief"
The 700 Series – 22.5″ Kettle
– BK-710 Jet Black "The Texan"
– BK-730 Red "The Statesman"
– BK-740 Avocado "The Caribbean"
– BK-780 Copper Mist "The Warrior"
– BK-720 Yellow "The Gourmet"
The 300 Series – 18.5″ Kettle
– JBK-310 Jet Black "The 49-er"
– JBK-330 Red "The Easterner"
– JBK-340 Avocado "The Mediterranean"
– JBK-380 Copper Mist "The Brave"
– JBK-320 Yellow "The Yachtsman"
Gallery of Weber Grills from 1973
[cgview id=15 tags=1973  lightbox=0]