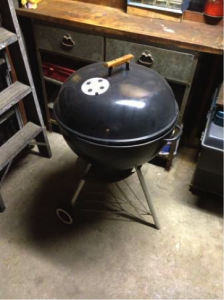 As many rescues begin, this started with a Craig's List search. Two simple words: Weber Grill. It's my go-to search although I realize there are many ways a grill can show up. I don't have a fancy alert technology. No apps. I don't even have a cell phone. I rely on luck alone, and it's kept me out of trouble over the years. Every once in a while I get lucky. Like this time. When I did a Chicago-area search the other day, this popped up:
A 70's metal-bowl-handled 22.5 in my favorite color! I sent a reply via Email:

Meanwhile, I posted the ad to the WCK trading post section, hoping to ward off the local vultures who are far more advanced in the game than I, and called it a night.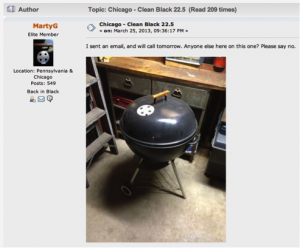 By early the next day, several members offered their best wishes, (is saying "good luck" sarcastic in this case?) some with a warning that the grill had been posted before. It began to feel wrong somehow. At work, an email arrived from the seller:

Promising, but mysterious. I had to talk to this guy. After a couple more emails, a phone number exchanged, actual contact with the guy, and an agreement to meet after work today, the real adventure began. Many of you know I work here in Chicago, but home is in Southern PA. Long story short, I don't have a car here. When we finally talked yesterday, and I said I could meet him today, I had no idea how I was going to make that work. Take the L to Midway, grab a cab? Sign up for iGo car sharing? Jack a car in the neighborhood? The later would have worked had the Grillfellas been close by, but I knew it would have to be a solo mission.
As the day wore on, I actually thought about bailing out. Some of you had mentioned you had seen this ad before. Classic CL scam, right? Where was this place anyway? Was it safe? Was I being set up? Did the grills even exist? (Yes, plural – he said he had two weber grills; one old one and one new one.) When we talked briefly, it was all I could to do get an address out of him, and when I asked for the house number, he wasn't sure, but thought it was 4359.
Eject! Eject!
But no. I'm a member of the WKC: Rescue is the primary objective. What if it was…THE holy grail? I was in too deep, and the thought of something even remotely close to the kettle pictured in the ad was too much. The siren song had begun.
I decided to throw caution to the wind and rent a car at Midway, do a drive by to check out the neighborhood and feel the place out. Long day at work, and the clock was ticking. Another email comes through:

And my immediate reply: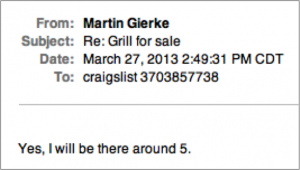 In my mind I'm thinking: "Is someone else on the way? Is this part of an elaborate scam?" Thoughts racing, I ducked out of work at 3:15, hit the Orange line to Midway, sped through the Avis First line and picked up an upgrade: a bright red mini SUV. I immediately put the back seats down for good luck.
Once out of Midway, it was only a couple miles to my turn, and another mile to the alleged address. What was that again? 4539? 5493? To make matters worse, my phone was left on charge at home. (I do have a mobile I use for work.) I had the guys' number, but do they even make pay-phones anymore? Damn, no change either. Who carries change these days?
By this time it was getting close to 5. I settled in to a no-parking spot on a one-way street on the side of 4359. Was that right? Busy road, so it didn't seem like a good place to lure someone in. Still plenty of daylight, but he had said the grills were in the garage. Now that looked dark and imposing. Boarded up windows, heavy locks. Was this the killers' nest? How many Chicago grill collectors had been brought here? How many made it home? Closing in on 5 now. I unlocked the doors and stepped out of my safe haven.
A walk past the front door was not encouraging. Scattered newspapers, an old Yellow Pages book, and several UPS delivery notices fluttered in the breeze as they clung to the storm door. Did anyone actually live here? I pressed the doorbell. Nothing. I walked to the side door nearest the road. Two more doorbell buttons. I rang them both. Nothing. Back to the car. Locked the doors.
Ten minutes. Many cars drove by, slowed down, and kept going. One stopped, backed up, sat for a minute, and then proceeded on its way. Ten or fifteen 737s on final approach roared overhead. Landing gear down. If I lived, I would be on one later in the week – heading home to my wife. The house was on the direct flight path to Midway. The decibel level of a landing plane a mere few hundred feet overhead would drown out anything. This guy thought of everything.
A black truck slowed down, turned into the driveway in front of the garage, and backed out. I took my gaze off it long enough to watch the next plane preparing to land. As I returned my attention to the garage, I saw the black truck had backed into the driveway, and stopped. A minute went by. Finally the door opened. A man stepped out. This had to be my man. "I am the WKC!" "Be bold!" "Show confidence!" I said to myself. Damn, why didn't I have my sunglasses? At least I was wearing a long black trench coat.
I stepped out of the car, turned to the target, and immediately confronted him: "Are you (the guy)?" "I'm MartyG." (well, I didn't really use the G-part, but I was in full WKC mode by then.) "Yes" he said. "The grills are here in the garage." Now I had already warned myself not to enter first. He was carrying a bag. What was he doing in the truck for that minute before he stepped out? I was bigger than he was, but he looked strong. And fast.
He quickly dispatched the heavy lock on the side door. Blackness. He went in, and I followed, keeping my distance. He pointed to a corner of the garage and said the grills were back there. He was right. An unmistakable shape emerged from the gloom. Char-Broil! My heart sank. Another no-name gasser of some nondescript nature was next. Which one was the "old" one he had mentioned? Was one of these new? Who cares? My rescue mission was a bust.
Until he pointed to the darkest area of the corner, and said: "The gas grills is not for sale." "The ones in the picture is back there."
Hello Weber! Two of them. 22.5s. Daisy wheels on at least one. Metal bowl handles on at least one. He proceeded to unearth them as if they had not see light in years and he was anxious to see if in fact they were still living. I wanted him to slow down. What I could see already told me that the pictures that had been posted time and time again were accurate, if not unflattering. He went to the double garage door and said we needed more light. I agreed. He lifted the door, and a flood of sunlight entered the garage along with the sounds of another jet coming in fast. Probably well timed as the roar covered up my gasp when I saw what was before me.
The bowl of the metal handled 22.5 he had set upside down on the floor of the garage gleamed though the dusty light. Three perfectly preserved daisy wheels winked at me as I got closer. Not a one of their fragile tabs had been crushed as so many are. I walked around it. Not a dent or chip in sight. Perfect rim. No rust. Those metal side handles looking like the day they were welded on. A little dirty, but little signs of use. Perhaps no use. Could this be the "new one" he mentioned?
Before I could take my eyes off the bowl, he had grabbed the legs (already attached to the triangle and wheels) and began to assemble the base. "No, No! You don't have to do that!" I said, hoping he would not drop something on the bowl, or kink a leg in the process. Did I say he was fast? He flipped the bowl right side up and the grill was on its feet. The lid was next, and it was in better shape than the bowl. Flawless porcelain. Double rivet handle with an actual sheen left. Vent was clean as a whistle. "This is the new one." the guy said. "The old one is over there." Hard as it was to take my eyes off the black beauty, I walked with him to the other side of the garage. Another Weber. Grey this time. Three rotted wood handles. Rusted triangle.
I immediately said I would take the "new one", but I wanted to examine the "old one" a little more. Date code M. (much newer than the code-less blackie) One wheel shot, the other on life support. Solid bowl and lid, would clean up nicely. Needs grates, and the one-touch system is iffy. Maybe I can bundle them and get this old one for a song I thought. We bantered a bit, and my offer (which he accepted) would have meant running down the street for change for a 20. Too excited about the blackie, I backed out. Gave him 5 bucks more for the "new one" than he was asking (again to avoid leaving it behind and risking some odd chance that he would change his mind, or that someone else would show up) and loaded it up. He was happy. Probably thought he had taken me for a ride. I told him I would give his number to a couple friends in case they were looking for an "old one". I was happy.
Felt every pothole and speed bump on the way home and made an effort to take corners slow. This grill had survived nearly four decades. "RESPECT" I thought. There are millions of dark garages in the USA. Many of them hold secrets, and some of those secrets have a distinctive shape. They're out there, and we'll find them. Rescue them. Restore them. Respect them. We are the WKC!
The grill has a new home. The restoration (such as it is) is complete.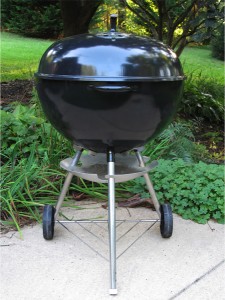 CL is a funny crazy place, but sometimes the stars align. Kettles like this are more than old grills. They have history. They are storytellers. They make life just a little sweeter. Tomorrow is another day. Who know what I'll find?
Chapter Two
Flush with pride and a bit drunk with the memory of the whirlwind rescue, I returned to my normal routine. Off to work early, but keeping in mind I had to return the rental to Midway before another day was tacked on to my reservation. At lunch, I wandered into Craig's List briefly, "just to see if the guy had taken the ad down" I said to myself. I kind of wondered given he still had the grey in hand.
Lo and behold, the first listing was for a Weber 26.75 for $149.00. I never see those listed! The ad had a phone number, so I gave it a shot. In my mind, I had already lost. 'How could I possibly arrange to pick this one up, IF it was still there, and IF it was in good shape, and IF I could leave work early enough and still have time to beat the clock."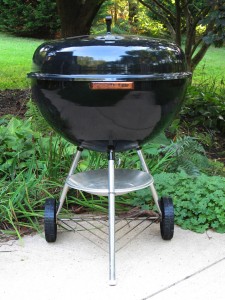 No Answer. I calmly went back to what I was doing, my mind shifting back to how cool that 22.5 was. How cool it IS! But something compelled me to try the number again…
"Hello?"
"I'm calling about the grill." I said.
"Oh my God!" the voice exclaimed, "I just hit send on that ad a few minutes ago!"
Jackpot! "Where are you?" I asked, and the answer was better than I hoped – just a few miles. I still had time to check it out, haul it home and get to Midway before the Kettle Karriage turned into a pumpkin.
I was there in 40 minutes, (Chicago traffic sucks!) and the guy met me at the door. Another short walk to the garage, but this time no worries about the darkness, the heavy locks, the 737s. A neighbor stood at the fence between the back yards, and the two struck up a conversation. After too much small talk, we entered the garage, and the 26er was right there. It was déjà vu: the thing hadn't been used in years, and was maybe fired up once. Checking the date code on the vent – ER – that would be 17 years ago. How can anything stay this nice looking in a garage for that long?
The ad said $149.00, and I dug into my pocket for what I thought was more than enough. $143.00!? WTF? I held it out sheepishly, and he said "No problem. We tried to give this away a couple times and no one wanted it. It's just too damn big! That's why we never used it."
Another 30 minutes and it was safe at home and I was on the road back to Midway. Exhausted, exhilarated, and more than a little amazed at the events of the past 48 hours. Fast forward to today, a little elbow grease and a trio of Brian's amazing handles made from KOA wood I bought on my Honeymoon in Hawaii years ago and it's nearly perfect. I could spend more time on the triangle, and the top grate will be replaced someday, but it's in the rotation now, and making new memories.
Two impossible to find kettles in two days! Will there be a third? Perhaps, but nothing will compare to this. It couldn't. No way. Impossible. Right?
Not if you are one of us. We are the WKC!
MartyG – Summer 2013