Troy Redington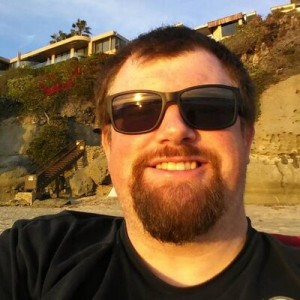 Troy is the Chief Mucky Muck of the Weber Kettle Club. He has been grilling and barbecuing with a hardcore passion since 2001. Despite being one of the internet's earliest BBQ bloggers, he didn't jump on the Weber wagon until June of 2010.
When Troy made the switch to Weber, he went hunting for a red Weber Performer to honor his father who had the iconic red Weber during Troy's childhood. Unfortunately, by 2010, Weber was no longer making the red color. Troy chose a blue grill to pay homage to his friend Tim who had gotten him into grilling and eventually convinced him to buy a Weber.
While researching methods of finding a red grill, Troy met Jeff and Brian. Together they became The 'Three Amigos' of Weber Kettles. Together, these 3 had more collective Weber charcoal grill knowledge and passion than anyone.  With the help and encouragement of the other founders – Troy started the WKC.
Today Troy owns several red Weber grills – including the 1987 OTS that was his Fathers.
Jeff K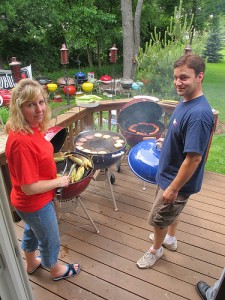 Jeff K, the man that really started this whole "collecting Weber kettles" thing. While other kettle heads were posting their collections of 2 or 3 black kettles – Jeff went thermonuclear and trumped everyone with his 10 colorful grills. While that collection has quadrupled since, it ignited a burning lust of grill acquisition in many.
Jeff was also one of the first Weber historians. His vast collection and thirst for knowledge gathered many of the early facts that snowballed into a whole new hobby for many.
Jeff is a founder of the WKC and remains a Statesmen.
Brian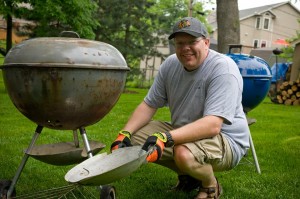 Brian the enabler. Brian was the straw that broke a camels back. His active posting, witty sense of humor, and generous attitude was too much for the retirees at our foster forum. When shit hit the fan, and oh did it ever hit the fan, Brian pushed hard for the three of us to start something new. We all knew it was meant to be – but Brian was the one texting me at 1am every night reminding me that we have something amazing and asking about what it was going to take to get a new website started.
Brian was the first to register at the WKC and his shining personality and wooden handles have been an asset to the community ever sense. He has a collection of 50+ vintage kettles and has shipped grills to nearly every state and several international locations (and has never profited from his dealings).
Brian, or Agent X, is a founder of the WKC and remains a Statesmen. He is a community manager, leader, master agent, and an all around good guy. He's in the Chicago Weber Mecca with access to woodworking tools and carries a sharp but emoticon-less sense of wit.
Lawrence (PBE Gummi Bear)
It's unclear where this guy came from, but he quickly made an impact. Within the first few months of WKC's birth – Lawrence was organizing data, drawing up 3-d renderings of parts that people need and Weber no longer produces, and building the friendships and camaraderie that are now the foundation of the WKC. He was helping people out and just being fricken awesome all the time.
We first met face to face at the very first Chicago WKC meetup. He helped organize it with Jeff and even flew in from San Francisco to attend.
Lawrence brought a high level of tech, logic, and forward thinking that the club really needed. Without Lawrence's support, Troy would have probably flipped his shit and slammed his head in a car door.
Lawrence is a statesmen and moderator. He's responsible for far too many things to list. When you see this guy, give him a high five – he deserves it.
Craig
Craig is the resident historian. Despite being from Nebraska, where no Webers exist – only corn; Craig has organized and categorized more historical data than Weber even knows. Craig's passion for Weber history was growing from a spark to a full nuclear blast when everyone decided to bail on the previous site. Despite Craig not getting the memo, he joined the WKC and quickly proved his value and knowledge.
Craig is usually snowed in or taking care of his two dozen kids – but when he finds the time, he heads up our Weber history pages and spreads education throughout the communities.
Matt
LightningBoldtz