The Weber charcoal grill is one of the most versatile cookers available. Right out of the box, without spending a dime on gadgets or accessories, the Weber kettle can do pretty much anything – including make a damn good pizza. This has been my mantra for years, and for good reasons. Avoiding novelties and luxury accessories has forced me to really learn and adapt and understand the science behind great food.
But lets not get snobbish at a caveman level. The Weber kettle can make a pretty good pizza pie, but the style of pizza is limited to thicker crusts and pan pies. Plus they take longer and can only do one at a time. Making pizza on a regular Weber is not a great experience. You can do it, but it sucks. The lid just doesn't have the right airflow and heat retention to cook a pizza properly. That's right, now it's time to get snobbish.
A good pizza, thin and crispy like they should be, needs to be cooked on a blistering hot stone. STONE. Bakers use stone because it absorbs the moisture from the crust as it bakes, making the crust CRISPIER. When the stretched dough hits the hot stone, the proteins in the dough stick to the stone and an eruption of air and vapor bubbles form within the dough as it cooks. The faster this happens, the better texture and flavor the crust will have. Good pizza needs to have high heat coming from above as well. We're not just talking about melting cheese here. It needs to be a cooking force worth of heat. Enough to singe and toast the toppings. Cheeses blossom as they melt around the toppings. The high heat toasts the cheeses and the toppings, opening up even more complex flavors. Even the top of the crust gets browning from above. Great pizza isn't easy. Great pizza is more challenging than great ribs, or great briskets. But don't fret – there's hope.
Enter Kettle Pizza –
I was given a Kettle Pizza kit to review. The kit included the pro-grate, tombstone, the baking steel, and a metal pizza peel. This kit right here. My review and feelings towards this product are completely unbiased and objective.
The Kettle Pizza is an accessory that turns your Weber charcoal kettle into a pizza oven. In it's bare form, it's an extension sleeve that lifts the lid and provides a slotted access to insert and remove pizzas without losing all of the dome heat.  There are upgrades and options available, which I'll explain below.
Kettle Pizza – Build Quality
We're all Weber folk. Our grills will outlive us and we'd like our accessories to at least come close. The Kettle Pizza sleeve/extension itself is made with 304 stainless steel. All of the assembly hardware and stand-offs are stainless steel as well, while the wooden handles are unstained and untreated. It's nice. Not super heavy duty, but it is solid – not cheap or low quality. Even the edges are all smooth and polished.
The Kettle Pizza Prograte is a custom grate that holds a special pizza stone. It's an upgrade. The Prograte  is thick and heavy. Very rigid and well made. The tombstone (pizza stone) is THICK and HEAVY. It's 5/8″ thick and made with Cordierite – this is the best material for pizza stones. It has great thermal properties and it's a lot more durable than cheaper ceramic stones. It fits into the Prograte LIKE A GLOVE. Everything is flush and aligned – it's a thing of beauty!
The baking steel, also an upgrade, sits at the top of the Kettle Pizza, below the lid. It's cut from .165″ thick stainless steel. It's freaking heavy and amazing. It can actually function as a griddle, which I'll show you in another couple of weeks or so. The baking steel fits the pizza oven perfectly. The pizza peel (metal) is ok. It's heavier and a bit more blunt than I expected – but it works fine.
Kettle Pizza – My Thoughts
I initially didn't like the way the extension/sleeve thing fit. It's FAR from airtight. It sits on the bowl of the Weber kettle with some little stand-off bolts. The prograte sits on bolts with wing-nuts. The baking steel sits on bolts. And the Weber lid also sits on bolts. I guess I was expecting a precision fit, like the Cajun Bandit stacker (a bbq product, not pizza). However, after I started cooking pizzas and learning how to use this beast – I realized the open-air fit is intentional. With the Weber converted to a pizza oven, it needs lots of air (and fuel) to bring everything up to temp and keep the flames going.
Assembling the kit was very easy. Much easier than I expected. It was more difficult to unbox than it was to assemble. There's a lot of heavy things and everything is packaged EXTREMELY well.
Setting it up on a 22″ Weber kettle is easy. Getting the fire going is easy. Getting the whole unit up to 600F+ is easy.
The Kettle Pizza literally turns your Weber grill into a wood fired, fully functional pizza oven. It takes all the hacking and experimenting out of the equipment, and puts it into the food (where it belongs)
That said – making great pizza wasn't quite as easy. I struggled a bit to get the perfect pizza, but it's because I'm a pizza snob. I DEMAND thin pizza where the bottom is crispy and the top of the crust is fluffy. Every dough I bought didn't deliver, and every recipe I found was just too daunting. Jason the Pizza Hero drove up from San Diego and spent the day teaching me how to make dough and make some AMAZING pizza.
Life with a Pizza Oven
Honestly, the Kettle Pizza has changed my life for the better. It has brought my family together and made our bonds stronger. We've been making pizzas nearly every weekend. We've been inviting friends and family and neighbors over for pizza parties. Everyone gets involved and it's such a great time. My 11 year old daughter has turned into the dough-master. Even my 'too cool to talk to dad' 19 year old daughter joins in!! EVERY. SINGLE. PERSON. that has joined us for pizza has claimed that it was the best pizza of their lives. (Keep in mind I live in SoCal, land of California Pizza Kitchen)
I love the Kettle Pizza so damn much that it's getting a dedicated grill. My wife loves the Kettle Pizza so much that she approved me getting another grill as a dedicated pizza oven.
Final Thoughts
No matter what kind of pizza you like, the Kettle Pizza will up your pizza game by like a million points. It makes such a big difference, that I can't even imagine cooking a pizza on my Weber without it. I would each Chuck E Cheese pizza before trying to make another pizza on my Weber without the Kettle Pizza.
If you love pizza, you need a Kettle Pizza.
Please don't use the Kettle Pizza on vintage colors though, it gets crazy hot and it will damage your grill.
I hope you enjoyed this review. I know it's not the typical format – but this accessory really changed my life and sticking to a standard review just wouldn't have done it justice.
Kettle Pizza Kits Comparison
Below is a summary of the different Kettle Pizza Kits, what is included, how its best used, etc.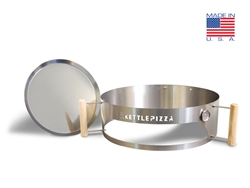 Kettle Pizza Basic Pizza Oven Kit – $139
– Pizza oven sleeve
– pizza pan
If you already have a stone or steel, this will be ok. It's best for lower temp pizzas (400ish). There won't be enough dome heat to cook quickly from above, so you'll need to use a lower heat to prevent the bottom crust from burning before the top is done.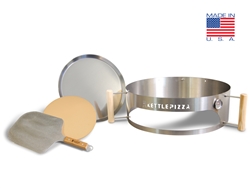 Kettle Pizza Deluxe Pizza Oven Kit – $199
– this kit adds a 15″ cordeirite pizza stone (awesome) and a wooden pizza peel
This is a great starting kit. The stone is good, and you NEED a wooden pizza peel anyway. Set another cooking grate on top of the unit, put the pizza pan there (or some fire bricks?) and this will be a kickass starter pizza oven. You still need a metal peel, but this is a good kit to get if you're comfortable finding a dome modification.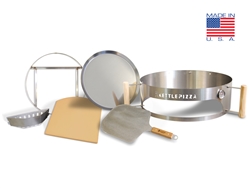 Kettle Pizza Pro – $299
I think this is really the sweet spot as long as you add something to the dome to retain heat. The Prograte and Tombstone are AWESOME. I cooked on Jason's custom baking steel as well, and it worked great – but the look and feel and fit of the Prograte and the Tombstone are totally worth it.
– comes with Prograte, Tombstone, charcoal basket, metal pizza peel, and the Kettle Pizza itself.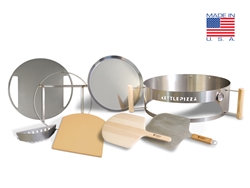 Serious Eats Special Edition Kettle Pizza
$399 for the cold rolled steel lid
$429 for the stainless steel lid (doubles as griddle)
I'm not very handy. Even if I were, I think the $130 price tag of the stainless baking steel lid is totally worth it. Sure you can find the materials and make all the cuts and get it looking all nice. But time is money and I certainly don't have the time to make things like this.
This is the full package. Nothing to worry about. Nothing to improve. Get this, and you will have an amazing pizza oven conversion that is easy to use and rock solid.
Both baking steels can be used as a griddle, but the cold rolled one will need to be seasoned and maintained if you plan to use it as a griddle.
Just be warned – with a fully capable pizza oven in your backyard, there's no more excuses for eating shitty pizza.