A reliable and accurate thermometer is a MUST-HAVE for grilling and barbecue. Professional chefs and pitmasters rely on two different types of thermometers. The instant-read thermometers and wireless bbq thermometers on this page have been tested and approved by myself and the Weber Kettle Club community.
Looking for a Wireless BBQ Pit probe or wifi thermometer? Just scroll down. We've separated the list of best grilling thermometers into instant read and Wireless Pit Probes
Instant-Read Thermometers
Instant thermometers are used to test the internal temps of your food. Essential for grilling the perfect medium-rare steak and preventing over or under-cooked foods. Speed and accuracy are important here.

Wireless BBQ Thermometers
Wireless BBQ pit probes and wireless thermometers have changed the way we barbecue. Gone are the sleepless nights of checking pit temps every 45 minutes. These wireless thermometers are great for long cooks like turkey, pork butt, brisket, and ribs. These thermometers are left in the grill or smoker and will wirelessly report your temps and even alert you if temps are too high or low!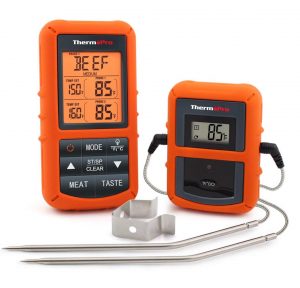 This is a relatively new brand in recent years. It started as a cheap alternative on Amazon and it's earned 3,326 5-star reviews.
The transmitter and receiver of the TP20 bbq thermometer is rugged and 'splashproof' enough to handle a bit of rain.
The TP20 has a 1-year warranty.
$50 on Amazon Prime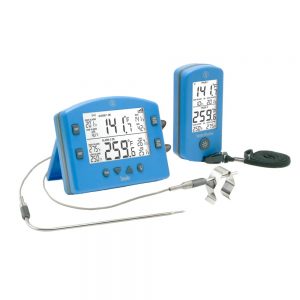 The SMOKE is a 2-probe wireless thermometer with a 300ft range.
Its probes are more rugged and durable than most, featuring spring-wound cable protectors at the plug end. The transmitter and receiver units are also durable and weather resistant.
The Smoke can also be upgraded to WIFI using the Thermoworks Bridge.
I've been using my Smoke for more than 2 years and it's my favorite wireless thermometer.
Available directly from Thermoworks in a variety of colors.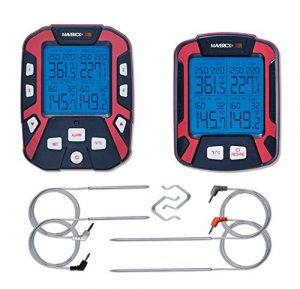 Maverick earned the BBQ communities trust with the ET-732 and ET-733 wireless pit probes, but flushed it all away with their Bluetooth 735.
This time they've teamed up with Adrenaline Barbecue to launch a new FOUR-PROBE wireless thermometer. The XR-50 comes with 4 universal probes that can be used to monitor pit temps or food temps.
This wireless thermometer has the best range and reliability without crossing into the WiFi territory.
Available on Amazon and ABC Barbecue.